At RE•WORK, we are strong advocates for supporting women working towards advancing technology, so ahead of the upcoming AI in Finance Summit New York, we set out to highlight inspirational women paving the way in AI within the Finance, Banking, and Insurance sectors who deserve recognition for their achievements.
Help us to continue highlighting leading women in AI by nominating your influential woman in AI. Submit your entry here.
RE•WORK holds Women in AI Events, Podcasts, and Blogs. Get in touch if you'd like to collaborate or support our initiatives!
Catherine Harrison Culp is CCO at Aiera, the leading financial event intelligence and generative AI platform serving institutional finance. Catherine is quite possibly our company's most invaluable asset, with involvement in basically every facet of Aiera's business operations. She has been with the company since its inception and has been instrumental in accruing over 100+ major institutional finance and asset management clients that now use Aiera to power their workflows around earnings season, conference season, and beyond. Her email is [email protected] and she is based in the United States. Our industry is Fintech and Financial Services.
Dr Henrike Mueller - Technical Specialist, Financial Conduct Authority
Dr Henrike Mueller is a Technical Specialist in the Innovation Department at the Financial Conduct Authority (FCA). Henrike has been leading the FCA's external policy approach to machine learning / artificial intelligence (AI) since 2017.
Jasmien César - Senior Counsel Privacy & Data Protection - Artificial Intelligence, Mastercard
Jasmien César is Senior Counsel of Privacy and Data Protection for Artificial Intelligence at Mastercard with global responsibility for privacy and data protection matters pertaining to Mastercard's AI solutions and uses. Jasmien leads development of Mastercard global strategy and policy for building privacy into the design of AI-powered products, ensuring they are trustworthy and human-centric, and oversees advocacy of Mastercard's privacy position on AI. Before joining Mastercard in 2019, Jasmien spent 5 years as an IT & Data Protection lawyer at the Brussels office of international law firm Bird & Bird.
Diana Meditz - Director of Advanced Digital Solutions AI/ML, BNY Mellon
Diana serves as a Business Engagement Lead in the Advanced Solutions team within BNY Mellon and has more than 10 years of experience in the areas of strategy development, strategic initiative execution and technology prioritization.
As a Business Engagement Lead, she is responsible for promoting the use of data science and artificial intelligence capabilities throughout the organization. In this role, she serves as an internal consultant to senior leadership and key stakeholders within the business to uncover business needs and propose solutions utilizing advanced digital solutions that will drive business growth, optimize operational processes, and improve the client experience.
Diana is passionate about developing female talent and is the co-chair of BNY Mellon's Women in AI initiative, which aims to provides women working and interested in AI a forum to connect, learn and build confidence.
Supreet Kaur - Assistant Vice President, Morgan Stanley
Supreet is an AVP at Morgan Stanley. Prior to Morgan Stanley, she was a management consultant at ZS Associates where she automated different workflows and built data driven solutions for fortune 500 clients. She is extremely passionate about technology and AI and hence started her own community called DataBuzz where she engages the audience by sharing the latest AI and Tech trends and also mentors people who want to pivot in this field.
Robbi Armstrong - VP & Group Product Manager, KeyBank
As Vice President and Group Product Manager over Conversational AI at KeyBank, Robbi is responsible for leading a cross-functional team of product managers, engineers, designers, data scientists and analyst to develop Conversational AI capabilities across the organization. Robbi and her team are transforming the client experience through the introduction of an omni-channel platform across voice and chat. She has over 20 years' experience leading technology initiatives in the financial sector with a proven track record of driving customer value and business growth. Robbi is passionate about exceeding client expectations by augmenting human interaction with the right technology.
Claire Gubian - Global Vice President of Business Transformation, Dataiku
Claire leads the Business Transformation practice at Dataiku, which helps customers accelerate their transformation thanks to AI. She is a seasoned leader who spent most of her career in management consulting, advising large organizations on their digital transformation, and at PayPal, where she was leading the peer-to-peer payments product line notably during the mobile revolution. Claire is passionate about how large organizations, but also each individual, embrace change and transform their way of working and making decisions thanks to technology and data. She has travelled the world and what she loves the most about her job is connecting the dots and sharing best practices across multiple geographies and industries.
Susana Ponce-Froment - Global Head of Financial & Credit Risk, Tide
With 17 years of banking experience, in Canada and abroad, in credit risk management, business & products development, credit risk modelling, credit admin and banking supervision in the private and governmental financial sector. Susana is an expert in structuring innovative financial solutions to achieve double-digit growth in multi-billion dollar lending portfolios.
Olga Tsubiks - Director, Strategic Analytics and Data Science, RBC
Olga is a passionate AI/ML leader. She has been recognized as top 25 women in AI in Canada and top 100 women globally advancing AI in 2023 by Re:Work. She has spent the last 15 years in various senior roles in technology, specifically in data science, big data, data engineering, analytics, and data warehousing. She is a Director of Advanced Analytics and Data Science at the Royal Bank of Canada. Olga brings data to life through machine learning, analytics, and visualization. Outside of her work at RBC, she has worked directly with global organizations such as the UN Environment World Conservation Monitoring Centre, World Resources Institute, and prominent Canadian non-profits such as War Child Canada and Rainbow Railroad on various data science and analytics challenges.
Nan Li - Vice President, AI/ML & Statistical Practice, Nationwide
A passionate, versatile, and human-centric data and analytics executive, with 20 years of experience in the insurance, financial services, and healthcare industries. Expertise includes data strategy, analytics product management, analytics, BI, data science, ML/AI, data engineering, data management, data governance, big data and cloud, and talent management.
A creative and pragmatic business problem solver, innovator, and communicator. Particularly skilled at setting up data & analytics strategy and roadmap, bringing business, analytics, and IT together to achieve business outcomes, and operationalizing data & analytics solutions to deliver scalability and ROI.
Valeria Verzi - Head of Data Science, Klarna
Valeria Verzi is a Data Science professional who has been focused on the Fraud Domain for the last 5 years. Valeria is currently Head of Data Science at Klarna Bank, in the Fraud Strategy EU team. Valeria's role is supporting and building a team which develops cutting edge artificial intelligence models for fraud detection and prevention in core markets, by exploiting deep technical knowledge and a specific business and domain understanding.
She got a bachelor degree in Mathematical Engineering, during which she developed a thesis on multi-objective optimization at ABB. Valeria then obtained a master degree with honors in sound and music Engineering (Computer Engineering) at Politecnico of Milan. She wrote her master thesis at Queen Mary University of London on piano inharmonicity, mathematics and computer modeling. Valeria continued her career as data scientist moving to industry in 2014 and started working in the Fraud domain in insurance in 2018. As part of her career, Valeria developed and released 25+ models, led and mentored 20+ data scientists and designed an anti-fraud framework to best exploit the power of the combination of business knowledge and AI.
Olga Kane - Managing Director, Synthesis
Olga Kane is currently a Managing Director at Synthesis, a quantitative investment company focusing on equity statistical arbitrage. Synthesis team applies machine learning methods to extract insights from alternative data sources and combine them to create alpha generating investment strategies. Prior to joining Synthesis, Olga was a Head of Data Strategy at a proprietary algorithmic trading group. With over sixteen years of hands-on experience in the financial industry, she developed her professional expertise on the intersection of fundamental investment research and cutting-edge technologies transforming the industry.
Olga holds Master's Degree in finance, MBA degree and Chartered Alternative Investment Analyst (CAIA) designation. She recently completed Harvard Business School's Executive Program for Leadership Development and Investment Management Workshop by Harvard Business School and CFA Institute. A frequent speaker at industry conferences on topics of fintech, machine learning and alternative data, Olga is also a member of global advisory board of Quant Summit by Risk.net, member of CFA Society of New York.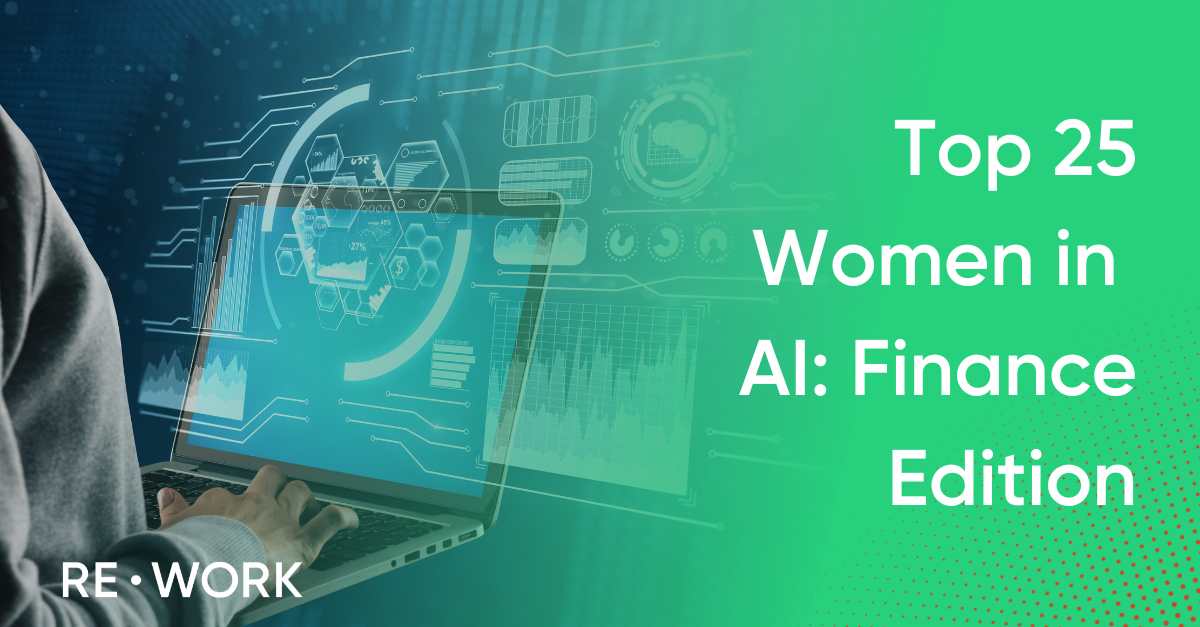 Natalia Bailey - Research Manager, FinRegLab
Natalia Bailey is Research Manager at FinRegLab, a nonprofit innovation center that tests new technologies and data to inform public policy and drive the financial sector toward a responsible and inclusive financial marketplace. In her capacity, she will continue to facilitate discussion across key stakeholders in the financial ecosystem on the responsible use of AI/ML in financial services, and delve deeper into how to promote AI/ML solutions for advancing financial inclusion.
Prior to joining FinRegLab, Natalia was a Policy Advisor with the Digital Finance Department at the IIF, where she led the machine learning and data ethics workstreams, helping shape the IIF's strategic agenda and explore key regulatory and policy implications. She conducted research and analysis through surveys on the application of ML by IIF member firms, with a focus on credit risk, anti-money laundering and governance of ML models. Additionally, she identified and created strategies that address implementation challenges and opportunities for the adoption of ML, including examining issues around explainability of ML models, and unfair bias and ethics.
Natalia holds a Master of Public Policy from George Mason University, and a Bachelor's degree in Economics from Hollins University, where she attended as a recipient of a IIE-Fulbright Scholarship.
Jessica Xu - Managing Director, Data Science, OneMain Financial
Experienced data scientist with over a decade's experience in leveraging various Machine Learning and analytical techniques to synthesize large amounts of data into evidence-based models and strategies to improve business efficiency and profitability.
Proven people leader with a track record of building, developing, and inspiring teams of data scientists of various sizes across geographic locations.
Accoladed collaborator who can bring people together across functional teams and across levels to drive enterprise level initiatives from inception to successful completion.
Substantial expertise in credit data and alternative data for consumers, merchants and businesses in the U.S.
Caroline Collins - Head of Automation, Paysafe Group
Caroline Collins combines experience, focus, and creativity to lead a team that delivers Automated solutions that do the ordinary, so that our stakeholders can focus on the extraordinary. Experience with delivering AI solutions and consultancy that drive cost reduction, revenue growth and customer service improvement.
Diana Mingels - Head of Machine Learning, Kensho Technologies
Diana is an analytical, enthusiastic and innately curious Artificial Intelligence leader with 15 years' experience in NLP applications. Experienced in n-tier application design, development, architecture, maintenance and testing, with expertise using various software tools, languages and methodologies. Diana has previously worked for Capital One as a Senior Software Engineering Manager.
Valued, authoritative strategic advisor and thought leader to senior management, leveraging data-driven decision making and innovative product development strategies to drive continuous improvement and operational efficiency.
Miranda Jones - VP | Predictive Analytics, Emprise Bank
Miranda Jones has a passion for helping teams discover innovative ways to leverage data to do things they never thought possible. Miranda's focus area recently has been leading the development and integration of custom end-to-end data products that embed machine learning. She enjoys the challenge of making something meaningful and transformative for businesses out of noisy data and a gray opportunity space in partnership with subject matter experts and data scientists and engineers.
Ulrike Dowie - AI Chapter Lead, Siemens Financial Services
Passionate about bringing out the best in people and making sure our customers and partners are successful. Ulrike embraces and fosters agility and networked collaboration, and encourages creative thinking and puts sustainability first.
What Ulrike stands for:
Analytics: developing our business by turning data into insights
Inspirational leadership: With a clear vision for the future, embodying and promoting sharing, trust and respect.
Network founder: Female Data Science Network, NewWorkNow and AI in planning processes
Agile mindset: applying new ways of work, understanding our customers and prototyping as basis for successful innovation
Tulsi Parida - Global Director, Data Solutions, Visa Government Solutions, Visa
Tulsi Parida is a socio-technologist with a commitment to reducing digital inequality and promoting responsible/inclusive technology. Tulsi currently works in Visa's Government Solutions team, focused on public sector and government data products and solutions.
Prior to working at Visa, Tulsi led teams at startups working to bridge digital divides in literacy education both in the US and in India. Tulsi has completed an MSc at the Oxford Internet Institute, where she studied the implications of mobile learning technologies in emerging markets through a gender and political economy lens, and an MBA at Saïd Business school, where she focused on responsible business and impact finance/investing.
Poojya Manjunath - Machine Learning Senior Product Manager, Lloyds Banking Group
With over 13 years of experience working at Lloyd's Banking Group, Poojya's exposure to the FinTech environment is second to none. She has established herself within the company throughout a number of exceptional roles, and currently works as a Machine Learning Senior Product Manager, building AI-based products that deliver great customer and colleague capability. Her drive to succeed within this field is demonstrated by her many accolades including TechWoman100 winner, Women in FinTech Standout 35 Leader and Asia Businesswoman Finalist.
Tribeni Chougoule - Director, Inclusive Impact & Sustainability, Europe, Visa
After completing a Bachelors of Engineering, Electronics and Power Engineering, Tribeni has contributed her knowledge to the Tech industry in positions at Wipro Technologies before joining Visa in 2013. Since then, Tibeni has gained experience across various roles within the company and currently is the Director of Inclusive Impact & Sustainability for Europe. Tribeni has recieved her MBA at the University of Warwick, specialising in how organizations in the financial services industry may reduce or eliminate AI Bias when developing AI products.
Dipannita Mohanty - Data Scientist - Risk Advance Analytics, Nationwide Building Society
During her tenure in Accenture and SAP, Dipannita has worked for various banks such as Commonwealth Bank, SAMA, Lloyds & Nationwide Building Society as an Application Development Analyst & Business Process Consultant.
Dipannita has worked with various organisation in UK such as NHS-CCG, Gap Square Ltd for Data Science project, where she used various tools such as R, Jupyter Notebook, Open Refine, Tableau to perform data extraction, data wrangling, preprocessing and data transformation to create various ML models and predict the outcome.
Dipannita primary roles at the moment include Business Development, Data Processing, Data Visualization, and Data Modelling.
Hanna Helin - Global Head of Technology Innovation, CTO Office, London Stock Exchange Group (LSEG)
With over 16 years of experience in technology and business leadership roles, Hanna has a proven track record of driving innovation and successfully delivering strategic business initiatives in fast-moving and complex environments. As the Global Head of Technology Innovation at LSEG's CTO Office, Hanna is responsible for innovation efforts across a technology organization of 13,000 people and has a strong background in emerging technologies, team management and international experience. Hanna has shared her expertise in various keynote speeches, panel discussions, and podcasts, and is excited to leverage her skills and experiences to make a positive impact.
Madison Smith - Data Science Manager, VP, Fifth Third Bank
Data pioneer, seasoned leader, and community builder. Madison combines breakthrough analytics and exceptional leadership skills into game-changing results for Fifth Third Bank and the Brighton Center. Madison loves the stories that data can tell and how seemingly disjoint pieces of information can lead to big insights. Madison is passionate about finding value within white space.
Anita Mathew - Senior Vice President, AIG
Anita Mathew is a Senior Vice President, Corporate Finance IT at AIG. She partners with Finance Controllers, Tax and FP&A businesses assisting with the financial close, budgeting/planning, US/ international regulatory reporting, tax processing, management reporting and robotics process automation (RPA). Anita is responsible for a talented team of 100+ employees delivering application development and maintenance services of over 40 SAP and non-SAP systems. Prior to joining AIG in 2011, she worked at KPMG and IBM in a variety of solution architect, financial process re-engineering and project management roles. Anita holds a B.S. Chemical Engineering and a MBA from University of Florida. Her main focus for 2019 is to improve decision making for finance users by moving to the Analytics Cloud Platform to leverage machine learning and AI capabilities to enhance predictive analytics.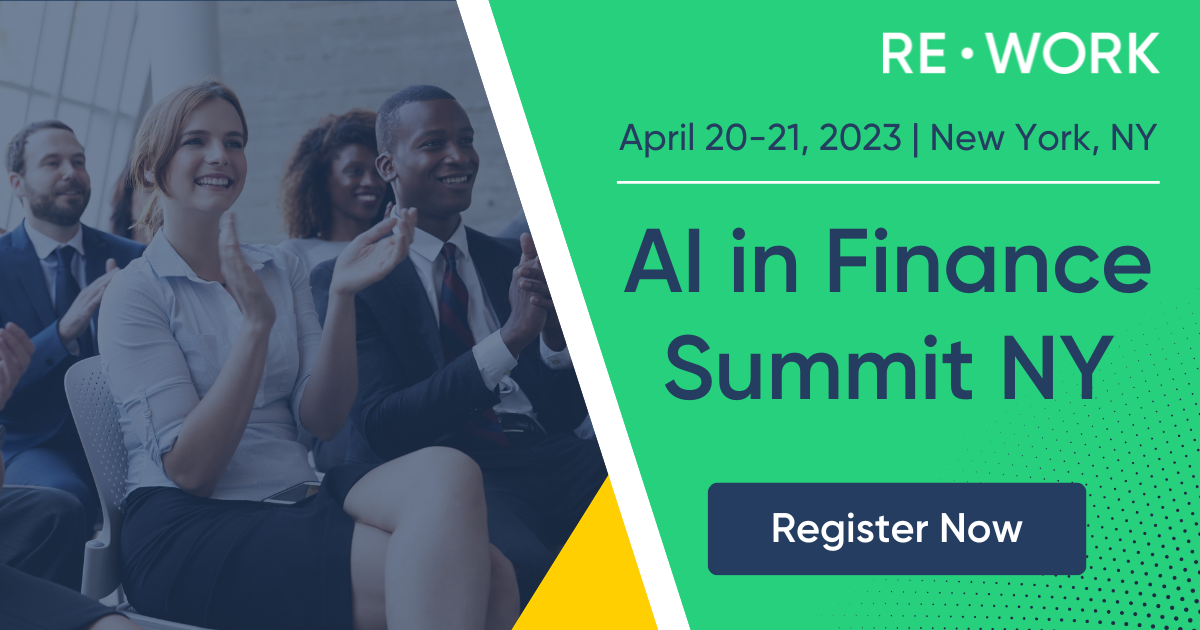 We are excited to confirm that Diana Meditz, Supreet Kaur, Nan Li, Claire Gubain and Olga Tsbuiks from the list will be presenting at the AI in Finance Summit New York to share their expertise!
Join us at the AI in Finance Summit on April 20-21, in New York, to learn from and connect with our expert speakers.
Interested in hearing more about leading women in AI?
You can see our Top Women in AI lists for Healthcare, Germany, the UK, 30 under 30, USA, Canada, FinTech, New York, San Francisco, and more here.
Sign up for the RE•WORK monthly newsletter for the latest AI news, trends, and events.