At RE•WORK, we are strong advocates for supporting women working towards advancing technology, so ahead of the upcoming Berlin AI Summit, we'd like to highlight Women from Germany, working at the forefront of AI developments, who deserve recognition for their achievements.
It has been difficult to narrow down the list to just 20 inspirational women across the AI industry. We believe recognising these women is key in showcasing diversity in AI, and to continue encouraging diversity in the field. Thank you to the RE•WORK community for all your nominations!
Help us to continue highlighting leading women in AI by nominating your influential woman for out next edition. Submit your entry here.
RE•WORK hold Women in AI Events, Podcasts and blogs. Get in touch if you'd like to collaborate or support our initiatives!
1. Maria-Liisa Bruckert, Co-Founder & Co-CEO at SQIN
Maria-Liisa is currently the Co-CEO of SQIN, which she also co-founded alongside Martin. SQIN is a unique AI based skin coaching app, supporting users in terms of skin health and well-being. She has previously worked for a number of companies including Seimens, and is currently an Advisor at Chargd and the Board Chair Germany at TiE Women. Maria-Liisa has won a number of awards associated with SQIN including the EXPO 2020 – StartUp Audience Prize and the Google Play Best of 2020 Award.
2. Samantha Edds, Senior Data Scientist at YELP
Sam Edds is a passionate leader with a successful track record in using statistics and data modeling to help organisations uncover insights and tell a story to grow their business. Her unique background spanning corporation, start-up, and non-profit settings has shown me the importance of supporting the people, products, and places that make up a community. As a Statistician with roots in International Studies and Development, she firmly believes in harnessing the power of big data to improve the livelihood of all through making more informed, data-driven decisions. While there is more analysis than ever before in the world, something endlessly important to business success, and which remains her focus, is using big data to tell a story and a vision all can grasp. She loves designing and building models to solve problems, and thrives on using her analysis to create a story that all clients (data focused or otherwise) can understand.
3. Julia Bosch, Co-Founder & CEO at Outfittery
Julia is the current CEO and Co-Founder at Outfittery, which she founded over 10 years ago alongside Anna Alex. Today, Outfittery is the market leader in online personal shopping and they serve over one million customers across nine European markets. Julia has been received a number of honors and awards, including Europe's Top 50 Women in Tech, Top 50 Female Entrepreneurs in Germany, Top 50: Europe's Most Influential Women in the Start-Up and Venture capital Space, and this is just to name a few.
4. Beate Hofer, Group CIO at Volkswagen AG
Beate is the CIO at Volkswagen AG and holds a number of skills in fields including AI, Business Intelligence, IT Strategy, Automotive and many more. Beate is keen on shaping strategy for generations to come, and enjoys talking about IT, diversity, sustainability and cyber protection. She is a key player in the United Nations goals to have AI help achieve sustainability goals.
5. Rosona Eldred, Machine Learning Engineer at BASF
Rosona currently works at BASF as a Machine Learning Engineer. Rosona is a Data Professional with 5 years of industry experience following an academic career in Mathematics culminating in a Max Planck research fellowship. Excels in collaborative teams with proactive independent contributors. Having worked with all parts of the ML life-cycle from requirements engineering to productionisation, she is especially motivated by structural solutions to problems, by translating business potential to business value, getting promising prototypes effectively into production.
6. Gyri Reiersen, Co-Founder & CTO at Tanso
As the current CTO at Tanso, Gyri is keen to mitigate climate change. Tanso leverage the power of data and machine learning to help industrial manufacturing companies transition towards a lower carbon economy. As an active member of the Global Shapers, an initiative for young leaders, and other organisations, she has launched multiple initiatives to empower founders to tackle climate change, increase diversity in tech, and break the stigma around mental health.
7. Maria Meier, Co-Founder & CTO at Phantasma
Maria is the CTO at Phantasma, which she also Co-Founded. Through her work, Maria is working towards enabling the safe interaction between self-driving cars and vulnerable road users. Maria has aimed to promote technology and adoption if AI in Germany throughout her career. Maria has gained a number of certifications and licenses, enhancing her skills in fields such as Machine Learning and Big Data.
8. Dzhuliana Nikolova, Co-Founder & CTO at OneUpOneDown
Dzhuliana's primary focus and strengths are education and self-development which is how she ended up being a Co-founder and CTO at OneUpOneDown - a highly scalable AI mentor matching platform and framework that connects women worldwide with their perfect match. Dzhuliana will be presenting at our Deep Learning Summit in Berlin on 4-5 October.
9. Claire Novorol, Co-Founder & CMO at Ada Health
Claire is Co-founder and Chief Medical Officer of Ada, the first and only closed feedback loop, AI-powered, global consumer healthcare platform. She is also the founder of Doctorpreneurs, a professional network for doctors involved in startups and healthcare technology. She is based in London and travels frequently to Berlin. Claire has been recognised in Europe's Top 50 Women in Tech.
10. Maria Monzon, Data Scientist and Computer Vision Researcher at BASF
Maria is a Biomedical Engineer with strong focus in Computer Science and Machine Learning after having successfully completed a bachelor in Telecommunication Engineering Bachelor. She has extensive knowledge in: Medical Imaging and Bio-Signal Processing: MRI, EEG, ECG, segmentation, tracking, registration, classification, preprocessing, image analysis. Her key strengths in Artificial Intelligence include: Pattern Recognition (PR), Deep Learning (DL), Computer Vision (CV), Machine Learning (ML), Convolutional Neural Networks (CNN), Transfer Learning, Classification, Regression, Supervised Learning Object Detection. Maria will be presenting at our Enterprise AI Summit in Berlin on 4-5 October.
11. Vidya Munde-Mueller, Director at Founder Institute
Vidya is very passionate about new technologies like AI, Blockchain, AR/VR, Internet of Things etc. As a Women-AI-Ambassador, she wanted to motivate more women to work in new technologies in order to level the playing field. In her previous roles at Deutsche Telekom as Product Manager and AI-Evangelist, she created awareness about AI and took part in numerous activities and projects to foster it's acceptance within the company. Together with other colleagues, she was responsible to kick-start a cross-unit AI Community with an interdisciplinary team. Vidya's determination to work in AI was born during her stay in the Silicon Valley, where she was responsible as Business Manager to find AI startups for different use cases. It was also during this time that she started working on a private idea (www.givetastic.org) to improve 'Charity and Giving' sector using the power of AI.Givetastic is a smart giving and engagement platform that empowers employees to contribute to social and environmental projects of their choice using the corporate donation budget or CSR budget. This idea won many prizes in the startup competitions in Germany (1st Prize: Startup Award der jungen Wirtschaft, 3rd Prize of 11.000€ at Hannoverimpuls #Startupimpuls competition). Givetastic also received pre-seed funding from one the best known investors in Germany - APX (Axel Springer and Porsche). Furthermore as an enthusiastic Design Thinker, she loves to brainstorm new ideas and implement them in small and agile teams. She have coached many teams on using Design Thinking to improve products and services and offered this service to startups as well. Vidya carries a MBA and Master's degrees in Telecommunications along with an Innovation and Entrepreneurship certificate from Stanford Graduate School of Business. She has sponsored numerous projects and initiatives in the area of ML collaborating with Cummins College of Engg. for Women in Pune. It has been an honor to assist her Alma Mater in the field of AI/ML.
12. Tina Kluewer, Director AI at K.I.E.Z.
Tina is Director of AI at K.I.E.Z., and is deep tech enthusiast, manager and technical ambassador for the topic of Artificial Intelligence and its implementation in business. Tina is Chairwoman of the Technological Sovereignty Advisory Council of the Federal Ministry of Education and Research, as well as part of the Advisory Council "Junge Digitale Wirtschaft" at BMWK. She supports the German KI Bundesverband (Federal Association for AI, www.ki-verband.de) as leader of the research transfer working group.
13. Deena Gergis, Lead Data Scientist at Bayer
Due to Deena believing in the untapped potential in each and every one of us, she develop AI products to automate intelligent processes, offering people more space to unfold their greatest potential. With every AI solution she deploys, someone is given the opportunity to step up to their true potential. Deena is a Lead Data Scientist at Bayer. Having received her MsC in Life Science Informatics at the University of Bonn, Deena worked as a Teaching and Research Assistant before joining Recogizer as a Data Scientist. Deena will be presenting at our Enterprise AI Summit in Berlin on 4-5 October.
14. Katharina Zweig, Professor at University of Kaiserslautern
Prof Dr Katharina Zweig is professor for theoretical computer Science at the TU Kaiserslautern, where she heads the Algorithm Accountability Lab. She has designed a new field of study called Socioinformatics which models and analyses the interaction between software and scoiety. Katharina is a member of a commission on "Artificial Intelligence" that counsels the German Bundestag. She is also counselling the national media authorities, the churches, ministries and parties on the ethics of algorithms. She was awarded multiple times, 2019 she will receive the Communicator-Price of the German National Research Foundation (DFG). In 2019, she also co-founded the startup Trusted AI GmbH to counsel individuals, companies and governments on the ethical application of software.
15. Dr Carmen Martinez, Conversational UX Experience at Flixbus
Dr. Carmen Martinez is a Conversation Analyst and Ethnographer of Communication working in Conversational Artificial Intelligence at FlixBus. As an expert in human-to-human conversation, she contributes to a cross-disciplinary team by automating customer service interactions, modelling both text- and voice-based human-to-machine conversations, and developing visual solutions for graphical and multimodal conversational agents. Carmen holds a PhD in Conversation Analysis and is the author of "Conversar en español: un enfoque desde el Análisis de la Conversación" published by Peter Lang Berlin.
16. Verena Hafner, Professor of Adaptive Systems at Humboldt – Universitat zu Berlin
Verena is a Professor of Adaptive Systems at Universtitat zu Berlin. She is a keen researcher in Computer Science, AI and Robotics. Throughout her career, Verena has enhanced her skills in a number of fields including in Robotics, AI, Machine Learning, Data Analysis and much more.
17.Angela Schoellig, Professor for AI at Humboldt University
Angela is a professor of AI at Humboldt University, and has large interests in Robotics, Automation, Machine Learning and AI. She has held an associate professorship in robotics at the University of Toronto since 2020 and at the same time works at the Vector Institute for Artificial Intelligence in Toronto. Angela has received numerous awards, most recently being the Canada CIFAR AI Chair awarded by the Canadian Institute for Advanced Research.
18. Sarah Haq, Senior Machine Learning Engineer at Artsy
Sarah is a Senior Machine Learning Engineer at the world's largest online art marketplace, Artsy, and a Lecturer at the Karlsruhe University of Applied Sciences and Leuphana University. She has over ten years of experience working with data and building machine learning models for various startups, from underwear companies to unicorns. She is currently shaping the personalisation strategy at Artsy and building a recommendation engine to connect collectors with artworks they will love. The art market is an extremely complex industry, with even more complex collectors. The recommendations need to be good enough to convince someone to make a massive financial investment, but how do we use machine learning algorithms to re-create the emotional connection a collector has when adding a piece to their collection? Sarah will be presenting at our Enterprise AI Summit in Berlin on 4-5 October to address this question.
19.Claudia Pohlink, Chief Expert Data & Program Manager at Deutsche Bahn
Claudia is currently Chief Expert Data at Deutsche Bahn, where she heads the House of Data and drives forward the Group's central data topics such as Data Governance, Data Management and Data Catalog. Having a background in Data Science, Data Management as well as Innovation Management, Claudia connects business and Data Science aspects of Analytics and Artificial Intelligence (AI). On the side, Claudia is also an active speaker and author, she is committed to the education of children and young people in the field of AI and regularly shares her knowledge at Conferences as well as at colleges/schools. She has been a board member of the AI working group at BITKOM since 2020 and its chair since 2022. In 2019, she was honored as one of the Global Women Leaders in AI.
20. Aleksandra Kovachev, Data Science Manager at Delivery Hero
Aleksandra did her PhD in the area of complex networks with the goal of knowledge extraction by combining multiple data sources and diverse algorithms. She has passion in bioinformatics and improving health trough food and nutrition data. Currently she works as ML Engineer for the global food delivery service, Delivery Hero. Aleksandra will be presenting at our Deep Learning Summit in Berlin on 4-5 October, and will discuss Dish Catalogue Optimisation: From Unstructured Data to Knowledge Graph.
---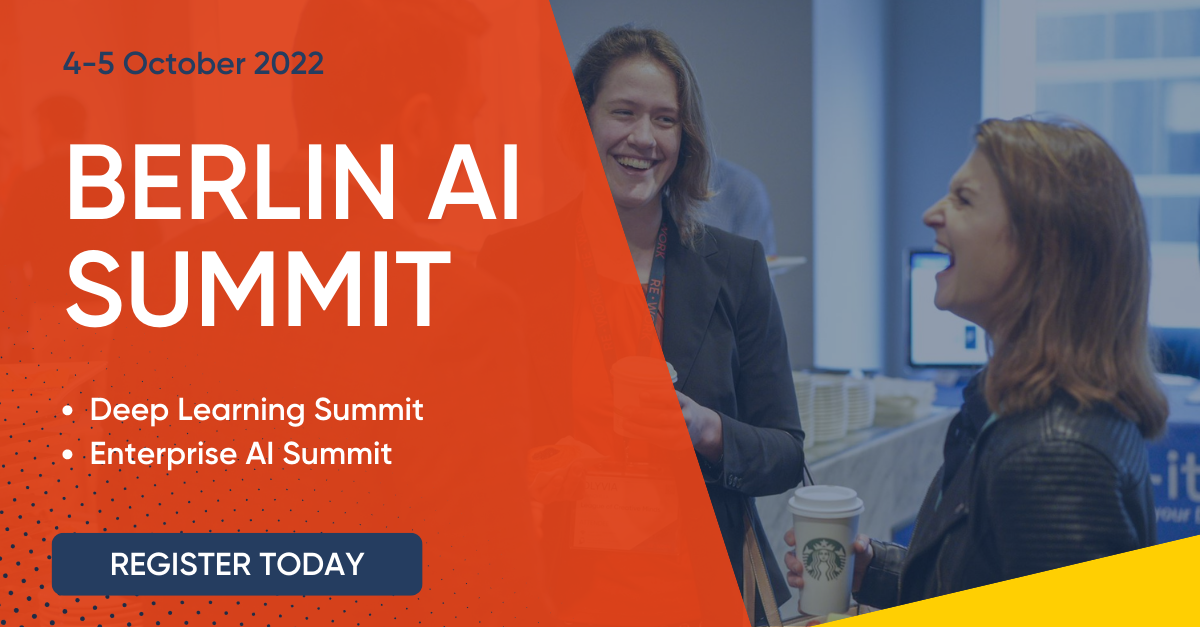 We are excited to confirm Samantha, Rosona, Dzhuliana, Maria, Deena, Carmen, Sarah, Aleksandra from this list will all speaking at the Berlin AI Summit to share their expert insights and the latest trends in AI. Join us to learn and connect with them and many other AI leaders on 4-5 October 22 at the Berlin AI Summit.
We want to continue recognising leading women in AI. Help us to highlight the inspiring work led by female leaders by submitting a nomination for our next edition! Enter your nomination here.
Join our upcoming Women In AI Receptions:
Women in AI Reception in London – 14th September.
Women in Reception in Boston – 13th October.
Women in AI Reception in Toronto – 9th November.
Women in MLOps Reception in London – 9th November.
Sign up to the RE•WORK monthly newsletter for the latest AI news, trends and events.