At RE•WORK, we are strong advocates for supporting women working towards advancing technology, so ahead of the upcoming Toronto AI Summit, on November 9-10, we set out to highlight inspirational women who are working at the forefront of AI developments, and who deserve recognition for their achievements.
While we set out to create a list of just 20 – we couldn't narrow it down, as there are so many inspiring and prominent females in this space! Hear from many of them at our Toronto AI Summit, and more at our Women in AI Reception, both being held in Toronto next month.
Help us to continue highlighting leading women in AI by nominating your influential woman for our next edition. Submit your entry here.
RE•WORK holds Women in AI events, podcasts, and blogs. Get in touch if you'd like to collaborate or support our initiatives!
Doina Precup, Research Team Lead, DeepMind
Doina Precup is a researcher living in Montreal, Canada. She specializes in artificial intelligence. Precup is associate dean of research at the faculty of science at McGill University, Canada research chair in machine learning and a senior fellow at the Canadian Institute for Advanced Research.
Precup conducts fundamental research on reinforcement learning, working in particular on AI applications in areas that have a social impact, such as health care. She's interested in machine decision-making in situations where uncertainty is high.
She is a senior fellow of the Canadian Institute for Advanced Research, fellow of the Association for the Advancement of Artificial Intelligence and she also heads the Montreal office of Deepmind.
2. Joelle Pineau, Director, Meta AI Research Labs
Joelle Pineau is an Associate Professor and William Dawson Scholar at the School of Computer Science at McGill University, where she co-directs the Reasoning and Learning Lab. She is a core academic member of Mila and a Canada CIFAR AI chairholder. She is also co-Managing Director of Facebook AI Research. She holds a BASC in Engineering from the University of Waterloo, and an MSc and PhD in Robotics from Carnegie Mellon University. Dr. Pineau's research focuses on developing new models and algorithms for planning and learning in complex partially-observable domains. She also works on applying these algorithms to complex problems in robotics, health care, games and conversational agents. She serves on the editorial board of the Journal of Machine Learning Research and is Past-President of the International Machine Learning Society. She is a recipient of NSERC's E.W.R. Steacie Memorial Fellowship (2018), a Fellow of the Association for the Advancement of Artificial Intelligence (AAAI), a Senior Fellow of the Canadian Institute for Advanced Research (CIFAR), a member of the College of New Scholars, Artists and Scientists by the Royal Society of Canada, and a 2019 recipient of the Governor General's Innovation Awards.
3. Sharon Shahrokhi Tehrani, Product Manager, Machine Intelligence Retention, CBC
Sharon Shahrokhi Tehrani is a seasoned data and machine learning product leader, dedicated to developing, implementing, and deploying scalable AI & ML algorithms that remarkably impact business. She focuses on data-driven solutions to increase customer engagement and platforms' performance.
She serves as the product manager of CBC's machine intelligence retention team. In detail, she leads a project which aims to partner with digital products and content teams to influence the business decisions around implementation and data-driven solutions. The project's main objective is to deliver data and an ML platform to empower content teams in short-term and long-term content creation, publishing on digital products, and strategic decisions to better serve Canadians with relevant, diverse, and personalized content.
Prior to product leadership, Sharon spent years in data science and engineering at CBC and EQ works. Apply state-of-the-art machine learning, statistics, and data mining in a variety of areas, including audience behavior, audience journeys, and content strategy data science projects.
Sharon earned her BSc and MSc in Electrical Engineering from IAUCTB and Concordia University and a post-graduate certificate in Data Analytics, Big Data, and Predictive Analytics from TMU.
4. Hakimeh Purmehdi, Senior Data Scientist, Ericcson
Hakimeh Purmehdi is a senior data scientist at Ericsson Global Artificial Intelligence Accelerator, where leads innovative AI/ML solutions for future wireless communication networks. She received her Ph.D. degree in electrical engineering from the Department of Electrical and Computer Engineering, University of Alberta, Edmonton, AB, Canada. She finished her postdoc in AI and image processing at the Radiology Department, University of Alberta. Before joining Ericsson, she was the co-founder of Corowave, a startup to develop non-contact bio-signal monitoring, and she was with Microsoft Research (MSR) as a research engineer. Her research focus is basically on the intersection of wireless communication (5G and beyond), AI solutions (such as online learning, federated learning, reinforcement learning, deep learning), and biotech.
5. Natalia Bailey, Research Manager, FinRegLab
Natalia Bailey is Research Manager at FinRegLab, a nonprofit innovation center that tests new technologies and data to inform public policy and drive the financial sector toward a responsible and inclusive financial marketplace. In her capacity, she will continue to facilitate discussion across key stakeholders in the financial ecosystem on the responsible use of AI/ML in financial services, and delve deeper into how to promote AI/ML solutions for advancing financial inclusion.

Prior to joining FinRegLab, Natalia was a Policy Advisor with the Digital Finance Department at the IIF, where she led the machine learning and data ethics workstreams, helping shape the IIF's strategic agenda and explore key regulatory and policy implications. She conducted research and analysis through surveys on the application of ML by IIF member firms, with a focus on credit risk, anti-money laundering and governance of ML models. Additionally, she identified and created strategies that address implementation challenges and opportunities for the adoption of ML, including examining issues around explainability of ML models, and unfair bias and ethics.

Natalia holds a Master of Public Policy from George Mason University, and a Bachelor's degree in Economics from Hollins University, where she attended as a recipient of a IIE-Fulbright Scholarship.
6. Jekaterina Novikova, Director of Machine Learning, Winterlight Labs
Jekaterina Novikova is a Director of Machine Learning at Winterlight Labs. Winterlight Labs is a Toronto-based Canadian company that is developing a novel AI-based diagnostic platform that can objectively assess and monitor cognitive health. Jekaterina's work explores artificial intelligence in the context of language understanding, characterizing speaker's cognitive, acoustic and linguistic state, as well as in the context of human-machine interaction. Jekaterina received a PhD in Computer Science in 2015 from the University of Bath, UK. More information on Jekaterina's research can be found at: http://jeknov.tumblr.com
7. Helene Deschamps Marquis, Partner | Data Privacy and Cyber Security Law, Deloitte Legal
Hélène is a partner and the National Leader of the Data Privacy and Cyber Security Law practice at Deloitte Legal Canada LLP. Hélène and her team provide data breach coaching services and incident response support to clients across Canada on some of the most significant cyber incidents in the country. A dynamic thought-leader, she also advises Canada's leading institutions and their respective boards of directors on significant digital risks, including cybersecurity matters and data management. Hélène's integrated, multidisciplinary approach has gained her recognition as an expert in her field by major cybersecurity rankings, including IDC MarketScape and Forrester Wave. Moreover, she is a frequent speaker in North America and Europe on cyber security and data privacy. In addition, Hélène is recognized by various legal rankings for her expertise in data privacy, cybersecurity and digital law. Currently, Hélène is on the board of ITechLaw where she co-presides their I-WIN (Women's International Network) and she is also the vice-president for their American conferences. Previously, Hélène was Chair of the ITechLaw World Technology Conference in Boston in May 2019
8. Nataliya Portman, Senior Data Scientist, Cineplex Digital Media
Nataliya received her Doctoral Degree in Applied Mathematics from the University of Waterloo in 2010, followed by postdoctoral training at the Neurological Institute in Montreal. Following her postdoctoral assignment, she developed a novel approach to brain tissue classification in early childhood brain MRIs using modern Computer Vision pattern recognition and perceptual image quality models. Nataliya has worked in many industries including neuroscience, biotech, the public sector, and various start-up software companies. Throughout her career, she has applied her expertise in Mathematics to develop numerous models including but not limited to machine learning algorithms, computationally efficient algorithms for model validation, and neural networks. She is the co-inventor of "Bid-Assist", a strategy for setting up an initial bidding amount to discourage low bidding behavior, and "AutoVision", a mobile app that allows automatic taking of pictures of vehicle views and damages recognized by an image classifier. Nataliya paved a new way for Data Science in the incentives industry. She developed predictive analytics tools that help channel leaders maximize the return on investment of their channel incentive programs. In January 2021, Nataliya joined the Cineplex Digital Media as a Senior Data Scientist committed to the development of media content recommendation systems.
9. Frincy Clement, Women in AI, Ambassador for Canada and Manager, Data Science and Analytics, TELUS Business
Frincy is an Artificial Intelligence leader with business acumen and passionate about giving back to the AI community. She is a community builder and changemaker, with drive and passion for empowering more women to adopt careers in AI. She has 8 years of diverse experience in Telecom, Information & Technology, Consumer goods and Education sectors. She is a firm believer and practitioner of continuous learning and striving for excellence.
Frincy is the Canadian Ambassador for Women in Artificial Intelligence (WAI), a global community of women AI practitioners, contributing towards increasing the female representation in AI. Frincy brings WAI Canada at the forefront of renewed commitment to AI and diversity in tech by leading many strategic initiatives to inspire, connect, mentor and celebrate women AI professionals.
Frincy currently leads a team of Data Scientists at TELUS Business Solutions, building the product roadmap & strategy for TELUS Insights. In 2021, she was awarded the "Connection Honors Leaders of Excellence" Award in the category of Emerging Leaders for her contributions in empowering women in STEM Careers.
10. Maria Abrar, Senior Data Scientist, Reality Labs, Meta
Maria is a data scientist and analytics expert with 14 years' experience in creating insights and customer journeys using predictive and prescriptive models. In the past years, Maria has built and trained a data science team, provide data science consultancies in Pakistan, Ukraine, Bangladesh, Russia, Italy and Canadian markets and provided data science solutions. She has worked closely with marketers, Product Managers and leadership and assist them in utilizing the output of data science in ATL and BTL campaigns, devise future roadmaps and business strategies. Maria has extensive experience in building customer churn prediction models, forecasting customer usage trends and revenue, creating social network maps, developing product recommendation engines and in-depth behavioral segmentation.
She is currently working as a Data Scientist for Meta and based in Toronto.
11. Shiyamali Paranirupasingam, Women in AI Toronto City Lead and Founder, L'Amour Pearls
Shiyamali is the Digital Transformation Leader with a decade of experience working with world leading retailers and banks in Canada and the UK. She is a trailblazer and passionate about building community, business, innovative technology, creative projects and social impact work.
Her love for technology, creativity and arts intersected and as a result she founded an international fashion jewelry brand L'Amour Pearls.
Shiyamali is an advocate for women in technology with a focus on cognitive equity, diversity and inclusion, and she was instrumental in launching the first Women in Artificial Intelligence (WAI) Chapter in Toronto.
Shiyamali has founded an online platform "Learn with Shiya'' to empower individuals from all walks of life to build confidence with technology.
She is an advisory partner for Digital Literacy Programs run by Markham Public Library and also delivers workshops on digital literacy around the globe. Her philanthropy efforts involve supporting vulnerable children and women by providing learning and vocational training opportunities.
12. Paige Dickie, Head of AI, Layer 6
Paige became globally responsible for the end-to-end lifecycle of all use-cases across the bank at TD's Layer 6 AI. Paige has contributed her expertise to benefit society throughout her career, including combating financial crime in her previous role as Senior Manager at Vector Institute, where she worked with Canada's largest financial institutions, consulting companies, regulators and government agencies.
13. Mehrnaz Shokrollahi, Senior Data Scientist, PureFacts
Mehrnaz Shokrollahi is currently a Senior Data Scientist at PureFacts Financial Solutions where she transforms financial data into reliable Artificial Intelligence. She has developed multiple algorithms and use-cases for the financial institutes like boutique firms. Alongside her work on PureFacts she is a member of the advisory board on Queens University's InQUbate Program, first student-run AI startup incubator. She also holds a position in IEEE Canada with the title of Chair of the IEEE Signal Processing Section Toronto Chapter. Since completing her PhD from Ryerson University in 2015, Mehrnaz has had various positions in different industries including healthcare, manufacturing and mobile app and focused solely on developing AI solutions. She has also authored numerous papers and been awarded the prestigious scholarships including Mitacs Postdoctoral Award.
14. Sedef Akinli Kocak, Director, Professional Development, Vector Institute
Sedef Akinli Kocak is Director of Professional Development at Vector Institute for artificial intelligence building training programs for Vector sponsors and partners. Prior to this role she was the senior Project Manager and led several multi-industrial participant Applied AI projects. She holds a PhD degree from the Data Science Lab at Ryerson University, Canada and earned master's degrees in both Chemical Engineering and Business of Administration. She worked in data intensive R&D project development and academic industry partnerships in the area of AI/ML at SOSCIP, the Southern Ontario Smart Computing for Innovation Platform. She is also an experienced and accomplished researcher in the area of ICT for sustainability and sustainability design in software intensive systems and a part time Data Science and Analytics lecturer at Ryerson University since 2014. She served as a member of the Compute Ontario Board Advisory Committee and AI program development advisor at the Continuing Education, University of Toronto
15. Olga Tsubiks, Director of Strategic Analytics and Data Science, RBC
Olga is a Director of Strategic Analytics and Data Science at RBC, where she applies machine learning and automation for capacity planning and optimization. She has been working in data science for over 10 years. Olga brings data to life through machine learning, analytics, and visualization. Outside of her work at RBC, she has worked directly with global organizations such as the UN Environment World Conservation Monitoring Centre, and World Resources Institute, as well as prominent Canadian non-profits such as War Child Canada and Rainbow Railroad on various data science and analytics challenges.
16. Serena McDonnell, Lead Data Scientist and Quant Researcher, Delphia
Serena is a Lead Data Scientist and quant researcher at Delphia, where she uses machine learning to power the fund's long-short equity market neutral strategy. Passionate about knowledge sharing and continuous learning, Serena co-hosts Deep Random Talks, a podcast which focusses on machine learning, product development, and knowledge management. She is an organizer of AI Socratic Circles (AISC), a highly technical machine learning reading group for industry professionals. As part of AISC, Serena leads a research group that focusses on applying natural language processing and representation learning to recommender systems. Serena holds an M.Sc. in Mathematics from the Hong Kong University of Science and Technology, and a B.S.C. in Mathematics and Biology from McGill University.
17. Yuanhui Lang, Director, Data Science and Advanced Analytics, Ontario Teachers' Pension Plan
Yuanhui Lang is a Data Science executive with 18 years' experience in applying data science to solve business problems. She is experienced at building sustainable data infrastructure, designing and implementing data solutions along with building Machine Learning algorithms and implementation.
18. Shingai Manjengwa, Director of Technical Education, Vector Institute
Shingai Manjengwa is the founder and Chief Executive Officer of Fireside Analytics Inc., a data science education solutions company that develops customized programs that teach digital and AI literacy, data science, data privacy, and computer programming. Clients include corporates, governments, non-profits, higher education institutions, and high schools. Data science courses by Fireside Analytics have over 450,000 registered learners on platforms like IBM's CognitiveClass.ai and Coursera.
A data scientist by profession, Shingai is the Technical Education Specialist at the Vector Institute for Artificial Intelligence in Toronto where she translates advanced AI research into educational programming to increase AI capacity and, drive AI adoption and innovation in industry. She also serves on the advisory council for, "Accelerating the adoption of AI in health care," a program by the Michener Institute of Education at UHN and the Vector Institute to build a front-line healthcare workforce with the knowledge, skills, and capabilities to power AI-enabled health practices, organizations, and systems.
Shingai has taught Business Analytics and Big Data Applications at a college level and she is the founder of Fireside Analytics Academy, a program that helps high schools develop and deliver data science education. Shingai's book, 'The Computer and the Cancelled Music Lessons' teaches data science to kids from ages 5 to 12.
19. Angela Schoellig, Assistant Professor in Robotics, University of Toronto
Angela is a professor at University of Toronto, and has large interests in Robotics, Automation, Machine Learning and AI. She has held an associate professorship in robotics at the University of Toronto since 2020 and at the same time works at the Vector Institute for Artificial Intelligence in Toronto. Angela has received numerous awards, most recently being the Canada CIFAR AI Chair awarded by the Canadian Institute for Advanced Research.
20. Roxana Sultan, Chief Data Officer and Vice President, Health, Vector Institute
Roxana Sultan is the Chief Data Officer and Vice President, Health at the Vector Institute. She leads Vector's data strategy and its contributions to Ontario's and Canada's health sector. Along with our health team and partners, Roxana drives applications of AI to life sciences, fostering research, health sector and industrial sponsor projects, and initiatives to advance the health space, contributing to short-, medium-, and long-term impact achievements within the Ontario health ecosystem.
Roxana is the former Executive Director of the Provincial Council for Maternal and Child Health, where she led the implementation of evidence-based clinical quality improvement and access initiatives in obstetric, neonatal, and pediatric health services across Ontario.  Her career includes leadership roles with The Hincks-Dellcrest Centre (now "SickKids Centre for Community Mental Health"), the Princess Margaret Cancer Centre in the University Health Network, the Canadian Institutes of Health Research (CIHR), Cancer Care Ontario, and the Hospital for Sick Children.
As an Adjunct Lecturer with the Institute of Health Policy, Management, and Evaluation (IHPME) at the University of Toronto (U of T), Roxana teaches a graduate-level course on intelligent medicine, machine learning, and knowledge representation.  She also serves as the Vice Chair of the Board of the Canadian Cancer Society – Ontario Division.
21. Sanja Fidler, Associate Professor, University of Toronto, NVIDIA
Sanja is an Associate Professor at University of Toronto, affiliated faculty at the Vector Institute (and was one of the co-founding members) and VP of AI Research at NVIDIA, leading a research lab in Toronto. Prior coming to Toronto, in 2012/2013, she was a Research Assistant Professor at Toyota Technological Institute at Chicago, an academic institute located in the campus of University of Chicago. Her work is in the area of Computer Vision and Machine Learning. Her main research interests are in the intersection of computer vision and graphics, 3D vision, 3D reconstruction and synthesis; and interactive methods for image annotation.
22. Raquel Urtasun, Founder & CEO, Professor, University of Toronto, Waabi
Raquel Urtasun is the Founder and CEO of Waabi. She is also a Full Professor in the Department of Computer Science at the University of Toronto and a co-founder of the Vector Institute for AI. From 2017 to 2021 she was the Chief Scientist and Head of R&D at Uber ATG. From 2015-2017 she was a Canada Research Chair in Machine Learning and Computer Vision (from which she resigned to join Uber). Prior to this, she was an Assistant Professor at the Toyota Technological Institute at Chicago (TTIC), an academic computer science institute affiliated with the University of Chicago. She was also a visiting professor at ETH Zurich during the spring semester of 2010. She received her Bachelors degree from Universidad Publica de Navarra in 2000, her Ph.D. degree from the Computer Science department at Ecole Polytechnique Federal de Lausanne (EPFL) in 2006 and did her postdoc at MIT and UC Berkeley. She is a world leading expert in AI for self-driving cars. Her research interests include machine learning, computer vision, robotics, AI and remote sensing. Her lab was selected as an NVIDIA NVAIL lab. She is a recipient of an NSERC EWR Steacie Award, an NVIDIA Pioneers of AI Award, a Ministry of Education and Innovation Early Researcher Award, three Google Faculty Research Awards, an Amazon Faculty Research Award, two NVIDIA Pioneer Research Awards, a Connaught New Researcher Award, a Fallona Family Research Award and two Best Paper Runner up Prize awarded at CVPR in 2013 and 2017 respectively. She was also named Chatelaine 2018 Woman of the year, and 2018 Toronto's top influencers by Adweek magazine.
23. Anna Goldenberg, Senior Scientist in Genetics and Genome Biology, SickKids
Dr. Goldenberg is a Senior Scientist in Genetics and Genome Biology program at SickKids Research Institute, in 2018 she was appointed as the first Varma Family Chair in Biomedical Informatics and Artificial Intelligence. She is also an Associate Professor in the Department of Computer Science at the University of Toronto, faculty member and an Associate Research Director, Health at Vector Institute and a fellow and AI Chair at the Canadian Institute for Advanced Research (CIFAR), Child and Brain Development group. Dr. Goldenberg trained in machine learning at Carnegie Mellon University, with a post-doctoral focus in computational biology and medicine. The current focus of her lab is on developing machine learning methods that capture heterogeneity and identify disease mechanisms in complex human diseases as well as developing risk prediction and early warning clinical systems. Dr Goldenberg is a recipient of the Early Researcher Award from the Ministry of Research and Innovation. She is strongly committed to creating responsible AI to benefit patients across a variety of conditions.
24. Foteini Agrafioti, Head, Borealis AI, Borealis AI
Dr. Agrafioti is the Chief Science Officer at RBC and Head of Borealis AI. She is responsible for RBC's intellectual property portfolio in the fields of artificial intelligence and machine learning. She serves as co-chair of the Advisory Council on Artificial Intelligence, advising the federal government on how to build on Canada's strengths and global leadership in AI.
Prior to joining Borealis AI, Foteini founded and served as Chief Technology Officer at Nymi, a biometrics security company and maker of the Nymi wristband. Foteini is the inventor of HeartID, the first biometric technology to authenticate users based on their unique cardiac rhythms. She is a TED speaker and serves on the editorial review boards of several scientific journals. Foteini was named "Inventor of the Year" in 2012 at the University of Toronto where she received a Doctorate in Electrical and Computer Engineering and was named one of Canada's "Top 40 Under 40" for 2017.
25. Gillian Hadifeld, Director, Schwartz Reisman Institute for Technology and Society, University of Toronto
Gillian Hadfield is the inaugural Schwartz Reisman Chair in Technology and Society, Professor of Law, and Professor of Strategic Management. She is also Director of the Schwartz Reisman Institute for Technology and Society. Her research is focused on innovative design for legal and dispute resolution systems in advanced and developing market economies; governance for artificial intelligence (AI); the markets for law, lawyers, and dispute resolution; and contract law and theory. She teaches Contracts; Problems in Legal Design; Legal Design Lab, and Responsible AI.
Prior to rejoining the University of Toronto in 2018, Professor Hadfield was the Richard L. and Antoinette Schamoi Kirtland Professor of Law and Professor of Economics at the University of Southern California from 2001 to 2018.  She began her teaching career at the University of California Berkeley and was previously on the University of Toronto Faculty of Law from 1995-2000. Her book Rules for a Flat World: Why Humans Invented Law and How to Reinvent It for a Complex Global Economy was published by Oxford University Press in 2017.
Professor Hadfield is a Senior Policy Advisor for OpenAI in San Francisco, and an advisor to courts and several organizations and technology companies engaged in innovating new ways to make law and policy smarter, more accessible, and more responsive to technology and artificial intelligence, including the Hague Institute for Innovation of Law, LegalZoom, and Responsive Law. She was a member of the World Economic Forum's Future Council for Agile Governance and co-curated their Transformation Map for Justice and Legal Infrastructure; she previously served on the Forum's Future Council for Technology, Values and Policy and Global Agenda Council for Justice; and was a member of the American Bar Association's Commission on the Future of Legal Education, and the Dubai Courts of the Future Forum.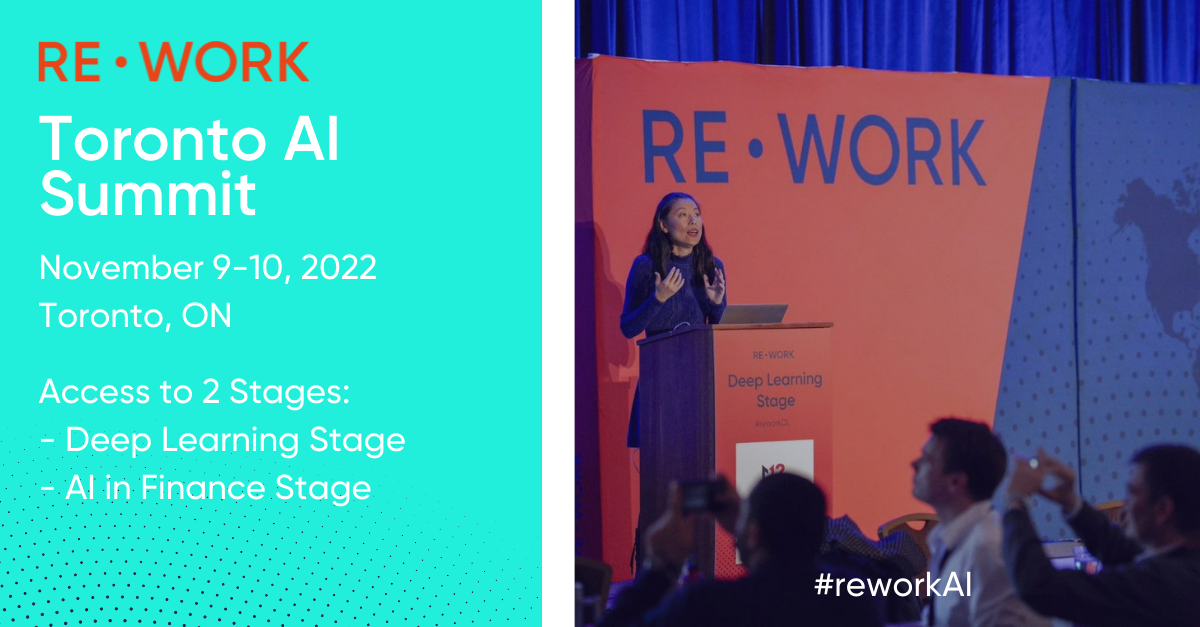 We are excited to confirm Sharon, Hakimeh, Natalia, Jekaterina, Helene, Sedef, Olga, and Serena from this list will all speak at the Toronto AI Summit to share their expert insights and the latest trends in AI in the industry. Nataliya, Frincy, Shiyamali, Maria, and Yuenhui will also all be on the Women in AI Reception panel.
Join us to learn and connect with them and many other AI leaders on November 9-10, 2022, at the Toronto AI Summit and Women in AI Reception.
We want to continue recognizing leading women in AI. Help us to highlight the inspiring work led by female leaders by submitting a nomination for our next edition! Enter your nomination here.
Sign up for the RE•WORK monthly newsletter for the latest AI news, trends, and events.