International Women's Day annually serves as a celebration of the achievements of Women thus far and to continue raising awareness of the ongoing efforts to reverse long-standing gender biases and stereotypes. With less than 30% of the UK FinTech workforce being female, we're taking the time to recognise and celebrate some of the fantastic women working within the field as an important reminder of their accomplishments & contributions.
We'd love to be able to celebrate ALL women working within the FinTech space, but here are 30 women that stood out!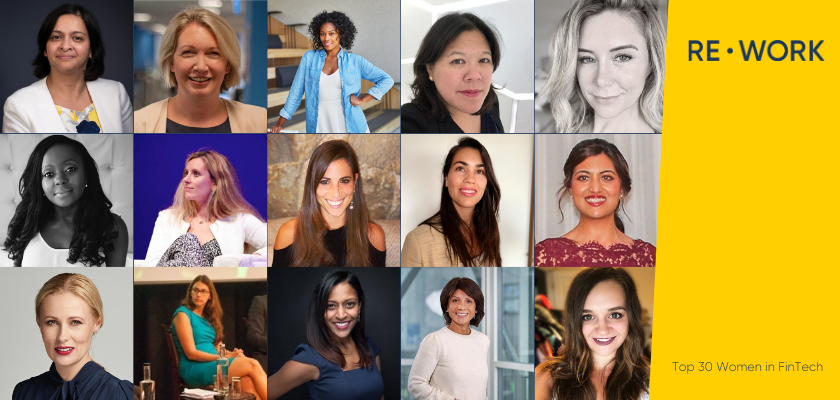 Anna Maj, Senior Advisor, Truffle Capital
Recognised amongst the Top 25 Women Leaders in Financial Technology in 2019, and the Top 100 Women in FinTech globally, Anna has unparalleled experience within the FinTech industry. Throughout her 20+ years working in this space, Anna has excelled in positions at Citibank, T-Mobile, Clairden Leu, PayTel, FinTech Connect, European Commission, CTFE & PwC as the FinTech Leader. Amidst her career,  Anna has co-authored 2 books, 'The PAYTECH Book' & 'The AI Book'.
Jan Chong, VP of Engineering, Tally Inc.
Jan Chong studied extensively at Stanford University, and graduated with both a Bachelors & Masters in Computer Science, as well as a Ph.D. in Management Science & Engineering. She later returned to Stanford to lecture in programming sequences & inspire those aspiring to work in similar fields. Since then, Jan spent 7 years as an integral part of Twitter's Engineering team, and now works as the VP of Engineering at Tally Inc, a consumer tech company pioneering full-service financial automation.
Zoe Adamovicz, Co-Founder & CEO at Neufund
With a steadfast passion for building technology businesses that are impactful and positive, Zoe has co-founded 6 successful businesses since beginning her career. Notably, Zoe was the co-founder at CEO of Xyo, an application search engine that was sold to NASDAQ in 2014. Zoe graduated from Warsaw University of Technology after studying Computer Engineering, and is now applying her skills and experience in Tech to her latest venture, Neufund, an inclusive, secure and simple investment platform for  innovators and entrepreneurs.
Lauren N. Nwankpa, Head of Social Impact, Dave
Lauren is the Head of Social Impact at Dave, the highest ranked personal financial management app in the US. Her Masters of Science in Social Entrepreneurship at the University of Southern California excelled her into a career in Social Impact, where she has previously worked at Headspace Inc. and Social Impact Capital before working at Dave.
Nastasha Bansgopaul, Fellow, White House Presidential Innovation
As the founder of VegaX - a digital asset management firm providing investors with one-stop access to investment products for digital assets - Natasha is passionate about utilizing technology for change and focuses her professional career on breaking down barriers throughout Financial Services. Natasha has a demonstrated history of working within the FinTech space, as she worked at Konstellation, a blockchain consulting services for financial services, and DarcMatter, a global online platform for Alternative Investments before embarking on a project of her own in creating VegaX. Natasha currently works as a White House Presidential Innovation Fellow, detailed to the National Institute of Standards and Technology (NIST).
Poojya Manjunath, Machine Learning Senior Product Manager, Lloyds Banking Group
With 11 years of experience working at Lloyd's Banking Group, Poojya's exposure to the FinTech environment is second to none. She has established herself within the company throughout a number of exceptional roles, and currently works as a Machine Learning Senior Product Manager, building AI-based products that deliver great customer and colleague capability. Her drive to succeed within this field is demonstrated by her many accolades including TechWoman100 winner, Women in FinTech Standout 35 Leader and Asia Businesswoman Finalist. Poojya will be joining the panel at the RE.WORK Women in FinTech Summit next month, specifically to discuss the topic: 'Developing & Deploying Fair Technology: How Did We Get Here & Where Do We Go?'
Gabriella Trevenen, Head of Retail Banking, Mutuals and Women in Finance, HM Treasury
Gabriella has been working as the Head of Retail Banking at HM Treasury where she oversees the development and maintenance of policy in relation to retail banking, building societies and credit unions in the UK. Her team are responsible for the Women in Finance charter, which aims to support the Government in representing women in senior positions within the financial sector.
Tribeni Chougoule, Head Of Change Management (Europe), Visa
After completing a Bachelors of Engineering, Electronics and Power Engineering, Tribeni has contributed her knowledge to the Tech industry in positions at Wipro Technologies before joining Visa in 2013. Since then, Tibeni has gained experience across various roles within the company and currently leads the Europe Finance Integration Program in her position as Head of Change Management. Tribeni has been working on her MBA at the University of Warwick, specialising in how organizations in the financial services industry may reduce or eliminate AI Bias when developing AI products.
Harriet Rees, Head of Data Science, Starling Bank
After completing a Masters in Mathematics at Oxford University, Harriet has fulfilled a career in the Finance space, working as an analyst at AXA before reaching the position of Head of Price Optimisation. Harriet now works as the Head of Data Science at Starling Bank, with a particular focus on Data Analytics, Credit Decision Science & Applications of AI.
Ravali Reddy, Data Science Business Analyst, Santander
After graduating with a BSc in Business Computing with Professional Practice, Ravali has taken on impressive roles at Santander where she joined as a Frontend Developer. Her work as a Financial Crime Data Analyst involved gathering use cases from business and writing queries in SQL to extract meaningful data to aid in their ideas and POCs. Ravali has also excelled in positions such as a Business Intelligence Solutions Analyst and Data Scientist, and now works as a full-time Data Science Business Analyst where she works with Data Scientists to provide solutions for business requirements or specific use cases.
Lydia Chen, Lead Data Scientist, USAA
Lydia completed her Masters in Information, Risk and Operations Management at the University of Texas, specialising in Business Analytics. She gained experience as an Analyst at Mu Sigma, where she managed a team of Data Scientists and directed them on deliverables across multiple projects. This experience lay the foundation for her position as Lead Data Scientist at USAA, where she currently works full-time. Lydia's work predominantly involves leading cross-functional teams for ML initiatives, building ML models and guiding them through the model governance process amongst other responsibilities.
Charlene Hill Fadirepo, Founder & Visionary, Guidefi
Charlene has had invaluable experience within the Finance industry where she started out as Financial Analyst at Citigroup, before embarking on positions at the Royal Bank of Canada, Cherokee Investment Partners, PwC, Greater Washington Jump$tart Coalition and Federal Reserve Board of Governors. Charlene now works at Guidefi, a FinTech company which she founded that makes it easier to find your ideal financial advisor.
Stephanie Foster, Chief Administrative Officer, XY Planning Network
Stephanie began her career as an intern at Western Union and throughout 17 years at the company, she  worked her way up to the Senior Regional Manager, in charge of managing 5 million transactions and $50M in revenues. Stephanie's career in FinTech continued to grow as the took on a manager role at Fiserv and then went on to becoming the Head of Regional Product Management at Finastra. With a passion for promoting diversity and inclusion in the industry, Stephanie founded Women Driving Innovation at the Atlanta Innovation Forum and worked as an Advisory Board Member for the Women's Network in Electronic Transactions. Today, Stephanie continues to make an impact in FinTech and currently works as a Chief Administrative Officer at XY Planning Network, a leading organisation of financial advisors who specialise in working with Gen X & Y clients.
Claire Calmejane, Chief Innovation Officer, Société Généralé
Claire is the Chief Innovation Officer at Societe Generale and throughout her career has channeled her passion and support for increasing the representation of women in technology. Claire's scope of experience within the industry is impressively extensive, and she has worked at a high level with CTFE, the World Economic Forum, Lloyds Banking Group, Tech Nation, Open Banking, Capgemini & MIT. She is an excellent role model for aspiring women across all STEM industries. Claire recently spoke with us in an episode of our Women in AI Podcast, where she discussed future role models, digital transformation, innovation in FinTech, the impact of COVID-19 & advice for people starting their career in tech. You can listen to the full episode or read the transcript.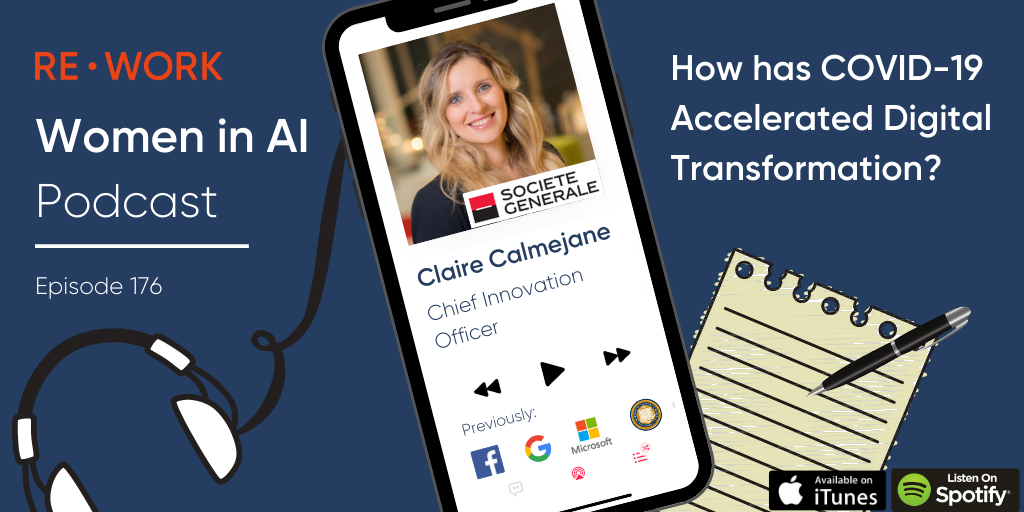 Rita Martins, FinTech Partnerships Lead - Innovation Finance and Risk, HSBC
With experience working with Santander, EY, Accenture, Finovate, FinTech Futures & HSBC, Rita stands out as a key-leader for Women in FinTech. Her extensive industry knowledge currently helps her to drive FinTech partnerships for Finance and Risk at HSBC. Amidst her professional career, Rita takes part in a number of mentoring programmes to share her experiences and help to inspire those looking to grow their careers in similar ways. Rita will be joining us on the panel next month at the Women in FinTech Summit, where she'll share her latest insights on developing & deploying fair technology.
Nicole Sandler, Head of Digital Policy, Barclays
As the FinTech Influencer of the Year in 2019, the Most Influential Women in FinTech Regulation (2019), Women in Paytech Finalist in Paytech Awards (2019) as well as Top Women in FinTech (2018), Nicole is definitely a success story of the FinTech world. Her current responsibilities as the Head of Digital Policy at Barclays include being the regulatory policy lead for FinTech aspects of Brexit, representing Barclays globally on panels & being the policy lead for GDPR and data sharing regimes.
Shyama Rose, Chief Information Security Officer/Head of IT, Affirm Inc.
Shyama is the Head of IT & Chief Information Security Officer at Affirm, Inc., a FinTech company with a focus on improving the lives of consumers by delivering simple, honest and transparent financial products. Shyama leads information Security teams responsible for efforts that secure and protect information important to enterprise personnel and customers.
Judith Erwin, Founder & CEO, Grasshopper Bank
Judith is the Founder & CEO of Grasshopper Bank, the first digital commercial bank in the United States. Her professional career within the Financial industry began at Commercia Bank, where she worked as the VP of Business Development for 8 years before taking on roles at Imperial Bank, Square 1 Bank & the Chief Operating Officer at PEX, where she was responsible for technology.
Allie Gillon-Livesey, Vice President - Digital Innovation, J.P. Morgan
Allie has spent the last 7 years working at JP. Morgan, taking on the roles of an Analyst, Strategy Associate and  Data Analytics & AI Strategy Lead. In her current role as the VP of Digital Innovation, Allie is the AI & ML Lead in the Digital Innovation Team in the Corporate & Investment Bank (CIB). Alongside her work with the Digital Strategy & FinTech team at J.P. Morgan, Allie completed an MSc in Business Analytics to further her technical knowledge to a Distinction level.
Cordelia Kafetz, Head of Financial Risk, Starling Bank
Cordelia is a standout role model for Women in the FinTech space. Since her studies in Economics at the University of Bristol, Cordelia has worked with HM Treasury European & International Financial Services team, the European Commission, the Financial Services Authority & the Bank of England, where she was the Head of the FinTech Hub. Codeila has gone on to apply her excellence as the Head of Financial Risk at Starling Bank.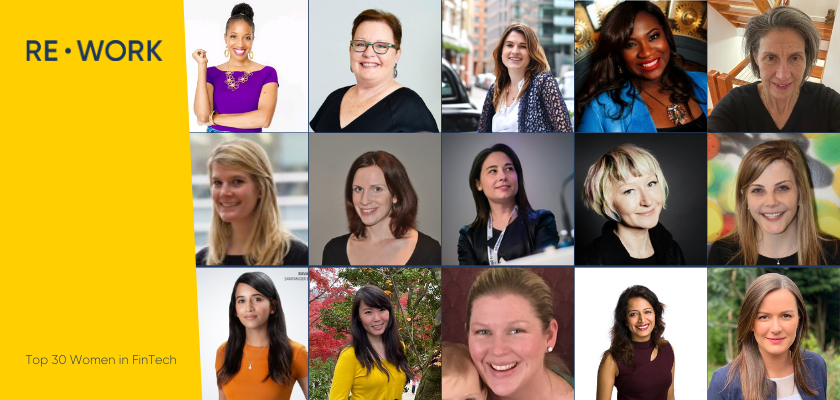 Courtney McCormac, Cybersecurity Program Delivery Manager, New York Life
Courtney has spent the last 7+ years sharing her expertise at New York Life, where her roles have spanned Project Manager in Investments Technology, Strategy & Planning Lead in Investment Technology, Portfolio Manager, Head of Enterprise Data & Integration Analysis, and Cybersecurity Program Delivery Manager which is the role in which she currently works. Courtney has gained a lot of experience within the FinTech space in previous roles at Deutsche Asset Management and Investors Bank & Trust, where she worked as a Business Analyst.
Gloria Della Noce, Data Scientist, Generali
Gloria completed her PhD in Mathematics from the University of Pavia, specialising in Algebraic Geometry, and has since been a solid member of the Generali workforce. For the last 5+ years, Gloria has been part of the Analytics Solution Centre, working as a Data Scientist to provide expertise to the group business units. Her main areas of focus are on fraud detection, text analytics (in customer satisfaction, claim analysis & fraud detection) and data visualization and dashboarding.
Helen Ramsden, Data Scientist, Munich Re
Helen is a Data Scientist with over 5 years of experience in researching, designing and delivering successful machine learning projects involving large-scale and varied datasets. In particular, Helen specialises in ML and feature engineering for enterprise, including NLP and Deep Learning, as well as python and PySpark for data processing and analytics. Helen has been working within the FinTech space for over 6 years now, sharing her excellence with both KPMG UK & Munich Re, where she currently works.
Jennifer Jordan, Managing Director, TechStars
As the Managing Director of TechStars with Female Founders First & Barclays, Jennifer plays an integral role in shedding light on female-led companies to provide them with tools and resources when they are most needed. Throughout her career, Jennifer has excelled in multiple roles. Notably within the FinTech space, Jannier grew a research platform at Wells Fargo Securities to generate more trading volume that the firms other analysts combined, resulting in commission revenue of $4M annually.
Louise O'Shea, CEO, Confused.com
Louise has worked within the FinTech space for quite some time, starting out as a Business Assurance Manager at PwC, before going on to help strategise at Fujitsu & Confused.com, where she has led the position of Finance Director before becoming the CEO of the company.
Fiona Ghosh, Partner, Addleshaw Goddard
Fiona specialises in complex commercial and technology transactions, as well as payments and FinTech arrangements at Addleshaw Goddard - with a particular focus on guiding clients through large scale disruption, business transformation and strategic risk management. Fiona is also currently part of the task force for HM Treasury's review of UK FinTech.
Leigh Ann Poole, Data Scientist, MetLife
Since graduating with a Bachelor of Information Technology from North Carolina State University, Leigh has further improved her knowledge in Data Science and Analytics through various courses with John Hopkins University & the Georgia Institute of Technology. Leigh currently works at MetLife, where she has worked her way up to a Senior Data Scientist after just 4 years with the company.
Priyanka Wadhwa, Data Science Manager, Visa
Priyanka is an experienced analytic professional with experience in building models such as linear & logistic regression, decision trees, clustering, time series, chargeback analysis and predictive modelling across the finance domain. Priyanka has excelled in previous analyst roles & is now a Data Science Manager at Visa. She's gained high value exposure on designing end deliverables in the form of fully automated dashboards using different tools like Tableau, Qlikview & Sisense.
Lucy Demery, Global Head of FinTech Banking, Standard Chartered Bank
Lucy is the Global Head of FinTech Banking at Standard Chartered Bank. Her educational background in Impact Investing at Oxford University & Law at LSE has equipped her well for a career within the FinTech space. Lucy was a lead feature in FinTechCity- The FinTech50 Yearbook of 2019, where she shared her experience in FinTech innovation at Standard Chartered.
Hattie Smith, Lead Data Scientist, AVIVA
Hattie has spent the last 3+ years working at AVIVA, where she has rapidly progressed from a Data Scientist to a Lead Data Scientist. Hattie's degree in Mathematics has enabled her to apply mathematics in commercial environments & utilise her skills in Data Science to extract insight from data to solve business problems.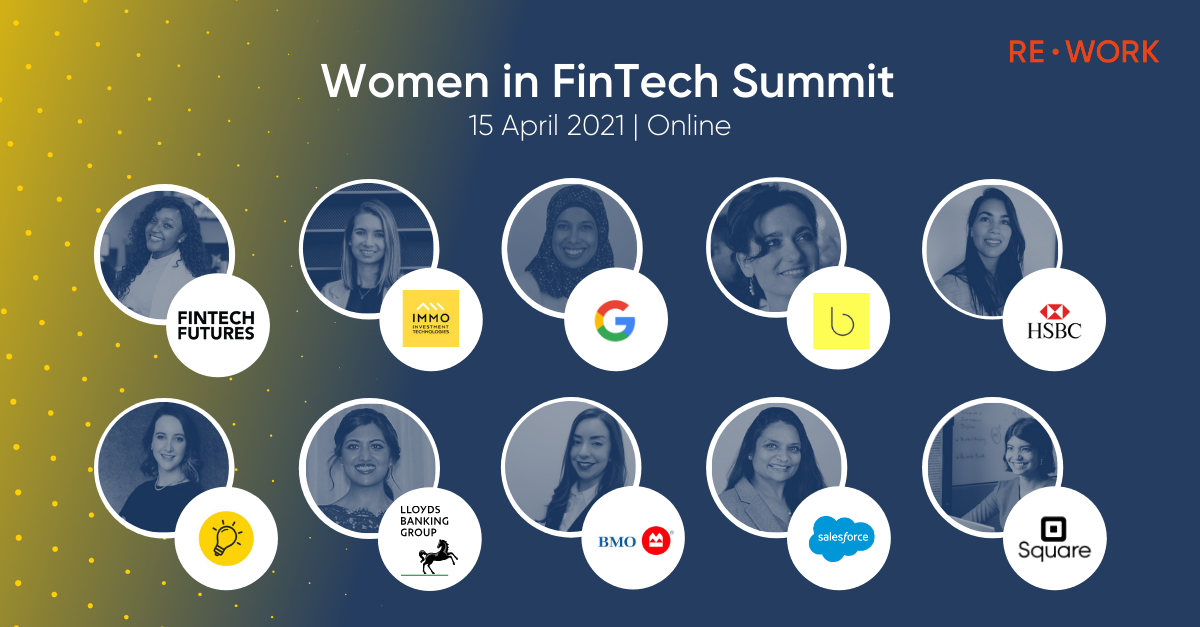 If you enjoyed reading this list and would like to recommend anyone for future posts, please fill out this form or get in touch via [email protected]
Read more RE•WORK Women in AI Blogs: