At RE•WORK, we are strong advocates for supporting women working towards advancing technology, so ahead of the upcoming AI in Healthcare Summit, we set out to highlight inspirational women within the US healthcare and pharma sectors who are working at the forefront of AI developments, and who deserve recognition for their achievements.
While we set out to create a list of just 20 – we couldn't narrow it down, as there are so many inspiring and prominent females in this space! Hear from many of them at our AI in Healthcare Summit, and more outside the healthcare space at our Women in AI Reception, both being held in Boston next month.
Help us to continue highlighting leading women in AI by nominating your influential woman for our next edition. Submit your entry here.
RE•WORK holds Women in AI events, podcasts, and blogs. Get in touch if you'd like to collaborate or support our initiatives!
1. Cortnie Abercrombie, CEO and Founder, AI Truth
Announced as one of "12 Brilliant Women in Artificial Intelligence & Ethics to  Watch in 2018" by Medium, "Top 100 Innovators in Data and Analytics in 2018"  by Corinium Intelligence, and one of "10 Big Data Experts to Know" by Information Management, Cortnie Abercrombie advises teams, organizations, venture capitalists, and startups on driving innovation sustained by responsible AI  practices. She is also the founder of AI Truth, a nonprofit advocating for ethical and responsible AI systems creation and use. At IBM she pioneered AI solutions for Fortune 500 companies and is world-renowned for establishing Chief Data Officers and data-driven organizations. Her coverage includes Forbes, Inc. Magazine, Medium, CRN, KD Nuggets, The Cube, CEO Forum, Diversity in Action, and Chief Content Officer Magazine.
2. Dr. Besa H. Bauta, Chief Data and Analytics Officer, Texas Department of Family and Protective Services
Dr. Bauta has extensive expertise in translational research, evaluation, healthcare data systems and services, and global public health. She was selected by CDO  magazine as a Global Data Power Woman and key influencer in shaping the landscape of business and pioneering the field of data and analytics in 2020 and  21, and as the top 100 Data and Analytics professionals in 2021. Dr. Bauta is a  published author who has written about mental health, non-communicable diseases, and improving health and mental health systems. She has worked both domestically and internationally on health and mental health projects and her current research focuses on optimizing health systems to improve health outcomes, and protection of health information including ethical practices in implementing Artificial/Augmented Intelligence technologies in human services and healthcare.
3. Amy Booth, Director, Physician Practice Transformation and Performance  Analytics, UHS Hospitals
Highly self-motivated healthcare professional with a strong academic background in applied data science and advanced analytics, Amy has a proven track record of managing successful projects in challenging business environments utilizing problem-solving, organization, and communication skills that have been demonstrated by over twenty years of healthcare experience. Amy is also a Certified Six Sigma Black Belt.
4. Chathuri Daluwatte, PhD, Head of AI Enablement and MLOps, Sanofi
Scientist and engineering leader with a history of driving transformational impacts with success in the life sciences industry (medical devices,  pharmaceutical, and FDA) with experience in product development and medical research. Chathuri has spent nearly 4 years in a variety of AI and data science roles within Sanofi, prior to which she held several other roles in the healthcare and biotechnology space.
5. Mary Jane Dykeman, Managing Partner, INQ Law
Mary Jane Dykeman is a managing partner at INQ Law. In addition to data law,  she is a long-standing health lawyer. Her data practice focuses on privacy,  artificial intelligence (AI), cyber preparedness and response, and data governance. She regularly advises on the use and disclosure of identifiable and de-identified data. Mary Jane applies a strategic, risk, and innovation lens to data and emerging technologies. She helps clients identify the data they hold, understand how to use it within the law, and how to innovate responsibly to improve patient care and health system efficiencies. In her health law practice, Mary Jane focuses on clinical and enterprise risk, privacy and information management, health research, governance, and more. She currently acts as VP Legal, Chief Legal/Risk to the Centre for Addiction and Mental Health, home of the Krembil Centre for  Neuroinformatics, and was instrumental in the development of Ontario's health privacy legislation.
6. Leslie Errington – VP and Vision AI Practice Lead and VP of Strategic Accounts, Plainsight
Leslie is an award-winning business development tech executive with a diverse  20-year background of repeated success across AI/ML, big data, and scientific publishing disciplines. She is compelled to provide life science and healthcare systems with new innovative approaches to solving difficult problems. Leslie was previously a Startup / Early Stage Consultant for Business Development and  Partnerships, A Founder at VitalAlly, Inc., and Advisor/Board Member for Elevate  By Salon / Aux House.
7. Buka Gurgenidze-Steinau, Associate Director of Artificial Intelligence/Machine  Learning, Memorial Sloan Kettering Cancer Center
Prior to her role at Memorial Sloan Kettering, Buka was responsible for enabling companies to successfully create and deliver conversational AI solutions across their organizational ecosystems at Haptik. Before that, she was part of  BlackRock's Artificial Intelligence and Automation team where she implemented automation tools to help scale operations and support teams across the firm's global footprint. Buka holds an MS from Columbia University and is the editorial board member of the Journal of AI, Robotics, and Workplace Automation at  Henry Stewart Publications.
8. Kelley Gurley Ph.D., Head of PDT IT Strategy and Ops, Takeda
Kelley has over 20 years in the IT industry experience specializing in Healthcare.  She thrives in environments that are open to innovation and transformation. Kelley has been involved in many spectrums of software development/cloud migrations/product management including but not limited to integrations,  implementations, and solutions for EMR/EHR for portfolios 1B(+). Kelley also has a broad background of experience in re-engineering business processes and technologies supporting the healthcare arena- Acute and Post Acute Care,  Hospice, Dialysis, Laboratory, and Life Sciences.
9. Sara Hines – Director of Strategic Healthcare AI Innovation, Humana
Sara is a senior-level professional with the demonstrated ability to lead, innovate,  disrupt, and accelerate strategic concepts to execution with a collaborative,  tenured finesse. She received her Bachelor of Science in Communications from the University of Kentucky. Previously, Sara was the VP of Operations for Prism  Medical Ltd., Vice President of Partner Sales for ZirMed, and Vice President of  Sales for U.S. Voice & Data.
10. Tatyana Kanzaveli – Founder and CEO, Open Health Network
Tatyana has gone from a programmer to a senior executive at Big 5 to founder and CEO of Open Health Network throughout her 20-year career. She is recognized as a thought leader and mentor for her ability to guide Fortune 500  and startup companies through their business challenges. She received her  Master of Science in Computer Science from Azerbaijan State Oil Academy. She currently sits as a Resident Mentor for 500 Startups and Branson Centre of  Entrepreneurship – Caribbean. Tatyana is also an Advisor for ActivityHero and  CEO for TEDxBayArea in San Francisco.
11. Anemone Kasasbeh, Data Scientist, United Health Services Hospitals
Anemone is currently working as a Data Scientist at United Health Services  Hospitals, which is the largest and most comprehensive provider of healthcare services in upstate New York's Southern Tier. Anemone is also a Ph.D. Candidate at the State University of New York at Binghamton in the Systems Science and Industrial  Engineering Department. Her expertise is in advanced data analytics with a focus on healthcare systems. Anemone's current professional focus is improving healthcare using big data, prediction modeling, simulation, and machine learning to help deliver a better patient experience. Anemone is passionate about using data science in both academia and industry. She has published several peer-reviewed research papers in healthcare and data science.
12. Aida Ehyaei Kavara – Senior Machine Learning Engineer, athenahealth
Aida is a Senior Machine Learning Engineer with several years of experience in  Deep Learning, Machine Learning, Data Processing, Modeling, Statistical Analysis,  Data Visualization, and Software Engineering. She graduated from the Isfahan  University of Technology with a Bachelor of Science in Electrical Engineering and a Master of Science in Electrical Engineering and Networking Communications.  She always received a Master of Science in Computer Engineering from Northeastern University. She was previously an Applied Machine Learning & Artificial Intelligence Scientist II at Kaleido Biosciences and a Data Scientist for Macmillan Learning in Boston, Massachusetts.
13. Hilary Loustaunau, MBA, Program Director, Augmented Intelligence (Analytics,  Automation, AI, Machine Learning), Cardinal Health  
Hilary currently serves as Program Director for Augmented Intelligence. This innovative team manages projects leveraging advanced analytics, automation,  and AI/ML technologies to drive cost savings and create value. As program director,  she will leverage communication skills to promote capabilities and engage stakeholders as well as improve project tracking and change management. A decade of Hilary's career growth was in eCommerce technical marketing where she started as the first product manager for Cardinal Health's pharmaceutical eCommerce site, Order Express. After two promotions within the same division, she became Director of Product Marketing for the $85 billion eCommerce channels as well as exceeded my department's revenue targets for five consecutive years. In 2020 she returned to Cardinal Health to serve as eCommerce Business Process Owner within the Pharmaceutical Modernization  (P-Mod) team. She joined this multi-year SAP implementation project to lead teams through agile processes to deliver excellent customer experience and business value.  
14. Asha Mahesh, Senior Director Janssen R&D Data Science Platforms & Privacy, The Janssen Pharmaceutical Companies of Johnson & Johnson
With over 15 years in leading global scale solutions for financial and healthcare industries, Asha is passionate about aligning technology and data-driven solutions to create new business opportunities. She has deep knowledge in  Commercial and R&D Pharmaceuticals delivering services for patients, health care professionals, and strategic customer groups and has successfully developed data science solutions and data platforms with governance, security, privacy, and ethics to enable the optimal implementation of Data Science capabilities. Asha has also established collaborations with healthcare institutions, data providers, and digital health technology organizations to address clinical and scientific questions.
15. Marsha Meytlis – Head of Data Science and Engineering – Northwell Health
Marsha is an experienced data science executive focused on getting data science projects off the ground, organizational management, and bridging the gap between technology and business strategy. She has 20 years of experience in building machine learning models and bringing them into production. Her projects have spanned various domains including cybersecurity, advertising technology, finance, computer vision, and neuroscience. She received her  Bachelor's Degree from Columbia University and wrote her Ph.D. thesis on  Machine Learning at Mount Sinai Medical School. Previously, Marsha was a Data  Science Lead at JPMorgan Chase & Co., Director of Data Science, Team Lead at  The Weather Channel, and Applied Scientist at Yahoo! In New York.
16. Kapila Monga, Head of Data Science, Bon Secours Mercy Health
Kapila is the Head of Data Science and Intelligent Process Automation at Bon  Secours Mercy Health and has over 15+ years of experience in designing and delivering end-to-end data science and machine learning solutions. In her role at  BSMH she is responsible for ensuring data science value realization in the $ 11  BN pro forma operating revenue / 50 hospital chain health system. Prior to Bon  Secours Mercy Health, Kapila was leading the Data Science and Machine  Learning solutions for Healthcare across NA for Cognizant Technology  Solutions. She has worked with Health insurance companies and provider systems across the US to partner with them on their journey of AI and Data science value realization. Kapila writes for the Journal of AHIMA on topics related to  Healthcare AI/ML and is passionate about using Digital technologies to Care for  Caregivers.
17.Raj Nimmagadda, Global Head R&D Data Office, Data and Data Sciences, Sanofi
Raj Nimmagadda is the Global Head R&D Data Office at Sanofi, leading the data and digital transformation journey by establishing data strategy and data governance framework, data policies, and procedures. Prior to this, she worked at Novartis where she was responsible for Central Operational Services in leading the implementation of transformative technology solutions,  and the development of Clinical Data and Data Analytics Strategy. Prior to this role, Raj spent several years at BioClinica (Formerly Core Lab Partners Inc.) and J&J in leadership roles of increasing responsibility in Clinical technology, Clinical data management, and Submissions. She holds an MBA in Strategy and Leadership  (NYU Stern School of Business) and Masters in Computers (Osmania university).
18. Ellie Norris, Innovation Chapter Lead for Clinical & Real-World Evidence Generation (CRWEG) Application Engineering, Merck
Ellie D. Norris is the Innovation Chapter Lead for Clinical & Real-World Evidence  Generation (CRWEG) Application Engineering at Merck with a current focus on natural language processing (NLP) use cases. She has 20 years of professional experience in scientific R&D and information technology and is passionate about exploring and implementing experimental technologies and problem-solving methods. She also serves as a co-lead of Aggregate Intellect's NLP Working Group and a co-organizer for the NYC Chapter of Women in Machine Learning and Data  Science (WiMLDS). Ellie previously earned a bachelor's degree in Biochemistry from Virginia Tech and a master's degree in Bioinformatics from the University of  Manchester in the United Kingdom.
19. Carolyn J. Pfeiffer, Director- Data Governance & Privacy, The Janssen  Pharmaceutical Companies of Johnson & Johnson
Carolyn has over 20 years of experience in the Pharmaceutical Industry. She has an established track record of leading security functions comprising of 3rd party risk management, cloud, and SaaS offerings including compliance. This risk management supported the delivery of 15 billion dollars in revenue for a world leader in life sciences. Among her many achievements, she oversaw security and risk reviews for over 250 systems ensuring standards, policies, and guidance were followed and maintained and oversaw innovative clinical digital trials working closely with the legal, regulatory, and business to ensure patient safety was first and worked side by side with key global key stakeholders and leadership teams to evaluate pragmatic solutions for security and risk. She earned her Bachelor of  Business Administration from Temple University and Master of Education degree from Arcadia University.
20. Shravanthi Sridhar - Data Science Partner - Commonwealth Care Alliance
Experienced Data Scientist, specializing in machine learning and optimization with domain knowledge in healthcare. Proficient solutions architect experienced in translating clinician needs into data products using RWD to create algorithms that compress simple actionable insights. Skilled at designing analytics tools that aggregate member-level data across multiple EHRs. Population health informatics enthusiast with intuitive knowledge of connecting data at the population level to help aid insightful modeling. Adept in project architecture, solutions building & end product delivery. I'm inspired to spread awareness about the richness of clinical data available and motivate people to use them for good.
21. Uma Sridharan, Senior Director, Data Analytics, Becton Dickinson
Prior to joining BD, she served in numerous data and analytics leadership roles at Cytiva and GE including Digital Strategy leader for the Cytiva business. During her 20+ years of experience, Uma has progressed through global roles in multiple functions and locations and managed critical product launches and delivery of new data engineering capabilities. Uma is known for her innovative and results-oriented approach and leads a global team. Uma also supports and mentors young engineers through the Asian Associate Resource Group as well as STEM women engineers. Uma received her executive MBA from Columbia  Business School and an electrical engineering degree from the National Institute of  Technology, Suratkal, India.
22. Sage Withman, Director, AI & Clinical Collaborations, GE Healthcare
Sage Witham is a Director of AI and Clinical Collaboration research programs at  GE Healthcare. Sage is based in Boston and is responsible for the management of AI research and product development activities that help GEHC and research collaborators globally. She works with partnering organizations and provides the conduit into GEHCs product development teams to ensure joint objectives are achieved in a timely and efficient manner. Sage holds a Bachelor's in Business  Administration from Northeastern University. She has been with GE for over 7  years, spending time in multiple GE businesses working in cross-functional project management roles to support business needs.
23. Pracheta Sahoo (Ph.D.) – Machine Learning Engineer, The Public Health  Company
Pracheta is a Ph.D. graduate from the University of Texas at Dallas. She received her Master's Degree in Mathematics and Computer Science at the Indian Institute of  Technology, Patna. Her specialty is in Artificial Intelligence, Machine Learning,  and Natural Language Processing. She is currently employing deep learning in drug classification and drug discovery domains. Pracheta previously was a  Machine Learning Engineer III for PlayStation in San Francisco.
24. Isha Verma, Machine Learning Scientist, Small Molecule Drug Discovery, Bristol Myers Squibb
Isha is well versed in the AI for pharma space, having served in several roles at  Merck prior to joining her current role at BMS. She holds an MS in Computer  Science from the University of California, Los Angeles, and a BS in Computational  Biomedical Engineering from The University of Texas at Austin.
25. Margot Yann, Ph.D., Director, Advanced Analytics, Tenet Healthcare
Margot is a trained computer scientist with a wide background and expertise in Artificial Intelligence, Machine Learning, and computing in healthcare, with hands-on big-data experience in Electronic Health Records, Computer Vision, and Natural Language Processing in hospitals, urgent care, government agency, and corporate settings. She has  experience managing data scientists & software engineers applying cutting-edge deep learning research from the ground up to achieve practical goals, to deliver scalable products for data science projects on time & within budget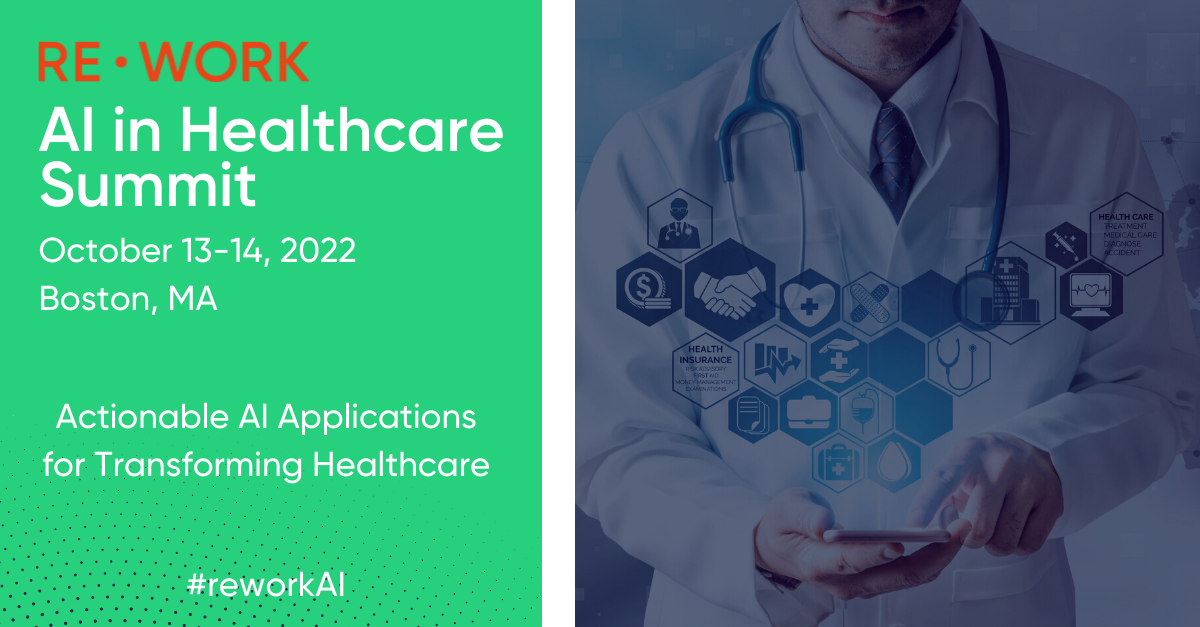 We are excited to confirm Ellie, Raj, Amy, Kapila, Asha, Cortnie, Shravanthi, Dr. Besa, Anemone, Sage, Amy, Mary Jane, Uma, and Carolyn from this list will all speak at the AI in Healthcare Summit to share their expert insights and the latest trends in AI in the healthcare industry. Chathuri Daluwatte from Sanofi will also be on the Women in AI Reception panel.
Join us to learn and connect with them and many other AI leaders on October 13-14, 2022, at the AI in Healthcare Summit and Women in AI Reception.
We want to continue recognizing leading women in AI. Help us to highlight the inspiring work led by female leaders by submitting a nomination for our next edition! Enter your nomination here.
Join our upcoming Women In AI Receptions:
Women in Reception in Boston – 13th October.
Women in AI Reception in Toronto – 9th November.
Women in MLOps Reception in London – 9th November.
Sign up for the RE•WORK monthly newsletter for the latest AI news, trends, and events.