Montreal is considered to be a global hub for the advancement of Artificial Intelligence (AI) research and business applications, with an abundance of expertise and thought-leading organisations working in the Canadian AI ecosystem. Whilst recognised as a leading space for the development of AI, Montreal has come into criticism in regard to the gender imbalance and lack of diverse representation in STEM fields. As a female-led organisation, we want to promote the work of those driving the advancement in AI across the world, therefore, we are continuing our #WomenIN series with a Montreal edition! The list below includes those that are at the forefront of AI development in Canada. We also reached out to some of our network of AI experts who recommended some of their top picks for this list.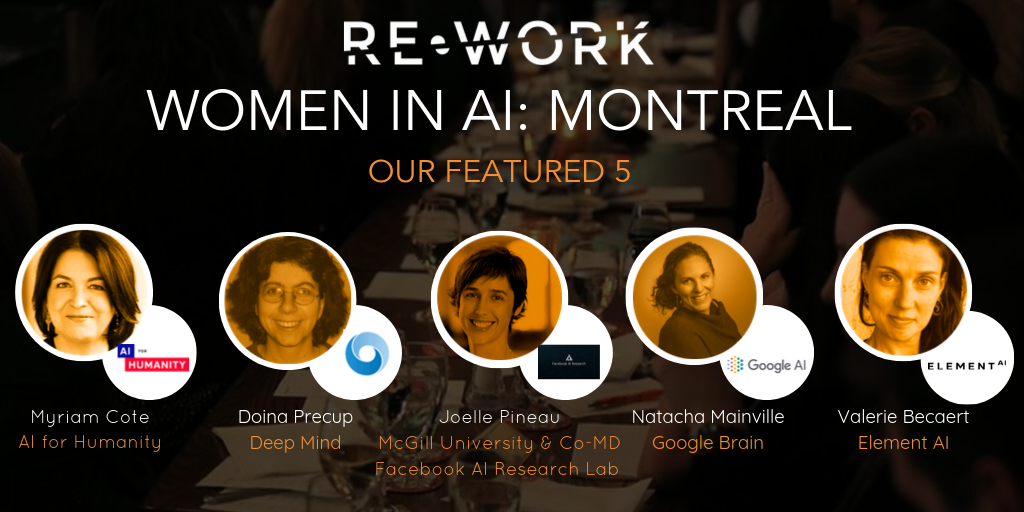 Myriam Côté, Director, AI for Humanity
Myriam joined Mila in 2009, and was appointed as Executive Director from 2015 to June 2018. She also became Director of the Mila R&D and Tech Transfer team from 2017 to September 2018, she is now Director of AI for Humanity. Myriam has over 15 years of professional experience in artificial intelligence, project management and software development, in both academic and industrial research environments. As Director of AI for Humanity, Myriam is aiming to action Mila's humanitarian mission in collaboration with both local ecosystem partners and international allies, by promoting an ethical and socially responsible usage of AI.
2.  Doina Precup, Research Team Lead, DeepMind
Doina holds a Canada Research Chair, Tier I in Machine Learning at McGill University, and currently co-directs the Reasoning and Learning Lab in the School of Computer Science. Alongside this, Doina also serves as an Associate Dean for the Faculty of Science as well as acting as the Associate Scientific Director of the Healthy Brains for Healthy Lives CFREF-funded research program at McGill. Doina's research interests include reinforcement learning, deep learning, time series analysis, and various applications of these methods. She is a Senior Member of the American Association for Artificial Intelligence.
3.  Joelle Pineau, Associate Professor, McGill University & Co-MD, Facebook AI Research Lab
Joelle Pineau is an Associate Professor and William Dawson Scholar at McGill University where she co-directs the Reasoning and Learning Lab. As a member of Mila's faculty corp, Joelle also leads the Facebook AI Research lab in Montreal, Canada. Currently focussed on researching the development of new models and algorithms for planning and learning in complex partially-observable domains, Joelle's plans to apply these algorithms to complex problems in robotics, health care, games and conversational agents. Joelle chaired a panel session with AI pioneers Geoffrey Hinton, Yoshua Bengio and Yann LeCun at the inaugural Montreal edition of the Deep Learning Summit. You can watch a summary here.
4.  Natacha Mainville, Sr Research Program Manager, Google AI
Natacha graduated from Polytechnique Montreal in Computer Engineering and is a seasoned engineering executive with previous roles as a Chief Innovation Officer at TandemLaunch and as VP of Software Engineering at Intact. Natacha believes in a world with more young women in STEM and leadership positions, actively seeking opportunities to champion this cause through mentorship, discussion and outreach. We were lucky enough to have Natacha attend our summit in Toronto last year and record a fireside chat with fellow Google Brain AI Resident, Sara Hooker. See the full talk here.
5.  Valerie Becaert, Director of Research and Scientific Programs, Element AI
Before joining Element AI, Valerie was director of partnerships at the Institute for data valorisation (IVADO), which brings together more than 900 scientists working to extract economical and societal value from data. She holds a PhD in Chemical Engineering from the Polytechnique Montréal in environmental modelization. Her career began as a researcher in the field of life cycle analysis, a powerful tool employed to evaluate the potential impact of human activities on the environment. It is by working with optimization and mathematics researchers to solve environmental problems that Valerie became convinced that our ability to generate, analyze and value big data would change the world.
6. Adriana Romero Soriano, Research Scientist, Facebook AI Research
Currently working as a research scientist at Facebook AI Research and an adjunct professor at McGill University, Adriana is one of our women to watch for 2020. Previously a post-doctoral researcher at Montreal Institute for Learning Algorithms, she was advised by Prof. Yoshua Bengio who also frequently speaks at RE•WORK events. Her research revolves around deep learning techniques to tackle biomedical challenges, such as the ones posed by imaging multi-modality, high dimensional data and graph structured data. You can read more about Adriana on her website here.
7. Valerie Pisano, President and CEO, Mila
Valerie is dedicated to ensuring that there is diversity and equality in the workplace and is a proud mother of three girls. She was previously Chief Talent Officer at Cirque du Soleil and cofounded The Mobïus Bias Project, an initiative focused accelerating the dialogue on female leadership roles by exploring unconscious bias. Valerie holds a Masters Degree in Applied Economics, and has experience in strategy, leadership, talent management and corporate culture which have all contributed to her passion of fulfilling human potential to make the world a better place. Valerie is currently the president and CEO of MILA - the Quebec Artificial Intelligence Institute.
8. Caroline Pernelle, Visiting Lecturer, École des dirigeants HEC Montréal & helping Montreal International to build a Worldwide "AI for Good" Organization
Caroline defines herself as a data-techno-geek who loves to make the data speak and also advance the potential of humans. She holds a bachelor's degree in mechanical engineering with a specialisation in aeronautics from Polytechnique Montréal and a journalism certificate from the Université de Montréal. Having worked in a variety of industries, Caroline believes that the key to making companies become more efficient and spark innovation is through the use of data and picking out the important information to prepare us for 'the world of tomorrow'.
9. Margaret Magdesian, CEO & Founder, ANANDA Devices
As CEO & Founder of the startup Ananda Devices, Margaret works with advanced technologies for drug development. Using her 8 years of research from McGill University, Margaret created Ananda Devices and heads a team whose expertise in stem cells, microfluidics and nanotechnology has produced a micro device for growing human mini-brains, mini-spinal-cords and innervated tissues to form a Human Organ-on-a-Chip Platform (HOCP).
10. Sarah Jenna, Co-founder and CEO, My Intelligent Machines
Sarah is Co-Founder & CEO of My Intelligent Machines and obtained her PhD in cell biology and microbiology at University Aix-Marseille in France, 1988. As the Co-Founder and CEO of MIMs Inc, she translates the expertise to provide MIMs with the state-of-the-art integrative genomics abilities and attention to specific needs of biologist users. MIMs Inc's mission is to help life-science companies use their big data and AI to maximize food and drug production.
11. Marina Pavlovic Rivas, Co-Founder & CEO, Eli
Marina, Co-Founder & CEO at Eli believes that entrepreneurship, data science and information as tools can help shape the future in a good way. She uses these tools to tackle challenges in the creative industries and is working with these to develop a new type a medical technology in the fertility space that puts the need of women first.  Marina wants to make tech more inclusive, both for people who make it and for those who use it. You can read more about how Eli is providing women with a new type of solution to manage reproductive health here.
12. Claudia Pérez-Levesque, Founder, exVentus
Founder of exVentus, Claudia, is an energetic renewable energy enthusiast with an engineering background based in Montreal. She is a CleanTech & STEMinist striving to make the world more diverse and sustainable with algorithms. Claudia aims to use her problem deconstruction skills and capacity to connect to make the world a more inclusive and sustainable place. She is also Vice President of Manifeste des femmes en tech which you can read more about here.
13. Alexandrine Allard, Senior Product Designer, Moment Factory
As a Senior Product Designer at Moment Factory, Alexandrine believes that great design is 'complexity communicated into simplicity'. Moment Factory is a multimedia entertainment studio specializing in immersive environments and experiences. Alexandrine's passion for behaviour psychology is what helps her create human-centered functional experiences. She wants to design products that ultimately make people happy and design these experiences by leveraging empathy, goodness and impact around her.
14. Elodie Micoulet, Scrum Master, Nuglif
Elodie is a Scrum Master at Nuglif and has expertise in executive dashboard development. The diversity of her projects has allowed her to mix her interest in visualisation and the use of data with agile practices. She enhances this expertise at Nuglif in a framework of product development, evolution and continuity of agile practice.
15. Caitrin Armstrong, CTO, Aifred Health
Caitrin has just been promoted to CTO at Aifred Health and is an advocate for the careful consideration of data preprocessing in ethics group discussions. She finds joy in retrieving, processing and synthesizing information. Caitrin holds and MSc in computer science from McGill University and is interested in personalized medicine, AI ethics and computational social science.
16. Bahar Partov, Applied Researcher, Wavelite
With 9 years of experience within the communications industry and in academia, Bahar currently works as an Applied Researcher and Technologist at Wavelite. She is passionate about entrepreneurship, impactful innovation, music and arts. You can keep up to date with Bahar on her website here.
17. Johanna Hansen, PhD Researcher & Research Intern, McGill & NASA
Johanna is a PhD Researcher looking into model-based planning and reinforcement learning with generative models for mobile agents. She enjoys working on projects which seek to improve our understanding of the natural world through autonomous data collection and modeling. She is  currently working at NASA Jet Propulsion Laboratory taking part in a research internship working on machine vision aspects of the Mars Sample Return Project.
18. Wendy Tay, Product Manager In Technology, Microsoft Research
Soon to be taking a product manager role at Borealis AI, which is the applied AI team at RBC, Wendy leverages product strategy, analytical and customer research skills to deliver significant results. She is interested in using technology and design to creatively solve customers problems. Read her blog written for Microsoft 'TextWorld: A learning environment for training reinforcement learning agents, inspired by text-based games' here.
19. Yosra Kazemi, Co-founder, Sunia Technology
Also Co-Organizer at WiMLDS Montreal Chapter, Yosra Co-Founded Sunia Technology, which 'strives to provide intelligent always-on vision systems with low energy costs'. Yosra is passionate about impact-full innovation, entrepreneurship, and promoting inclusion and diversity which you can find out more about on WiMLDS Montreal.
20. Annie Veillet, Partner - Responsible AI, PwC Canada
Leading the Intelligent Automation offering at PwC, Annie works with various organizations and helps them to build trust into their AI, focusing on responsible AI, leveraging AI techniques to automate, and Robot Process Automation (RPA). Annie has a Masters degree in Information Technologies from the University of Montreal and a Bachelor of Commerce from HEC Montreal.
21. Carolina Bessega, Chief Scientific Officer & Co-Founder, Stradigi AI
Caroline began her career by obtaining her PhD in fundamental physics, eventually becoming an award-winning professor and researcher and was also appointed by the Venezuelan Science and Technology Ministry as the coordinator of the national program for graduate students in her field. Her meteoric rise as Chief Scientific Officer and her extensive experience working in machine learning now allows her to work alongside renowned advisors and business pioneers in the industry to continuously create, innovate, and develop new technologies that solve real world problems.
22. Simona Gandrabur, Sr. Director - AI Lead, National Bank of Canada
Currently, Simona is working as the AI strategy lead at the National Bank of Canada, in charge of identifying and executing upon AI investment opportunities within the bank's Wealth Division. She has been working in the general field of AI for close to 20 years, most notably in areas related to processing of human languages – such as automatic speech recognition, natural language understanding, machine translation and conversational reasoning. You can read up on 'The Future of Advanced Dialogues Applications' here.
23. Margarita Mayoral Villa,  Physicist - Data Scientist, StreetScan
Margarita holds a masters degree in Physics and seven years of experience in IT and forecasting industries. She is passionate about predictive methods, the statistical and quantitative analysis, the complex systems and the physics and computational models. "This complicity helps to drive decision making. It may be use as input for human decisions or may drive fully automated decisions. Following this methodology we can answer questions such as why is this happening, what if these trends continue, what will happen next (prediction) and what is the best that can happen (optimize)." Read more here.
24. Mona Hajimomeni, Research Scientist, Stradigi AI
Mona is a researcher in artificial intelligence, data analysis and machine learning at Stradigi AI. Her background is in statistical signal processing, pattern recognition, and Bayesian learning and she has always had a passion for making things. Her PhD was in the area of physical layer security for wireless channels during which she gained a solid knowledge of linear algebra, advanced calculus, optimization theory, neural networks, and in a more restricted extent information theory.
25. Laura Cristescu, Director of Product - Conversational Experience (AI), National Bank of Canada
Laura has a background in strategic marketing communications, with experience providing counsel to senior level decision makers, relates to using all research and knowledge base. Read Laura's LinkedIn article 'How header bidding is shaping the programmatic landscape' here. Laura has 12+ years experience in the media industry, from magazines, to online, to apps, experience in online advertising technologies, e-com and services, expertise in mobile solutions.
26. Doaa Mansour, Strategic Program Manager, OSMO
With a global experience in the development of programs, businesses, and strategic partnerships in the private and nonprofit sectors, Doaa has a commitment to leveraging cross-sectoral collaborations and technologies in advancing the human condition. She is working on The AI For Good Programme which is a first of its kind, focused not only on innovative approaches to teaching and learning artificial intelligence, but also with the ambitious goals of tackling diversity and inclusion in AI research and development.
27. Lisa Ebert, Lead Solutions Strategist, Element AI
Lisa grew up in Germany and then moved to Canada, where the diversity of different cultures and languages inspired her. She is passionate about tech startups and pushing the boundaries of artificial intelligence and this is why she joined Element AI 'the company that's at the forefront of it all'. She also believes that the best ideas emerge when people of diverse backgrounds come together.
28. Isabelle Bégin, Deep Learning Vision Scientist, envision.ai
Isabelle is most interested in applying state-of-the-art computer vision research to real-world applications. envision.ai looks at research and development of artificial intelligence and machine learning solutions for visual media content and metadata. Isabelle is a computer vision, machine learning, deep learning scientist and software developer.
29. Rebecca (Becks) Simpson, Machine Learning Developer, Imagia
Becks is a multi-disciplinary deep learning specialist with experience across research, product development and mentoring in medical imaging, robotics, agricultural applications and computational linguistics. She has a keen interest in applying cutting edge research in machine learning and deep learning to solving real problems in industry as well as mentoring companies in data strategy, new and traditional methods for incorporating 'AI' into their product and best practices for doing so.
30. Narjes Boufaden, Founder & CEO, Keatext
Last but by no means least, Narjes Boufaden! Narjes is passionate about solving technical challenges involving natural language understanding, and is among the first researchers who specialized in text mining technologies for conversational text, such as dialogues and telephone conversations. She has contributed in the field with more than 15 scientific publications and several conference talks. In 2010 she founded KeaText with the mission of helping organizations make sense of massive volume of information for better decisions and productivity. She is also a mentor at Techstars MTL AI, helping early-stage startups with their AI technology and business model.
If you enjoyed this blog and want to hear more, RE•WORK's biweekly Women in AI podcast series is available to stream to further explore and support diversity within the industry, as well as our blogs. We speak to the leading female minds in AI including CEOs, CTOs, Data Scientists and Industry Professionals from Facebook, McGill University, LinkedIn and many more. If you want to hear from influential women who are helping with the progression of  AI and discuss an array of topics then subscribe here.