Whilst we can all be consumed by the quick YouTube video or blog article for learning, sometimes it's nice to get engrossed into a good book. For that reason, we've collated some of our 'must-read' page-turners for your perusal on world book day!
Reading this on a third party site? See more AI insights here.
Rana el Kaliouby & Carol Colman
A Scientists Quest to reclaim our humanity by bringing emotional intelligence to technology.
The recent release from Affectiva CEO and Founder, Rana el Kaliouby & Carol Colman addresses many questions including how we humanize our technology and how we connect with each other. To combat our fundamental loss of emotional intelligence online, Rana cofounded Affectiva, the pioneer in the new field of Emotion AI, allowing our technology to understand humans the way we understand one another. Girl Decoded chronicles el Kaliouby's journey from being a "nice Egyptian girl" to becoming a woman, carving her own path as she revolutionizes technology. Read more on girl decoded here.
The free e-book from Andrew Ng teaches you how best to structure your Machine Learning projects.
From diagnosing error in ML systems to mismatched training sets and end-to-end learning to transfer learning, Andrew covers all of the basics. For years, it has been suggested that to make strategic decisions correctly in ML is to be enrolled in a program or course on which you have direct contact with a mentor, however, this e-book takes out the middle man in aiding with your journey to becoming an educated individual in all things Machine Learning. Download the free e-book here.
Shanqing Cai, Stanley Bileschi, Eric D. Nielsen with Francois Chollet
This book should serve as the authoritative source for readers who want to learn ML and use JavaScript as their main language.
Another suggestion which, step-by-step, walks through the use of TensorFlow.js, via the communications of Google Engineers allowing for a practical and easy to follow guide. Included is a guide to source code and the testing of generative deep learning for text and images and a 'how-to' for fine tuning Machine Learning models. The book is suggested to be based upon François Chollet's Deep Learning with Python, but this time written by those who are considered crucial to the development of the high-level API of TensorFlow.js. See more here.
Cathy O'Neil
As Cathy mentions, we now live in the age of the algorithm, with the outcome of many decisions made from mathematical modeling, sometimes, without our knowing. This interesting read covers the black box decisions which could shape our future with an overriding call for those in charge to pay due mind to the increasing need for ethical practice and transparency. O'Neil's book gives a glimpse at the frightening look behind the curtain at increasing concerns in regard to AI. See more on Cathy's book here.
The author of popular AI blog AI Weirdness, Janelle took her writing prowess into the tangible world, creating the light-hearted and funny script on AI which does it's part in educating using science and fact, as well as quips including the possibility of AI in creating the perfect sandwich. In an industry which most-often is data driven and rather methodical, Janelle brings a path to learning which is not quite like the textbooks of old, but just as informative. Read more on Janelle's work here.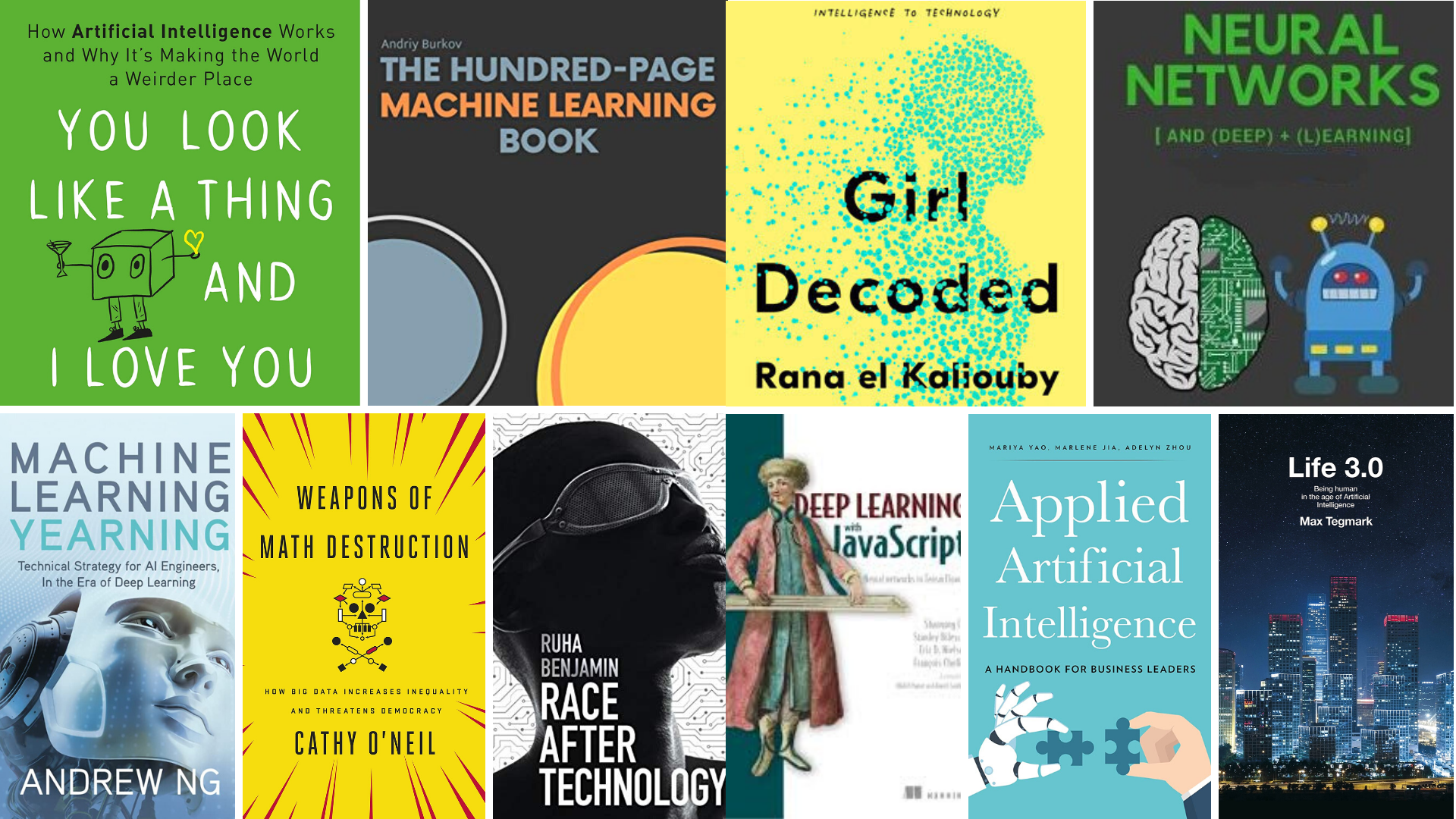 The Director of Data Science at Gartner, PhD in Computer Science & Machine Learning expert, alongside his full-time job, has created an all you need to know guide to Machine Learning in just 100 pages. Andriy suggests that in just reading this book, a somewhat sparse field in regard to experts, will have another member, be it in website creation, successful job application or new startup. The topics covered include, but are not limited to gradient descent, cluster analysis, dimensionality reduction and more. You can read more on Andriy's book here.
Mariya Yao, Adelyn Zhou, Marlene Jia
For many, business application of AI is still somewhat of a confusing notion, however, Mariya, Adelyn and Marlene break down both of the technical side of AI for those in the field and also for those who have a passing interest. This book is not an overload of technical information which many would struggle to get through, but rather a practical guide to creating opportunities, a diverse team and running strategic experiments in the field, supplying all of the info you need! Read more on the book here.
As Max stated three years ago, we stand at the beginning of a new era. Once merely considered a genre, Science Fiction is vastly becoming reality. The MIT professor whose work has helped mainstream research on how to keep AI beneficial, separates myths from reality, utopias from dystopias, to explore the next phase of our existence over the near 400 pages of information. Are AI systems safe? How can we grow it without taking purpose from people? Should we fear an arms race with autonomous weapons? Max covers all this and more. Read more here.
The casual writing style and easy to read online e-book includes helpful imagery, videos (bonus of an e-book) and break-down descriptions to really engage and educate the reader on all things NN and DL. The purpose of this book, as Michael suggests, is to aid in mastering the core concepts of neural networks, including modern techniques for deep learning. On completion of this e-book, you will have worked through writing code, using NN and DL to solve a variety of complex problems including but not limited to pattern recognition. A perfect starting point for those looking into coding without the requirement of mastering specific libraries. Read more here.
Ruha is an Associate Professor of African American Studies at Princeton University, where she studies the social dimensions of science, technology, and medicine. During her time at Princeton, Ruha authored Race after Technology. It has been discussed in recent years whether AI and automation could harbour prejudice, which is a concept Ruha further investigates, arguing that automation, far from being a sinister story of racist programmers scheming on the dark web, has the potential to hide, speed up, and deepen discrimination while appearing neutral and even benevolent when compared to the racism of a previous era. Read more on Race after Technology here.
---
Interested in reading more leading AI content from RE•WORK and our community of AI experts? See our most-read blogs below:
Top AI Resources - Directory for Remote Learning
10 Must-Read AI Books in 2020
13 'Must-Read' Papers from AI Experts
Top AI & Data Science Podcasts
30 Influential Women Advancing AI in 2019
'Must-Read' AI Papers Suggested by Experts - Pt 2
30 Influential AI Presentations from 2019
AI Across the World: Top 10 Cities in AI 2020
Female Pioneers in Computer Science You May Not Know
10 Must-Read AI Books in 2020 - Part 2
Top Women in AI 2020 - Texas Edition
2020 University/College Rankings - Computer Science, Engineering & Technology
How Netflix uses AI to Predict Your Next Series Binge - 2020
Top 5 Technical AI Presentation Videos from January 2020
20 Free AI Courses & eBooks
5 Applications of GANs - Video Presentations You Need To See
250+ Directory of Influential Women Advancing AI in 2020
The Isolation Insight - Top 50 AI Articles, Papers & Videos from Q1
Reinforcement Learning 101 - Experts Explain
The 5 Most in Demand Programming Languages in 2020