Women have long been underrepresented in the fields of Data and Artificial Intelligence. Many organizations are just beginning their AI journeys and are starting to realize the value that gender diversity can offer in AI. Ahead of the RE•WORK - Women in AI Reception - Toronto, we asked Maria Abrar, Data Scientist - Reality Labs at Meta to share her thoughts on the topic. Here's what she had to say:
What was the biggest challenge you faced in your journey to your current role and how did you overcome them?
"One of the biggest challenge in my journey was leaving my Manager Data science job in Pakistan and moving to Canada. I left my job, friends and family and moved to a new country with no job or prior Canadian experience. It was one of the toughest decisions I made but one of the best ones. I started prepping for data science and data analyst roles, something that I had not done in a very long time. The key is to get out of the comfort and then never give up on yourself. Every company has a different hiring process and if you prep in the right way for the interview, work hard, you can be the top 10% getting the offer. It took me three months, 95 applications, ten interviews and three offers to land the perfect job."
What are some wins from a completed project you worked on? What challenges did you face during it? How did you overcome them?
"The biggest win from a data science project comes when the insights and solutions from your project drive business decisions and make an impact for the organization. Whenever that happens it's always a win for me and my team. Making impact is a challenge itself, the data might be not clean or available, there can be time constraints or challenging stakeholders. In my experience, it's mostly the data and privacy concerns that are the most challenging ones. There can be multiple ways to deal with those, depending on the use case and scenarios."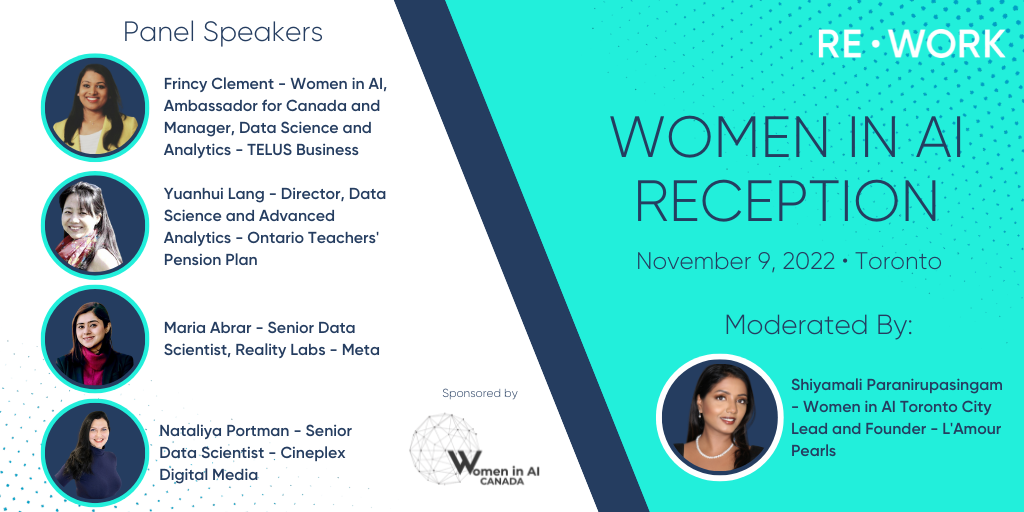 What advances and future trends do you envision within your industry as it pertains to AI, ML, data science?
"Data driven customer experience is a trend here to stay, how businesses can leverage our data and use it to provide us with valuable and enjoyable experiences. How do we use the data to make a quantifiable, data driven decisions. On the other hand there is also an increased interest to protect consumer data. Data privacy has seen a search growth exponentially in last ten years.
There is also an increased demand for end to end AI solutions. Start ups are now providing solutions that cover the complete data science cycle from start till finish. They start by cleaning enterprise companies data and ending with a complete ML solutions for big corporations."
What are you most looking forward to while speaking at the Women in AI Reception?
"Meeting some amazing people in the AI and Data science in Toronto. Excited to share my story with them and learning from the rest."
Want to learn more?
Maria will be speaking at the upcoming RE•WORK - Women in AI Reception - Toronto on November 9, 2022, in Toronto, ON. Join her and many others to hear from leading female experts in machine learning & AI and discuss the impact of this rapidly advancing technology.
Standard Passes end on Friday, October 28, so book your place today.
For more information, contact [email protected].