2022 was a big year for the adoption of Conversational AI within companies. With constant advancements in the technology, the use of chatbots and voice technologies is only set to rise. But what are the challenges of Conversational AI? We caught up with experts from Peakon, A Workday Company, HomeServe USA, boost.ai, Vodafone and Admiral Group Plc to find out about the top challenges that Conversational AI will face in 2023.
Jyoti Mishra - Senior Data Scientist (NLP), Peakon, A Workday Company
Bias induced in Models from the underlying Training Data. The amount of data that is being used to train these large models is humongous and to my knowledge, no one so far has invested in making sure that the training data does not contain bias. Everyone wants to develop cool technology but there is no interest in doing the grunt work and following the best practices to generate training data that is unbiased and inclusive.
Misinformation Propagation that would be fueled by Large Language Models with wider adoption. With AI being able to generate text, it will be easier to generate data without fact-checking and even though the current state-of-the-art text generation is amazing at being coherent, there is a lot that needs to be done to ensure factual accuracy of generated text.
Challenge in expanding to native languages. Once we get used to the power of Conversational AI technology in certain languages, we will want to replicate the same to other languages. However, not every language has the required support and technical artefacts to achieve the success that certain languages have achieved due to the wider support and solutions available in open source. This may lead to certain minorities being further marginalised because they won't be able to leverage such advanced technologies for their use cases.
Ross Parkes - Product Owner – Automation, HomeServe USA
Despite the advancement of conversational AI is still feel the biggest challenge is customer engagement. A lot of customers interact with voice and chat bots very well, however there will always be a subsection of those who simply refuse to engage with a robot, a level of distrust will prevent these customers from engaging. The idea that a voice bot cannot show compassion and reason will be a factor here, a lot of customers still feel a human with deal with their request better. It is our job within this industry to show that a voice bot can be just as helpful, to do this the challenge is to improve the conversation between the customer and the bot, through grammar improvements, reduction of repeating questions.
Not only is Customer adoption an issue but also business adoption. Human interactions are a proven method of dealing with Customers. It takes a large investment to build a functioning conversation AI bot that can deal with Customer interactions, going into 2023 in the current financial climate there will be reservations from business leaders as to whether conversation AI is a worthwhile investment.
Ben Hazel - Senior Chatbot Conversational Developer, Admiral Group Plc
As more No Code/Low code technologies are introduced it will mean more bots are created which is great on one hand, but if there are no design standards or training, then there will be bad experiences and for every amazing experience you hear about you're likely to hear about 10 bad ones.
Design standards for bots. If there are design standards for websites, then there should be ones for chatbots but implementing them I see as the challenge. Conversation designers come from all types of backgrounds, and while education in the subject is vast yet a lot is uncertified and just a YouTube video so very subjective whether it is even correct to the standards we should strive for.
Consumers trust of bots. This is probably a challenge every year, in gaining the consumers trust to interact with your bots so you can help them make their journey more efficient.
Henry Vaage Iversen - Co-founder, boost.ai
Among the major challenges for conversational AI vendors in the coming year will be differentiation. The market is currently overcrowded with solutions that promise incredible automation and resolution rates, but the onus will be on those vendors to show their work and prove that they can deliver a genuine return on investment. Having great technology, while a good start, won't be enough to stand out. If a conversational AI platform hopes to succeed in 2023 it will be necessary to take a more holistic approach that includes a proven implementation strategy, an enterprise-grade feature set, and deep educational content on top of a no-code backend that doesn't require a team of data scientists to manage. With conversational AI being thrust into the spotlight thanks to the recent hype around Large Language Models, both businesses and consumers will be more hawkish toward the technology making it crucial that vendors offer an accessible, comprehensive package that can be tailored to their customers' needs and goals.
Beatriz Lopez Mencia - User Experience Manager, Vodafone
In my view one of the main challenges to address will be high expectations. People using or hearing about tools like ChatGPT might increase their expectations on their interactions with all conversational AI.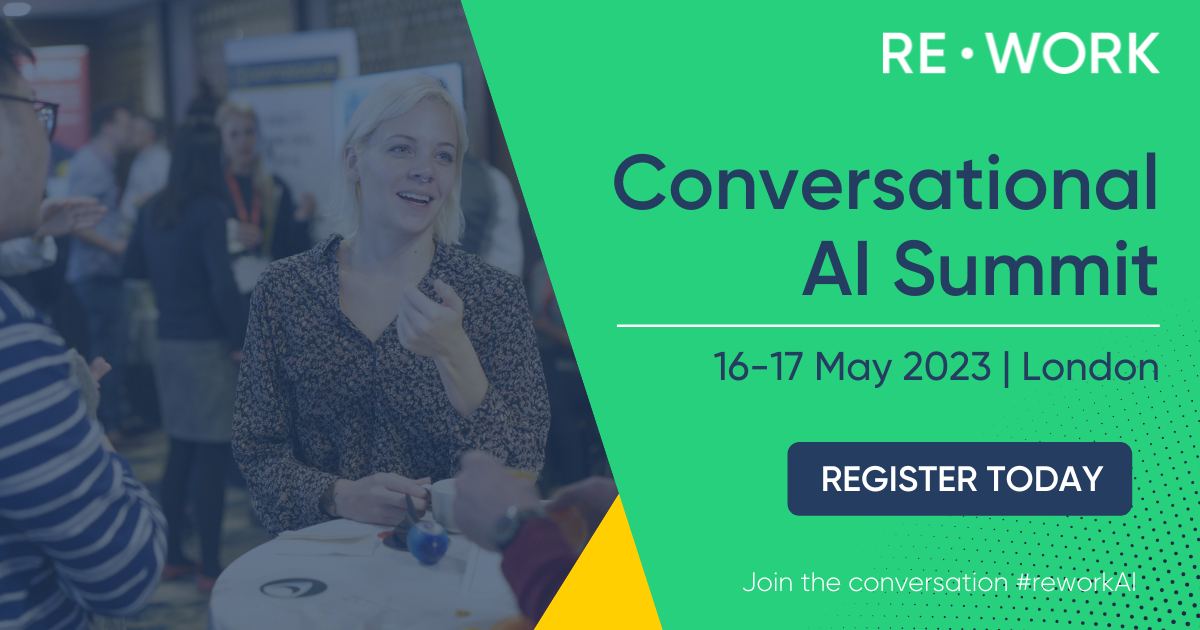 These leading experts will be joining us at the Conversational AI Summit on 16-17 May 2023, where they will be discussing the challenges in Conversational AI in more detail and how to overcome them. Download the brochure for more information.
Our Super Early Bird ticket sale ends on Friday 20th January, so secure your place today to save £600.