Conversational AI is constantly evolving with extensive research leading to new language models due to the ever-increasing adoption of this technology within companies. We caught up with experts from Peakon, A Workday Company, Vodafone and Admiral group Plc to find out more about what they predict the conversational AI trends will be in 2023. Check out their top trends:
Jyoti Mishra – Senior Data Scientist (NLP), Peakon, A Workday Company
It is difficult to zero in on a single trend as there are multiple lines of thoughts around the current state of conversational AI technology that are quite relevant given the adoption rate of the technology today and the media frenzy around this topic.
As much as the technical innovation excites me, I am curious about how we strengthen the ecosystem of technology, laws and regulations around AI Ethics to ensure that these innovations do not do more harm than good.
Another aspect is the growing disconnect between AI research success metrics vs ability of technology to solve a Real Problem Solution. There is a trend of phrasing problem statements to optimise them towards the standard metrics used by researchers to track their success. But a lot of times they may not be aligned to a business goal or a real user problem and nevertheless used in product solutions. This may lead to unnecessary costs with little ROIs. For example, Prompting has gone big in NLP space in 2022 and it seems most of the problem statements are being rephrased in a way that Prompting can be used to solve them. Although it can be debated in terms of being a creative way to solve problems, I believe that we may have gone too far to ignore a lot of nuances and settle on less reliable solutions due to the reframing of problem statements.
Last but not the least, I am interested in how the domain intelligence and scalability factor of LLMs unfolds in the future. As a practitioner this is a major interest as any tech solution needs to be scalable for a better adoption rate and there is still a big gap with respect to mature technologies that are tried and tested in scalable setups vs new Conversational AI solutions.
Beatriz Lopez Mencia – User Experience Manager, Vodafone
Beyond traditional task based conversations, people are keen to explore more personal conversation chats/topics with the AI (see ChatGPT examples, questions about sense of life etc), so I think this is going to be taken to the next level soon in 2023.
I also believe in making task based Conversational AI more autonomous, so they require less inputs from the user to resolve people queries. In this direction Google Duplex is setting the path.
Finally Multimodality is something waiting to be taken to the next level. Using different communication channels (media, voice etc) in the interaction with Conversational AI will eventually allow a more natural engagement with the technology.
Ben Hazel – Senior Chatbot Conversational Developer, Admiral Group Plc
AI Models such DALL-E and ChatGPT. They have taken the AI world to a new level, and to think they are new and always learning so not complete. I don't know what the next level is for these, but it's exciting.
AI to compliment people, not replace. I think that as it currently stands AI is better served complimenting the customer experience with agents rather than replacing them. For chatbots, AI is still reliant on people setting the rules, parameters, training data etc so it struggles if a customer asks a question outside the current flow they're in. Building contexts into your bots can help, but people and their ability to adapt to the conversation and understand the emotion of the customer are still the best at resolving all types of queries in one session.
Increase of AI in contact centres. We are just one of several companies who are new in the grand scheme of things to conversational AI. I think the demand for conversation designers and bot builders is only going to increase as more and more companies start using bots and also scale up what they already have.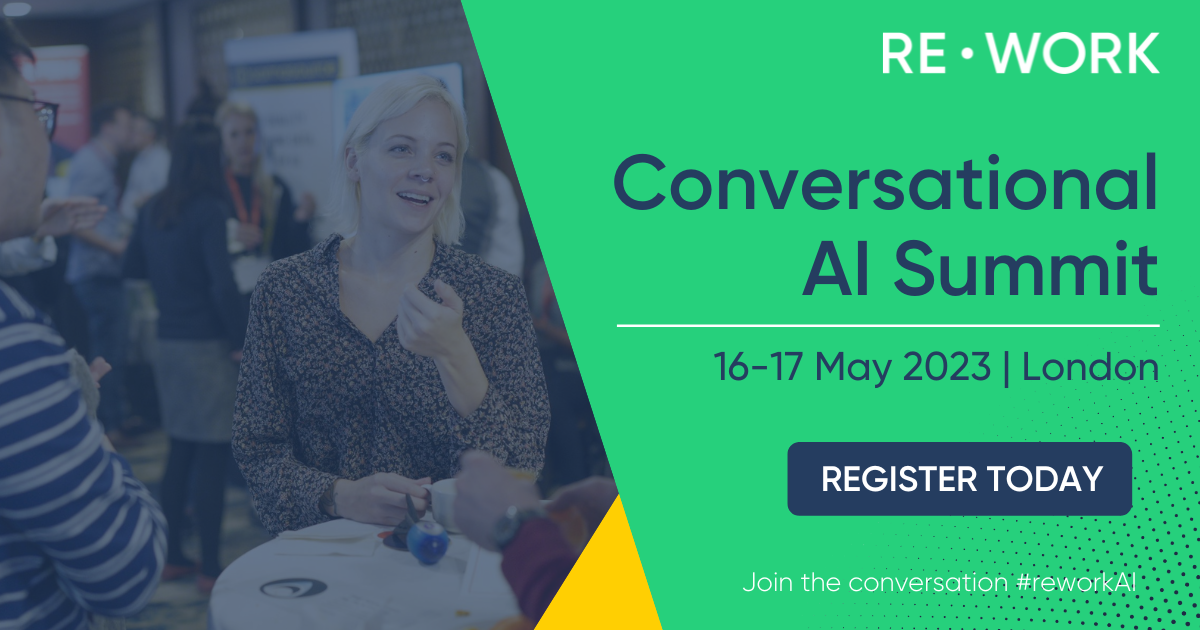 Want to learn more about the top Conversational AI trends this year?
All of these experts will be presenting at the Conversational AI Summit on 16-17 May in London! The summit will host a number of deep dive sessions with interactive sessions, and allow for networking opportunities with like-minded individuals. You will discover the advances in NLP, and how application can help to create digital assistants, chatbots and conversational interfaces to improve customer experience and increase engagement. Register for the Conversational AI Summit.