Ready to plan your events for the next year? With summer in full swing, what better time to book your next getaway. With RE•WORK's packed schedule of global events, travel to Europe, the USA and beyond whilst learning about the most cutting edge progressions in AI. We'll be bringing our world famous Deep Learning Summit back to some of our favourite locations such as London, Montreal and San Francisco, as well as hosting a variety of new events in Texas, Boston, Toronto and Seattle.
For a limited time, we're offering you a saving of 25% on any of our upcoming summits when you register using the code SUMMER25. Secure your place before August 23, and this saving will be applied to all passes, which means you can guarantee your place at a further discounted price when you apply the offer to already heavily discounted Early Bird and Super Early Bird passes.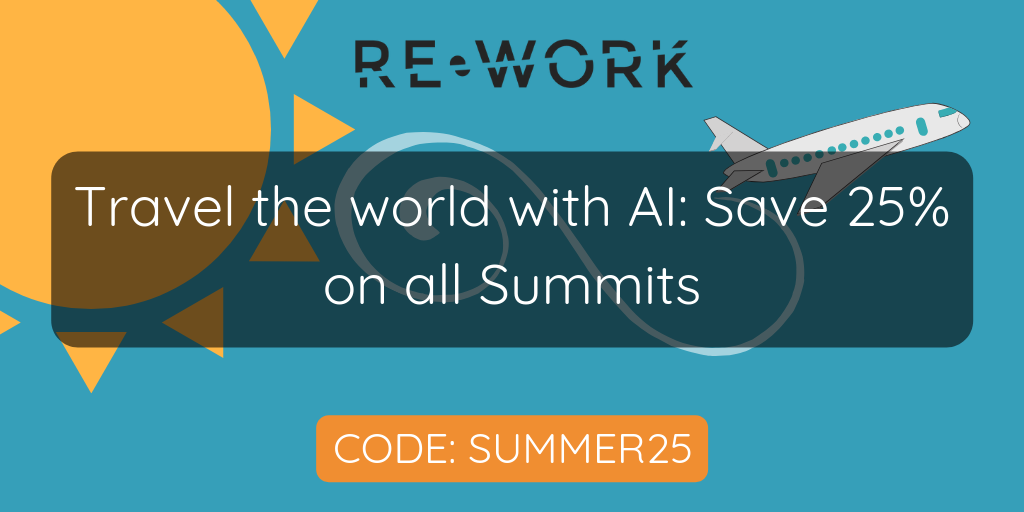 Let AI and Deep Learning extend your summer holiday...where could you be traveling with RE•WORK?
Kick off the autumn with a trip to the Big Apple and learn about the AI trends and practical applications in banking, trading, financial services and insurance. The co-located summits will explore advances in AI & machine learning tools and techniques from the world's leading innovators across industry, research and the financial sector. Confirmed speakers include Manuela Veloso, Head of AI Research at JPMorgan Chase & Co.; Charles Girve, Lead Data Scientist, Vice President, COO CSO at Deutsche Bank; Carlos Patiño-Florez, Analytics Capabilities Manager at Bancolombia; Leman Akoglu,Associate Professor at Carnegie Mellon University; Natalie Jakomis, Group Director of Data at GoCompare; and many more.

As well as the changing of the guards, Oxford Circus and Buckingham Palace, London's thriving AI and Deep Learning scene is worthy of a visit. With the likes of DeepMind calling London home, you'll never be far from cutting-edge breakthroughs in AI. Check out Europe's biggest Deep Learning Summit and join 600 attendees and 90 speakers bridging the gap between the latest technological research advancements and real world applications in business and society. Oriol Vinyals, Senior Staff Research Scientist at DeepMind will share his work in AlphaStar: Mastering the Real-Time Strategy Game StarCraft II, then you can head across to the AI Assistant Summit to hear how Marzieh Saeidi, Research Scientist at Facebook is working on Interpretation of Natural Language Rules in Conversational Machine Reading, before dropping in on Neil Lawrence's presentation where the Director, IPC Machine Learning from Amazon will explore some of their current work with AI in retail and advertising. One pass gives you access to all three summits, plus the Deep Dive sessions where experts will delve into some of the most challenging topics and answer all your questions.

Nevermind the beautiful McGill University, or the quirky fusion of European and Canadian culture, Montreal is the place to be, confidently claiming the title as the Silicon Valley of AI. This October we're thrilled to see Yoshua Bengio return to event where he will speak in a plenary session sharing his globally renowned work on Deep Learning and Cognition. At our last Montreal edition of the summit, Yoshua Bengio was joined by pioneers Yann LeCun and Geoffrey Hinton who appeared in a panel discussion together which you can watch here. This year, the Deep Learning Summit will be joined by the Responsible AI Summit which will highlight the key methods to ensure your company is developing and deploying AI in a responsible, ethical and fair way to benefit all.

""As a scientist I like to come here and get an idea of which problems I should be solving for other people to benefit from. I get to come and see what people in the business world want ML researchers to solve for them." - Ian Goodfellow, Apple (Previously Google Brain)
Our world famous Deep Learning Summit in San Francisco is returning for the 6th year along with the co-located Applied AI Summit and AI Assistant Summit. Already confirmed to present their work is Dawn Song, Professor of Computer Science at UC Berkeley; Abhinav Gupta, Associate Professor and Research Manager at Carnegie Mellon University and FAIR, Balaji Lakshminarayanan, Senior Research Scientist at DeepMind amongst others. Each year we are astounded by the volume of talent in the room both from speakers and attendees alike, with some incredible partnerships forged in the 12+ hours of networking that takes place across the two days in coffee breaks, lunch breaks, break out sessions, exhibitions and networking drinks.

Hitting up another global hub in Finance, we'll be returning to London for the multidisciplinary event bringing together data scientists, engineers, CTOs, CEOs & leading financial corporations to explore the impact of deep learning & AI in the financial sector. Applications will include risk management, fraud detection, customer support & algorithmic trading. Explore the latest technology trends & innovations with influential research scientists, top academics, startups & business leaders across the industry. At the pace AI in Insurance is growing, we're really excited to see how this track will cover progressions in the 6 months prior to the event, as well as exciting predictions for 2020.

"The talks were great and of a high technical level. I had a great time moving between the two tracks" - Ilona Bartman, Medical Education Research Associate
Returning to Boston due to popular demand, the Deep Learning in Healthcare will showcase the opportunities of advancing methods in deep learning and their impact across healthcare & medicine. Previous speaking companies include Deep Genommics, CVS, GE Healthcare, Philips Research and Roche Innovation Center. Boston is home to some of the most promising AI startups and research institutions, as well as being a hub for pharmaceuticals. The AI in Pharmaceuticals Summit will explore breakthroughs in technical advancements and applications with industry experts, academics, and healthcare professionals. From algorithms that learn to recognize complex patterns within rich medical data to analyzing real-world evidence for personalized medicine, to enhancing the process of drug discovery with the application of AI.
So, where will you be heading? Plan your trip with your colleagues, or fly solo and meet like minded experts in AI and Deep Learning. Reserve your place by August 23 to save 25% on all summit passes by using the code SUMMER25.