We met with Bill Fox, Healthcare and Life Sciences Lead at SambaNova Systems to find out more about making technological advancements and innovation a reality in the healthcare sector ahead of participating in the AI in Healthcare & Pharma Summit on 25-26 March.
You have an interesting background - from law to AI. How did that happen?
My legal career increasingly focused on two areas - healthcare and fraud. I litigated 100s of healthcare related cases and spent thousands of hours pouring over medical records and talking to doctors. I was Deputy Chief at one of the first cybercrime units in any District Attorney's Office in the country, and began to understand how the internet, data and predictive analytics really worked, and that was it, I knew I wanted to focus on translating those capabilities to improving healthcare.
What excites you about AI and how it's advancing?
The most exciting shift is what is being called software 2.0. Many of the most complex and compelling challenges in healthcare and life sciences are actually too complex to address with rules based coding and legacy hardware and software. The ability to use neural networks and deep learning to address these challenges creates a tremendous opportunity to do things like advance drug discovery and expand access to diagnostics.
What is the biggest challenge in your industry?
I think many people are too glib in simply saying "healthcare is slow to adopt new technology".  Not that it's not true, but as recent news around Haven and Watson demonstrates, healthcare, and life sciences, are not like other "industries".  The stakes are higher, the outcomes are all serious, and regulation and reimbursement play a major role in gating innovation. We need to work very closely with clinicians, scientists and regulators to make innovation a reality. This is really what I do in my role, helping drive cutting edge AI capabilities into our industry.
How has the pandemic affected this trajectory?
The consensus seems to be that the pandemic moved technology adoption, and in particular, telehealth and virtual care, 5 years forward in a few months. Although this is true, and it's also true we will never go all the way back, what we have in place is V.1 of what healthcare will look like in 5-10 years. Every aspect of telehealth, from symptom checking, to doctor matching, to virtual assistants will be improved by AI. Further, let's not forget the amazing work done by science and pharma in developing and delivering multiple highly effective vaccines in a timeline many said was impossible.  Driving AI into every aspect of drug discovery can hopefully make this rapid development the industry standard.
What can the audience expect from your Session at the AI in Healthcare & Pharma Summit?
We will be talking about the tremendous progress that has been made using AI in both healthcare and pharma, using real world examples across NLP, computer vision and recommendation models, but with a view to what we need to do to do what's next. How can we use higher resolution computer vision to improve diagnostics, how can we improve NLP models to personalize communications, and even what does Netflix have to do with drug discovery? New capabilities in hardware and software can help us do this now.
Book your place at the event here.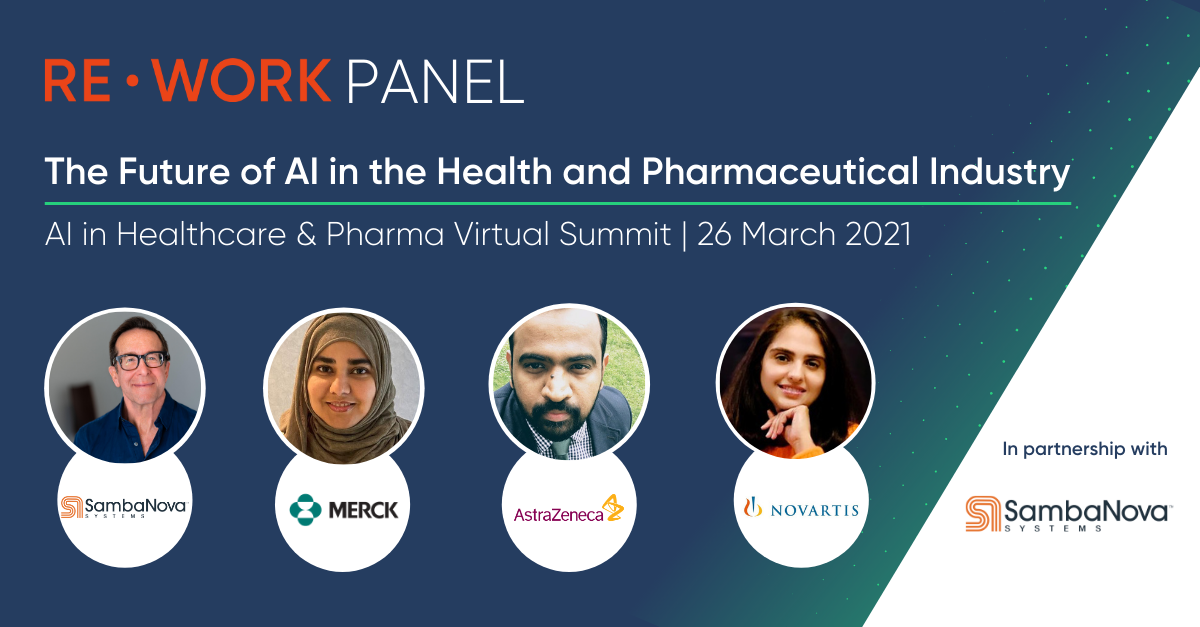 ---
To learn more about practical applications of AI technologies including natural langue processing (NLP), computer vision and recommendation models that support better outcomes for patients and accelerate new drug discovery, contact SambaNova Healthcare and Life Sciences lead, Bill Fox.
SambaNova Systems is building the industry's most advanced systems platform to run AI applications from the data center to the cloud and to the edge. Founded in November 2017 in Palo Alto, California by industry luminaries, hardware and software design experts, world-class innovators from Sun/Oracle, and Stanford University. SambaNova Systems' mission is to bring AI innovations that have been developed in advanced research to organizations around the world. For more information, please visit us at sambanova.ai and be sure to follow SambaNova Systems on LinkedIn.