The world famous Deep Learning Summit is returning to London for the 5th year, this time joined by the AI Assistant Summit and the AI in Retail and Advertising Summit. One pass provides access to all three events, plus the Deep Dive track. Confirmed speakers from Google, ASOS, DeepMind, Facebook AI Research, NASA, Amazon and more will come together to share the most cutting edge work in their space, bridging the gap between the latest technological research advancements and real world applications in business and society.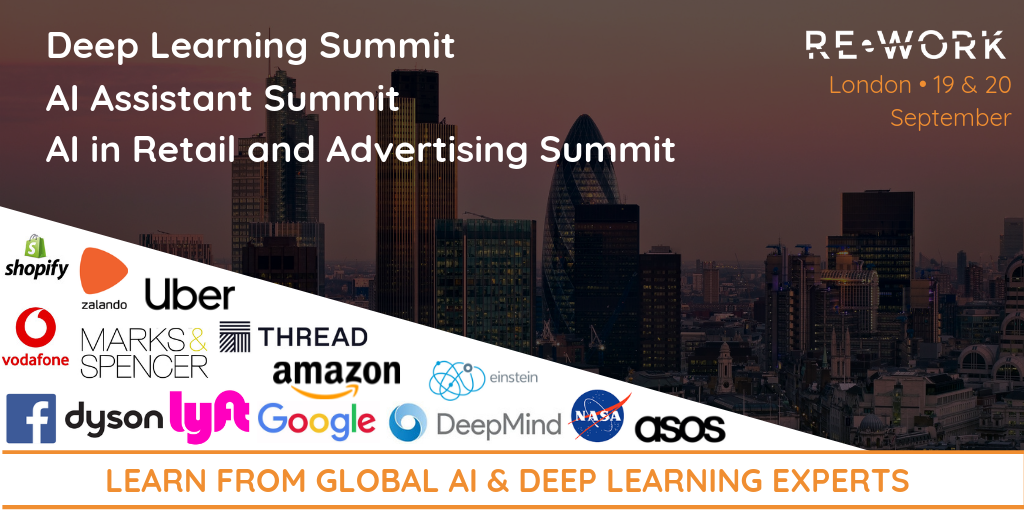 Across the two day event, 90 speakers and 600 attendees will explore topics such as neural networks, machine learning, deep learning algorithms, speech recognition, robotics, personalised recommendation systems, image retrieval, reinforcement learning and more. Presentations from across the board touch on business case studies and research progressions, and the majority of attendees will spend time in all session rooms to expand their knowledge and find out how to apply AI in novel ways.
What they say:
"The value of the event for me was getting insights in the retail industry as well as being able to join the technical talks to assess the current state of leveraging Deep Learning." - Jekaterina Novikova, Edinburgh Centre of Robotics
"It's my first time at a RE•WORK event but I'd recommend it to anyone due to the impressive wide range of topics covered. I particularly enjoyed jumping into the workshops and had a great discussion on ethics." - Rico Meinl, Novomind
"The ability to move between both tracks is fantastic. I work in medicine but I am really looking forward to the NASA talk as I have a great personal interest in space." - Tomasz Grzywalski, StethoMe
Not sure how to spend your time at the summits? Here are some tips from the RE•WORK team:

Speaker: Edward Grefenstette, Research Scientist, Facebook AI Research
Presentation: Teaching Artificial Agents to Understand Language by Modelling Reward
Relevant for: Deep Learning Summit & AI Assistant Summit
Recent progress in Deep Reinforcement Learning has shown that agents can be taught complex behaviour and solve difficult tasks, such as playing video games from pixel observations, or mastering the game of Go without observing human games, with relatively little prior information. Building on these successes, researchers such as Hermann and colleagues have sought to apply these methods to teach–in simulation–agents to complete a variety of tasks specified by combinatorially rich instruction languages. In this talk, we discuss some of these highlights and some of the limitations which inhibit scalability of such approaches to more complex instruction languages (including natural language). Following this, we introduce a new approach, inspired by recent work in adversarial reward modelling, which constitutes a first step towards scaling instruction-conditional agent training to "real world" language.

Speaker: Gerben Oostra, Machine Learning Engineer - BigData Republic
Presentation: 'Predicting Effectiveness of Churn Prevention Measures'
Relevant for: Deep Learning Summit and Retail & Advertising Summit attendees
Losing customers, also referred to as churning, is something that any company wants to prevent. While it is interesting to know how likely a specific customer will churn, it is more useful to know which countermeasure, such as a discount or an additional service, would prevent a user from churning. Also, instead of knowing which countermeasure works well in general, we want to determine the best countermeasure for each individual customer.
Since we are interested in the causal relationship between countermeasure and churn, we need to go beyond analyzing correlations. For example, did the customer churn because he got the wrong countermeasure, or did he get the countermeasure because he was likely to churn anyway?

Experts: Anita Faul - Teaching Associate Fellow - University of Cambridge & The Alan Turing Institute; Marius Miron - Research Scientist/Postdoctoral Researcher - European Commission's Joint Research Centre; Tola Alade - Data Scientist - Lloyds Banking Group; Ali Shah - Head of Tech Policy - ICO
Session: PANEL - Explainable AI
Relevant for: Deep Learning Summit, AI Assistant Summit and Retail & Advertising Summit attendees
Questions covered will include:
• What is explainability and why is it important?
• Who's responsibility is it and when does it need to be considered in the process of designing and deploying AI?
• Why is it difficult to open up the black box for many industries?


Speaker: Fabon Dzogang, Lead Scientist on Conversation AI - ASOS.com
Presentation: 'Where is my parcel? Fast and Efficient Classifier to Detect User Intent in Natural Language.'
Relevant for: AI Assistant Summit and Retail & Advertising Summit attendees
We study the performance of customer intent classifiers designed to predict the most popular intent received through ASOS.com Customer Care Department, namely "Where is my order?". These queries are characterised by the use of colloquialism, label noise and short message length. We conduct extensive experiments with two well established classification models: logistic regression via n-grams to account for sequences in the data and recurrent neural networks that perform the extraction of sequential patterns automatically. These models are calibrated to perform above Human performance (0.93 precision), revealing a small difference in Recall of 0.05 for the neural networks (training under 1hr), and of 0.07 for the linear n-grams (training under 10'). Overall our results indicate the latter as a judicious choice of model architecture in modern AI production systems.

Speaker: Aditya Guglani, Data Scientist - Uber
Presentation: 'COTA: Improving the customer support experience using Deep Learning'
Relevant for: AI Assistant Summit and Retail & Advertising Summit attendees
As the leading ridesharing platform, Uber receives hundreds of thousands of support tickets from users daily. Since Uber is a global company with multiple lines of business, we receive tickets in multiple languages and range from missing item from an EATS order in India to fare adjustment request in North America. To scale up the ticket resolution process, we built COTA (Customer Obsession Ticket Assistant) an intelligent system based on machine learning (ML) and natural language processing (NLP) techniques that is integrated with Uber's customer support platform. It provides customer support representatives, suggestions for the ticket type, appropriate reply and relevant actions to take based on ticket text and additional context such as trip information. It is also used for routing tickets more efficiently. As a result, we were able to reduce the average number of re-routings and the time an agent spends on a ticket, thus making the support experience a little more magical.

Speaker: Natalia Konstantinova, Lead Software Engineer - Shell Energy
Presentation: 'Reducing Customer Effort by Using AI Technology'
Relevant for: Retail & Advertising Summit attendees, AI Assistant Summit and Deep Learning Summit  
The talk would present a use case of AI solution that helps Shell Energy to deliver great customer service 24/7 and make sure customers have a way to find information they need quickly and efficiently. It will touch on challenges of introducing such system and lessons learn over 5 years of its work. Natalia has over 10 years' experience in the application of NLP, AI, IT and ML to real world problems. She got her PhD from the University of Wolverhampton and worked in various fields such as machine translation, ontologies, information extraction and currently dialogue systems and chat bots. She is currently a lead software engineer in the R&D department of First Utility, the UK's largest independent energy provider, supplying gas and electricity to around one million UK homes.
Summit: AI in Retail & Advertising
Speaker: Adithya Hrushikesh, Principal Data Scientist & AI Lead, Vodafone
Presentation: German Customer Complaints Classification
Relevant for: Retail & Advertising Summit attendees, AI Assistant Summit and Deep Learning Summit  
Customer churn impacts the bottom-line of all businesses. In order to prevent churn, there needs to be a timely resolution of customer complaints and queries. A Manual classification by an agent costs time and money. In this talk, you will hear about utilizing Natural language processing on the German Language in order to answer customer complaints received through social media channels such as Twitter and Facebook.
Interested in learning more? Join RE•WORK in London this September. Register now.