"Most of the conferences you go to are about pushing products - this one is about sharing knowledge. One of the best ones I've been to. I definitely want to recommend the next event to a colleague!"
David Swann, Nationwide
5 years. 3 continents. 6 cities. The world-renowned Deep Learning Summit is returning to London, this time accompanied by the AI Assistant Summit, the AI in Retail and Advertising Summit and Deep Dive sessions. Having previously hosted global AI experts and pioneers such as Yoshua Bengio, Yann LeCun, Geoffrey Hinton, Doina Precup, Mustafa Suleyman, Daphne Koller, confirmed speakers for this edition already include:
Shreyansh Daftry, Artificial Intelligence Researcher, NASA JP
Hatice Gunes, Senior Lecturer, University of Cambridge
Oriol Vinyals, Research Scientist, DeepMind
Katja Hofmann, Senior Researcher, Microsoft Research
Ben Chamberlain, Head of Machine Learning, ASOS
As the applications of AI increase in all industries, we must look ahead to the cutting edge emerging research breakthroughs at the leading institutions across the world and explore how industry and academia are working together to bring the next generation of AI into operation for the benefit of society. Each of these events will explore the crossover of industry and academia to highlight the importance of both researchers and industry experts working with aligned goals to ensure that they technology they're created is being implemented.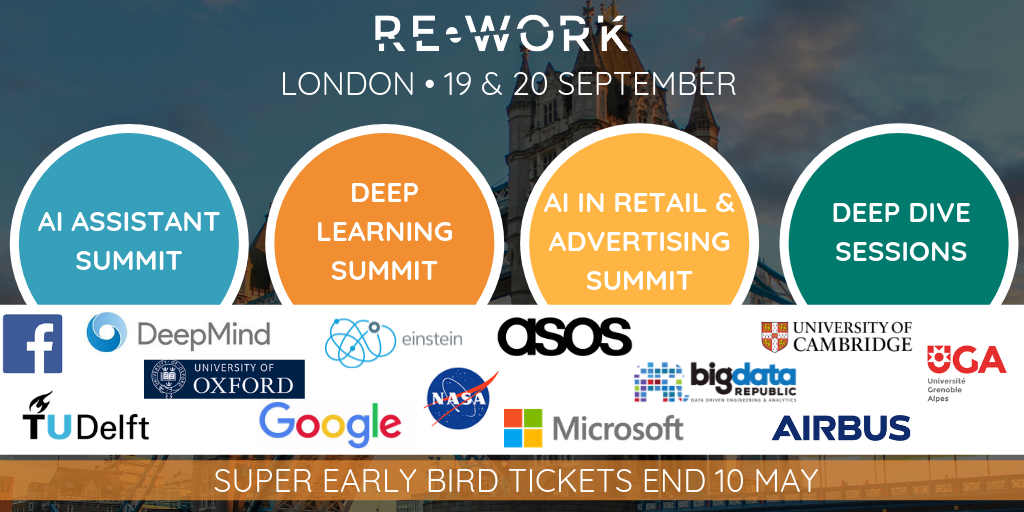 What's new?
Deep Dive Sessions
Building on the extremely well attended workshop stream at previous summits, attendees will be able to join in-depth sessions focusing on some of the key topics throughout the summits. These sessions are a chance to ask questions specific to your business, and are more tailored to unique problems, and will provide practical insights.
Sessions include:
Translating Guidelines into Action: Your Q&A
A session open to all to discuss the recently published ethics guidelines for trustworthy AI released by the EU High-Level Expert Group on AI. This will be an opportunity to hear from members of the group and ask your questions to help assess the next practical step to build an ethical approach to your organisation and data.
Deep Reinforcement Learning - Hosted by Hado van Hasselt, DeepMind
Hado will discuss why he is excited about this research field, and the talk will cover open challenges and discuss some recent successes in applying these algorithms to interesting problems.
Increased Networking
The addition of a third track means that not only will there be more attendees to network with, but also the volume of speakers and experts will be increased to 600, up from last year's 300 guests. This will also feature an expanded exhibition area with more showcases and demonstrations of the latest most cutting edge technologies. There is also the opportunity to message other attendees via the dedicated event app.
Live Interviews
Stop by the interview space in the exhibition area where you can hear the experts discussing their careers in AI and deep learning as well as their current roles. As these interviews will be taking place in a public space, there will be the opportunity to participate in a Q&A after each recording.
Increased Emphasis on Industry & Academia Crossover:
Each RE•WORK Summit features new and returning speakers, and we're looking forward to welcoming back some of last year's top experts.
Returning Speakers Include:
• Trevor Back, Project Manager/Research Lead at DeepMind Health,
Deep Learning Summit
Trevor works closely with DeepMind Health NHS partners on research projects, exploring how technology could help clinicians provide more effective and faster care to patients. This work includes a partnership with Moorfields Eye Hospital NHS Trust, where Trevor's collaborating with NHS clinical researchers to use machine learning to help analyse eye scans, with the goal of getting faster treatment to people with early symptoms of some of the major causes of sight loss. He joined DeepMind having completed a Ph.D. in Astrophysics at the Royal Observatory in Edinburgh.
• Mirco Musolesi, Reader in Data Science & Turing Fellow at UCL & Alan Turing Institute
AI Assistant Summit
Mirco is a Reader in Data Science at the Department of Geography at University College London and a Turing Fellow at the Alan Turing Institute. At UCL he leads the Intelligent Social Systems Lab. His research interests include intelligent systems design, applied machine learning, human behaviour and social systems modelling, and digital health. At the AI Assistant Summit he will share his work in 'Towards Anticipatory Mobile Computing: Challenges & Opportunities.'
• Ben Chamberlain, Senior Data Scientist at ASOS
Deep Learning in Retail and Advertising Summit
Ben leads the Customer Understanding team at ASOS. He holds a Royal Commission for the Exhibition of 1851 Industrial Fellowship, which funds his PhD studies in statistical machine learning at Imperial College London. Ben has previously worked as a data scientist in the social media, defence and security industries, and in this presentation he will explain how he is using DL to estimate Customer Lifetime Value (CLTV) in e-commerce.
New Speakers Include:
• Katja Hofmann, Senior Researcher at Microsoft Research
Deep Learning Summit
Katja is a Senior Researcher at the Machine Intelligence and Perception group at Microsoft Research Cambridge. Her research focuses on reinforcement learning with applications in video games, as she believes that games will drive a transformation of how people interact with AI technology. She is the research lead of Project Malmo, which uses the popular game Minecraft as an experimentation platform for developing intelligent technology. Her long-term goal is to develop AI systems that learn to collaborate with people, to empower their users and help solve complex real-world problems.
• Hatice Gunes, Associate Professor, University of Cambridge
AI Assistant Summit
Hatice's current research vision is to embrace the challenges present in the area of health and empower the lives of people through creating socio-emotionally intelligent technology. This vision is currently supported by three new projects funded by prestigious and competitive grants via the EU H2020 Programme (2019–2021), the EPSRC Fellowship Programme (2019–2024) and the Turing Fellowship Programme (2019-2021). At the summit, Hatice will share her work on 'Affect and Personality in Robots vs. Humans.'
Also new for this years summit, attendees will be able to connect via the event app, as well as plan their personalised schedule and more. Details on how to access the app will be available after registering for the summit.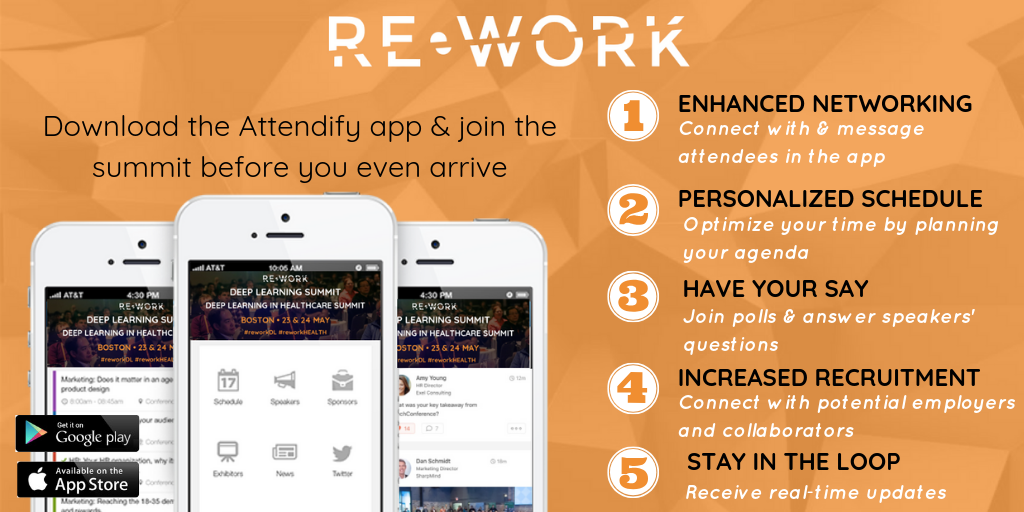 Can't make it to London? Check out our upcoming events:

Women in AI Dinner, Boston, May 21 * Last chance, limited tickets remaining*
Deep Learning Summit, Boston, May 23 - 24
Deep Learning in Healthcare Summit, Boston, May 23 - 24

Applied AI Summit, San Francisco, Jun 20 - 21
AI for Good Summit, San Francisco, Jun 20 -21
Deep Reinforcement Learning Summit, San Francisco, Jun 20 - 21

AI in Insurance Summit, New York, Sept 05 - 06
AI in Finance Summit, New York, Sept 05 - 06

AI in Retail & Advertising Summit, London, Sept 19 - 20
Deep Learning Summit, London, Sept 19 - 20
AI Assistant Summit, London, Sept 19 - 20

View our full calendar of events here.