As artificially intelligent software becomes more economical and accessible for businesses across the globe, retailers and online marketplaces are now focusing on harnessing the power of big data and machine learning to understand their customers and deliver the best shopping experience.
While AI is just becoming a common option in retail tech, apps and the low-cost wide availability of mobile devices are already in place for machine learning to be deployed to consumers. Mobile has revolutionised the retail industry by allowing instant access to brand research and price comparison online. Over an incredibly short amount of time, the usual methods of purchasing goods has been completely overhauled, fracturing the consumer journey into hundreds of real-time informed decisions: these have become known as micro-moments.
Understanding micro-moments is now paramount to retailers everywhere, and the addition of AI is giving retailers like Kohl's the solutions they need to keep up in the rapidly advancing world of shopping. Kumar Ujjwal, Senior Product Manager of Big Data & Machine Learning at Kohl's Department Stores, joined us at the Deep Learning in Retail & Advertising Summit to share expertise on deep learning in micro-moment shopping. Watch his video here.
Please tell us about your role at Kohl's, with a teaser to your session.  
My name is Kumar Ujjwal, and I work at Kohl's as Sr. Product Manager for Big Data and Machine Learning.  My day to day job is to manage all our existing data science products. I'm also responsible for building a strong data science strategy to gain the competitive advantage by utilizing the power of Big Data and AI. My talk will mainly focus on how Deep Learning is helping us understand our customer, improve their shopping experience and engage them in store and online platforms.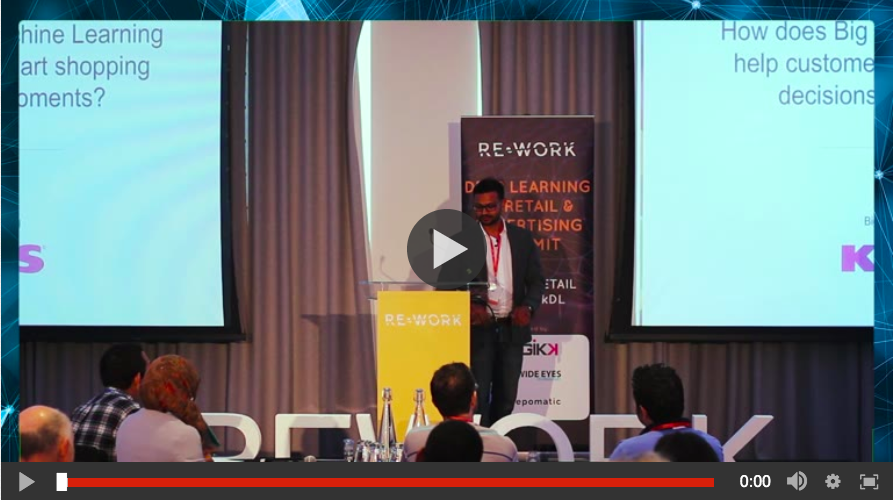 How did you begin your work with deep learning?    
I developed my interest in the field of machine learning while working on an undergraduate research project in physics that involved work in image processing.    
Which industries do you feel will be most disrupted by deep learning and AI in the future?    
It is hard to guess which industry will be disrupted most by deep learning, but it is safe to say that almost all the industries will see a significant change. Currently, all the industries are using AI to automate task and improve productivity. But this is not directly experienced by the end users. For example, when people are shopping online, engaging on social media, booking flights or hotels, searching the web, etc.; AI powers all these applications, but people don't realize this fact. In next decade people will start to interact with AI directly, and that will make a significant change in our society and economy. For example, when the autonomous vehicle will hit the road by 2025, people will start to interacting AI, directly, and it will significantly impact our economy and society. It will affect our city planning decision, urban transportation, service sector and it may also create a whole new type of business which doesn't exist today.      
Will deep learning grow exponentially within the Retail Industry or will it be replaced?    
The use of Deep Learning is going to increase in all industries including retail for about a decade. Eventually, there will be a new type of computation that will compliment Deep Learning techniques or replace it, but it's hard to predict when this will happen. Based on development in the area of quantum computing by 2025 we will start seeing the use of quantum computing for several types of problems. Like solving large-scale optimization problems, search related problem, doing heavy computation that can be a leverage in different areas like predictive modeling, information inscription, machine learning, and deep learning. Quantum computers will be a lot better in doing computation than today's GPU (Graphical Processing Unit) or TPU (Tensor Processing Unit) based computation.    
With the developments in machine learning and AI do you see online shopping taking over from active shopping?    
In my opinion, it is too early to say if the rise of ML/AI, will take over active shopping. It is true that in the last few years we have experienced a gradual decline in foot traffic at brick and mortar store. But the rise of IIOT ( Intelligent Internet of things) can change everything. With the combination of IOT and AI, we will start to see a whole new breed of smart stores.  The retailer will have the same type of customer KPI for in-store customers as they have for online customers and this will help them better understand customers and deliver a true omni-channel experience.    
Will startups play a huge part in the evolution of deep learning in retail?
Definitely. The advantage to startups are that they are focused on one problem and they are good at that. For bigger companies, there are too many challenges and priorities, therefore, sometimes it is convenient to use third party tools rather develop in-house. Especially in the case of deep learning where problems are very complex therefore for it is efficient for bigger companies to buys these solutions rather build them from scratch.
Kumar Ujjwal spoke at the inaugural Deep Learning in Retail & Advertising Summit in London. View the event videos for free here.
Other speakers included Jan Gasthaus, Machine Learning Scientist, Amazon; Chandra Ganduri, Senior Data Scientist, Staples; Rami Al-Salman, Machine Learning Engineer, Trivago; Ben Chamberlain, Senior Data Scientist, ASOS; Calvin Seward, Research Scientist, Zalando; and Saranya Govindan, Data Scientist in Machine Learning, Tesco.