We were thrilled to host the San Francisco edition of the Applied AI Summit again, this year with additional tracks on AI for Good and Deep Reinforcement Learning. It was fantastic to see the discussions and collaboration from speakers and attendees across the three tracks, and the diverse range of topics presented.
This year, we heard the latest in machine learning and deep learning applications from global companies leading progress in AI including Apple, Facebook, Google and IBM, as well as emerging startup companies including Deeplite and Lily, on topics ranging from the challenges of scaling AI, to accelerating data-driven innovation in your enterprise, to personalization using LSTMs.
At this year's edition, we also launched our Deep Dive series of interactive and discussion-based sessions which included an investor & VC panel discussion, breaking through challenges in industry, and a rising stars session which gave an opportunity for the next generation of AI leaders to share their work.
Video presentations from the summit are now available online, so if you didn't make it to the summit, register here to watch presentations, fireside chats and exclusive behind the scenes interviews from Apple, Levi Strauss, Samsung Electronics, IBM, Facebook and more.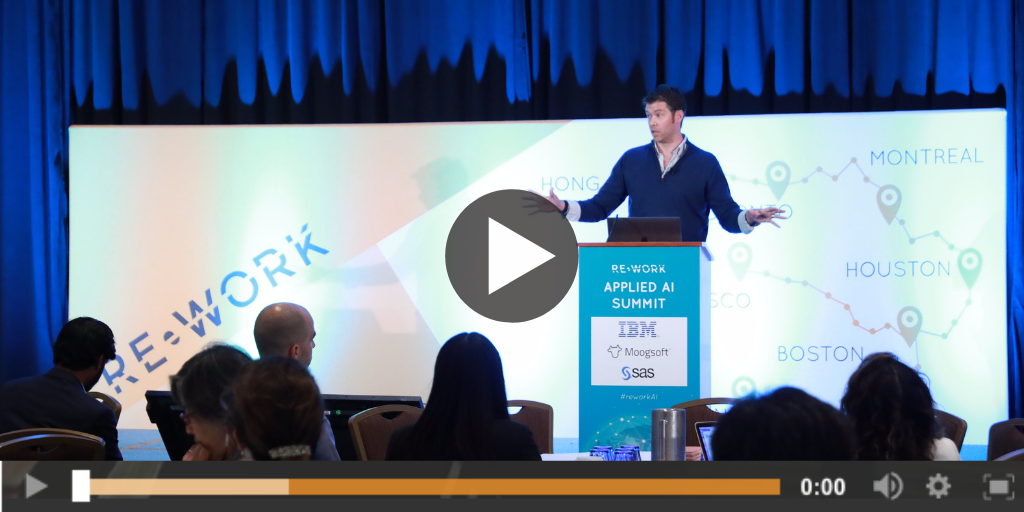 Attendee Feedback:
It has exceeded my expectations from all facets. The amount of great conversations we were having were fantastic and there are so many people experimenting with AI. I like the community feel at this event.
Cassie Lutterman, SAS
The speakers here are all really high level. RE•WORK is one of my favourite events, if I don't speak I try to attend.
Chandra Khatri, Uber
This is the most future leaning group I've seen and the skill sets really compliment each other. The panel in ethics, which is super charged in AI at the moment, was great.
Nina D'Amato, San Francisco Department of Technology
This summit focused real-life AI applications, case studies, business insights & results from leading companies leveraging AI to solve problems in enterprise. Speakers shared their insights & lessons learned to provide advice based on their own experiences, case studies & applications across industries such as transportation, manufacturing, & cybersecurity. Here are some of the highlights from presentations:
As tech evolved, firms were chasing and building capabilities to embrace digital distribution. Now, in the next chapter, automaton is being used on every form so we need to build new business platforms.
Sherif Goma, IBM
There are currently limitations in word embeddings such as the failure to capture high-level dependencies in a sentence. Our current research in NLP marks the beginning of a new era.
Chul Lee, Samsung Electronics
AI is super-human at narrow tasks, but it's not great at learning from a small set of examples. They require a lot of data and computation. Recently, there's been a huge improvement.
Lucas Ives, Apple
There are currently limitations in word embeddings such as the failure to capture high-level dependencies in a sentence. Our current research in NLP marks the beginning of a new era.
Shreya Ghelani, Amazon
As well as presentations, we hosted Deep Dive tracks....
An Introduction to Deep Reinforcement Learning - OpenAI, Joshua Achiam
When do you want to use deep RL? You want to do it when there's a complex high dimensional non sequential situation. For example when you want to control sophisticated robots or play video games from raw pixels or be the best at a strategy game. Deep RL has the potential to succeed in these tasks. There's lots of terminology confusion in deep RL as the field is young and there's a lot to learn, so it's important to ensure everyone is on the same page.
The Economics of AIOps - Moogsoft - Will Cappelli
Consequential structurally business changing decisions now happens on a weekly basis. As decision points multiply, unlike other areas, the costs of actually making that decision tend not to go down. So what happens is that as a result of increased velocity of business, increased agility entails, you actually have a cost of decision making because you're multiplying the amount of decisions taking place.
Deep Reinforcement Learning in Gaming - Unity Technologies - Jeffrey Shih
Many of the recent advances in deep RL have stemmed from video games. At Unity, the world's leading game engine, we're driving the boundaries of new AI research through the Obstacle Tower Challenge. We're leveraging cutting edge research to solve gaming's biggest challenges through the Unity Machine Learning Agents Toolkit which us now one of the most popular open source toolkits for deep learning.
As well has hosting events, RE•WORK has a catalogue of online resources with White Papers, video interviews, our blog, and the Women in AI podcast. At each event, we chat with speakers and industry experts who share their expertise. We're always open to new collaborations and love hearing from attendees and speakers alike. If you are working on something you think would be valuable to our content hub, don't hesitate to get in touch with Yaz: [email protected]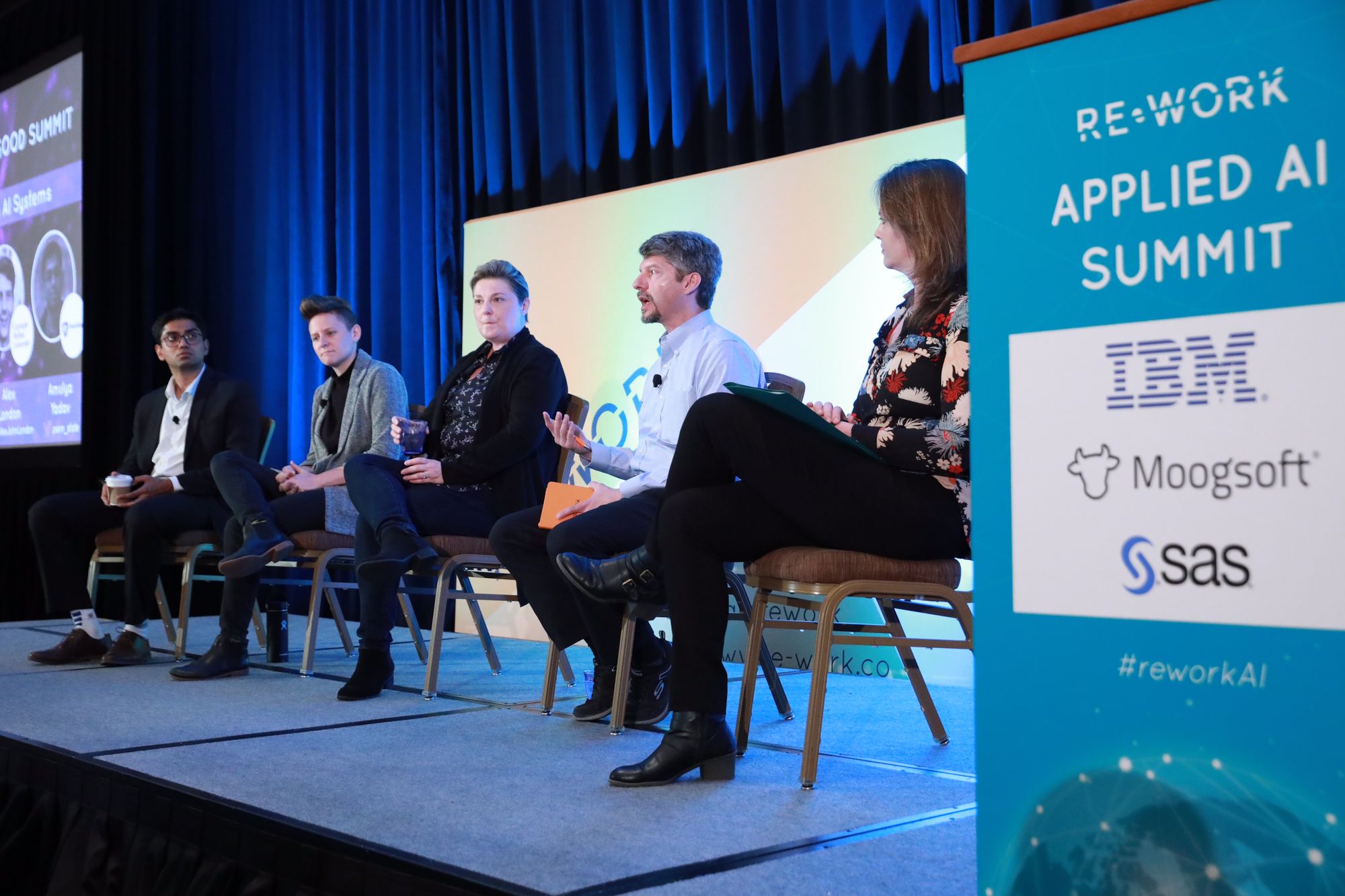 Who did we hear from?
Dwan Song, Professor of Computer Science, UC Berkeley: Discussing secure deep RL, Dawn joined us in an episode of the Women in AI Podcast. Dawn is a global expert in deep learning and the recipient of several awards. She spoke about her current work in secure deep RL, and shared some advice for starting our in the industry.
Marc Bellemare, Research Scientist, Google Brain: Interviewed by George Lawton from TechTarget, Marc spoke about the ways in which DL and RL interact and how this is improving as RL gets more stable. He shared his work in understanding how value predictions shape deep representations.
Pallav Agrawal, Director, Data Science, Levi Strauss & Co.: In this interview, Pallav shared how he is working on "building a solid data foundation and approach the task by focusing on specific verticals where data quality and reliability gaps are much easier to bridge."
Bistra Dilkina, Assistant Professor, USC: Bistra will be joining us on an upcoming episode of our podcast in the latest season focusing on AI for Good. Bistra shared her work in AI to combat wildlife poaching by using historic data on ranger patrolling and detecting illegal poaching incidents to train ML models.
Join us at our upcoming summits: