This article was originally published here by Harsha Kiran & Hristina Nikolovska
We're living in a brave new world when it comes to emerging interface technologies. One of the technologies that has taken a giant leap forward in the past decade is voice search. More and more, our lives resemble that of the heroes in a cheap 50s sci-fi novel, where you can get anything just by asking a question to a central computer.
Here, we'll present you with several useful voice search statistics. Our aim is to paint a vivid picture of how voice search technology has already managed to shape our work, leisure, and everyday lives.
Furthermore, we'll discuss its impact and how it will be used in the future. More and more people are relying on voice search in order to maximize their efficiency every day. The world of tomorrow has already been here for a while, so it's time to reap its benefits.
If you're interested in Voice Assistants and want to learn more, join RE•WORK at the AI Assistant Summit in London this September 19 - 20, and save 25% when you register by August 23 with the code SUMMER25.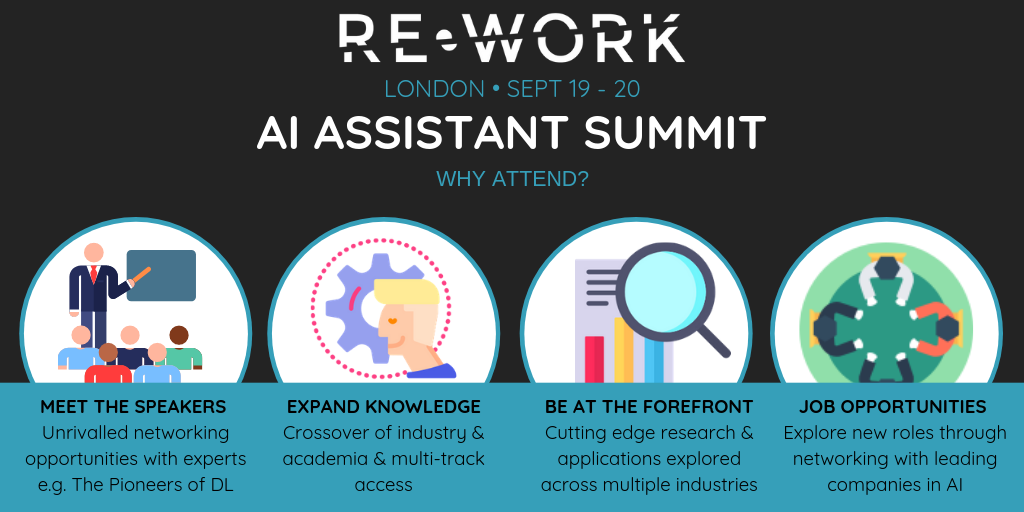 Voice Search Facts & Stats
By 2020, 50% of all searches will be voice searches
46% of smart speaker owners use voice search to find a local business
Voice search devices in 2019 will become a $601 million industry.
45% of smart speaker owners plan to buy another one
20% of mobile queries are voice searches
Google Home and Amazon Echo account for 94% of all smart speakers in use
In 2018, there were one billion voice searches per month.
1. According to research into voice search trends from 2018, 1 in 6 Americans used a voice search speaker.
The numbers shouldn't surprise you. With our everyday lives becoming more and more hectic, it was only a matter of time before people would choose voice search over the more traditional means of data input. The figure in question represents a 128% rise when compared to 2017. In 2018, Alexa was leading the forefront of voice search trends, but the future might be leaning in Google's favor
2. When it comes to mobile usage, 1 in 5 adults used voice search in 2018.
Indeed, the voice search trends are rising more and more since the hectic nature of our daily lives requires expedience. Just compare the amount of time you need to type a search query to the amount of time you need to just say it out loud.
3. If you view the stats in total, as of January 2018, there were one billion voice searches per month.
Indeed, voice search is becoming more and more popular. What's most important is that it's not just being used by people who are too busy to type. Voice search stats show that they're being used more and more by people who have difficulties with certain tasks throughout their everyday lives, such as the elderly, disabled, etc.
4. When it comes to location, 52% of Americans use their voice search devices in their living rooms, 25% of them place them in their bedrooms, while the remaining 22% keep them in the kitchen.
It's understandable that most people use their voice search devices in their living rooms since that's where they spend most of their time. Bedroom voice search stats can also be explained by the fact that a lot of people wake up and manage their obligations right there at the start of their day.
However, the most surprising stat is that almost a quarter of Americans place it in their kitchen. This phenomenon can be explained by the fact that more and more Americans use cooking tutorials. Therefore, we can safely say that voice search devices enrich every aspect of our lives and educate us on a daily basis.
5. comScore says that by 2020, 50 per cent of all searches will be voice searches.
The smart speaker system is quickly becoming one of the most important user interface devices. As noted previously, it increases efficiency and the speed of completing tasks in our everyday lives. You don't have to type words anymore and waste already precious time.
Another fact that is quickly changing the landscape of user interface devices is the competition between the most notable smart speaker manufacturers. As you are reading these lines, Google, Amazon, and Apple are already devising new ways to make voice search more accessible and easier. Therefore, the claim by comScore that more than 50% of users will use voice search in the not-so-distant future doesn't surprise at all.
6. The impressive presence of voice search devices in our lives is best shown by the fact that 72% of people who use voice search devices claim that these devices have become part of their daily routines.
This can be explained in quite simple terms. Once you get to know smart speakers and familiarize yourself with their functions, it's pretty hard to go back to traditional keyboard-based input devices. Simply put, it's very hard to go back to a lesser means of input once you get used to the improvement.
7. According to other related voice search statistics, 65% of Amazon Echo or Google Homeowners don't want to go back to the days of keyboard input.

This statistic neatly ties itself into the last one. As we stated before, it is very hard to go back to keyboard searches once you get to know the advantages of voice search. It's human nature to prefer easier solutions over harder ones. That's why it shouldn't surprise that the keyboard will probably pass into history one day.
8. As for the demographic-based voice search statistics, 35.8% of millennials use voice search once a month or more, whereas only 10.1% of baby boomers do the same.

As usual, new generations are way more ready to accept new technological trends and improvements. Think of all the times you helped your parents set up that new gadget. New generations are, in general, more susceptible to changes and can adapt way easier and faster than older generations. All in all, we should be expecting more and more voice search usage with millennials growing up and taking up the workspace.
9. According to some other voice assistant statistics, 25% of individuals aged 16–24 use voice search on their mobile devices.

Generation Z is also becoming more and more versatile with voice search technologies. As noted before, new generations have it way easier when it comes to adopting new technologies. In addition, Generation Z is still in its teens, and as we all know, teens adapt to new circumstances better than anybody else. This means that we are practically one generation away from the total dominance of voice search technologies.
10. Generation X represents the biggest percentage of voice searches: individuals aged 26–35 are the most likely to be smart speaker owners.

More and more Millennials are making smart speakers part of their daily lives. The reasons for that are manifold. Smart speakers make any search easier and more accessible. They also make learning on-the-go easier than ever, since Americans, as previously noted, use them in every part of their home. It's only natural that voice search will become more and more present in every aspect of an average person's life.
11. When it comes to voice search products, Google and Amazon account for 94% of all smart speakers in use.

The reasoning behind this statistic is pretty obvious. Google and Amazon were the first ones to capitalize on the newly opened market. If you add to that the fact that people prefer developing relationships with brands they already know, it's no wonder that Echo and Home make for the vast majority of the smart speaker market. Although Alexa is trying to push itself onto the market, it's still a long way from these consumer favorites.
12. When it comes to buying with voice activated search, it's important to know that at least 22% of smart speaker owners have bought something using voice search assistance.

We've already talked about the fact that voice search permeates our everyday lives. Since it was first introduced, online shopping was rejected as just another high-tech craze that wouldn't last. However, now we see that online shopping has become a major, if not the most common, mode of shopping. It is only natural that voice search devices will take this role in the future.
13. If you ever thought about voice search marketing, you'll be pleased to hear that 52% of smart speaker users would like to receive information on sales, while 39% would like to receive business information through their smart speakers.

Let's face it: people use smart speakers in order to make their everyday lives easier and more convenient. It shouldn't surprise, then, that smart speaker marketing is the next big step in the development of digital advertising. In the end, let's not forget that word of mouth is still one of the best advertising methods, so why should it be any different for smart speakers.
14. Other voice activated search stats claim that 19% of consumers have made a purchase using Amazon Echo, while a whopping 33% plan to make a voice activated purchase in the next year.
Smart speakers aren't just for education anymore. The aim of any new technology is to make life easier, and the same goes for shopping. We can easily imagine a future where making a shopping list and acquiring the necessary items are one and the same. In fact, it is only a matter of time when voice search shopping will outrank traditional shopping methods.
16. When it comes to data for the next year, it is estimated that voice search devices in 2019 will become a $601 million industry.

With Google and Amazon already dominating the market for smart speakers, it's hard to imagine that Apple or any other company will surpass them in the next year. However, one thing is for certain, and that's the fact that the smart speaker industry will continue to grow even more. With more and more applications, we are sure to see smart speakers completely overshadow other, more traditional, user interface modes.
15. The most optimistic search by voice statistics claim that by the end of 2018 the number of smart speakers in use could reach 100 million.

Although this number may seem a little bit "out there," it is true that smart speakers are more and more becoming a part of the average person's daily life. Both Google and Amazon are selling more and more units of their smart speakers. Just as TVs and computers became ubiquitous at one point, it's just a matter of time when smart speakers will take their lead and become an integral part of every home.
17. According to some other voice search statistics for 2019, by the end of next year, the number of millennials using voice search will climb to 39.3%.

The main characteristic of millennials is that they have already grown up in the interconnected, high-tech world of the future. This means that it'll be even easier for Generation Y to adapt to new technologies than any generation before them.
18. Other voice search statistics claim that 46% of smart speaker owners use voice search to find a business situated in their vicinity every day.

This data doesn't surprise us at all, especially if you take into account that smart speakers were built for convenience. The implications for marketing, especially one concerning small business, are far-reaching when it comes to voice search. Indeed, marketing concerning smart speakers and voice search is still in its infant steps, and the ones that start utilizing it first will be the one who will benefit the most.
19. The importance of marketing in voice search statistics becomes even more clear when you realize that 28% of consumers call the business after doing a local voice search.

This stat is connected with the last one. As stated previously, smart speakers are mostly used for their convenience in everyday life. The importance of a good marketing campaign in voice search can't be stressed enough. We are witnessing the revolution in the usage of search engines, and the ones that don't accept the changes will definitely be left behind.
20. When it comes to voice search products, 45% of smart speaker owners plan to buy another one.

Once you get accustomed to the convenience and easiness with which voice search happens, there's no turning back. The data doesn't surprise especially if you take into account the data from stat number four from our list. Since all home appliances are being more and more interwoven, it's not a surprise that people want to have access to data in every part of their life or house.
21. Some other voice search stats claim that 25% of consumers haven't yet searched for local businesses using their smart speakers but are seriously considering to do so.
Once again, the importance of voice search marketing for local businesses becomes apparent. With more and more people using smart speakers for convenient search, it is just a matter of time when marketers will starting using these stats to their advantage.
22. Almost a half of voice search users can't function without smart speakers: 42% of them claim how smart speakers are essential to their daily lives.

Voice search statistics are quite clear on this matter: people that get used to them just can't live anymore without them. Indeed, if you combine the ubiquitous nature of Internet search with the convenience voice search devices provide it is evident why they are so popular.
23. When it comes to the amount spent on buying using voice search, it's important to note that $1.8 billion were spent voice search commerce in the US, while in the UK this number is somewhere around $200 million.

The importance of voice search marketing becomes evident once again. First of all, it's easier to find what you need using voice search. Second of all, if online shopping has surpassed traditional shopping long ago, why should it be any different with voice search commerce?
24. When it comes to mobile devices, 20% of mobile queries are voice searches.

Why should voice search be reserved only for smart speakers? Indeed, the technology can be used on any device as it provides with a never-seen-before level of convenience. It is no surprise that this percentage will continue to rise.
25. According to mobile voice search stats, mobile voice searches are three times more likely to be related to local info and business than search done on smart speakers.
Anytime you find yourself outside of your home, you are more likely to use voice search simply because of the urgency. It is far easier to use voice search when looking for a local cafe, restaurant or theater, then to type it out when you're walking.