It cannot be argued that the development of AI over the last few years has been incredibly exciting and something which has offered potential solutions to problems which could be deemed far too complex for human diagnostics. A topic currently in the crosshairs of many an institution utilising AI is that of Mental Health and the affect this has on everyday life for many individuals. With 1 in 4 experiencing mental health issues each year and over 676 million affected by mental health worldwide, a potential solution could not come at a better time.
That said, it is imperative that we recognise not only the differentiation in each condition, but also the effect that it may have on an individual who is both unique in genetic makeup and environment alongside a multitude of greater factors beyond the comprehension of most. How then, to use a simplistic view, can an algorithm change or alter the mental health of a living being? Whilst the below blog does not have the answers to all AI related questions, I hope it can give a greater insight into some of the work currently being done in the great fight against mental health.  
Around six months ago, I was lucky enough to interview Niels Bantilan, Senior Machine Learning Engineer at Talkspace (TS) in Boston, who gave me a great insight into some of the amazing work being done in the mental health space using Machine Learning. As a pre-curser to our conversation, Talkspace is a startup, considered by many to be at the forefront of data driven therapy, bringing together huge amounts of data and increased objectivity with the aim of recognising 'red flags' or high risk situations for patients which can often be missed even by those trained and working in the field. Niels discussed both sides of Talkspace's current workings, including the current crisis risk detection model and the efficacy issues of their current model, whilst also tipping the hat to those that demand further information on bias.
Niels posited that the Talkspace model could not work as a standalone project, giving further background into their internal team which includes an in-house team of therapists whom aid in the moulding of models and also contribute mass swathes of unlabelled data. I couldn't help but ask the main benefits of their app, as they see it, for those currently struggling, to which I was told that TS facilitates to those who are not necessarily comfortable with face to face therapy appointments and also allows for members to try several different therapists as it is not a one size fits all industry. Talking with Niels was fascinating and the work being done at Talkspace is certainly something which should be monitored! See my interview with Niels here
Another organisation that we have had the privilege of hosting is Woebot. Woebot Labs, founded by Alison Darcy, was founded not only to find a solution,  
How might they take mental health out of the exclusive domain of the clinic and into the hands of everyone who wants to learn great thinking skills
How might they do it in a way that is engaging and not seen as a fad style treatment?
Well, Woebot combines both deep domain expertise and data science to set a series of core beliefs whilst also keeping an eye on the ever-changing environment in data science and the algorithms available. Woebot favours active enquiry over passive data collection, not engaging in an 'emotional AI' framework of mood detection, but rather one which uses the users emotional state to guide self-reflection, avoiding leading techniques, that is, trying to both ask how the users feels or persuade the user to engage certain feelings. As an app which aids in the regulation of mood and also educates on powerful techniques for ridding distorted and negative thinking, it could be considered closer to CBT (cognitive behavioural therapy). Read more on Alison's mission on her previous guest blog here.
Whilst there are many organisations working on effective mental health treatments with AI at the core, I will mention but one more. Affect AI is developing state of the art solution utilising mood and vocal response to a range of simple questions, allowing for long-term and reliable assessment of mood disorders and their severity. Due to depression being different for all, Affect.AI is working on precision psychiatry for management of mental health conditions, with the need for personalisation and individuality recognised. See more on Affect.AI and their mission here.
Interested in learning more on the companies using AI to benefit mental health? At the AI in Healthcare Summit this past June, we welcomed a panel of experts to discuss that exact subject, how can we aid those suffering with practical solutions? See the panel by clicking here!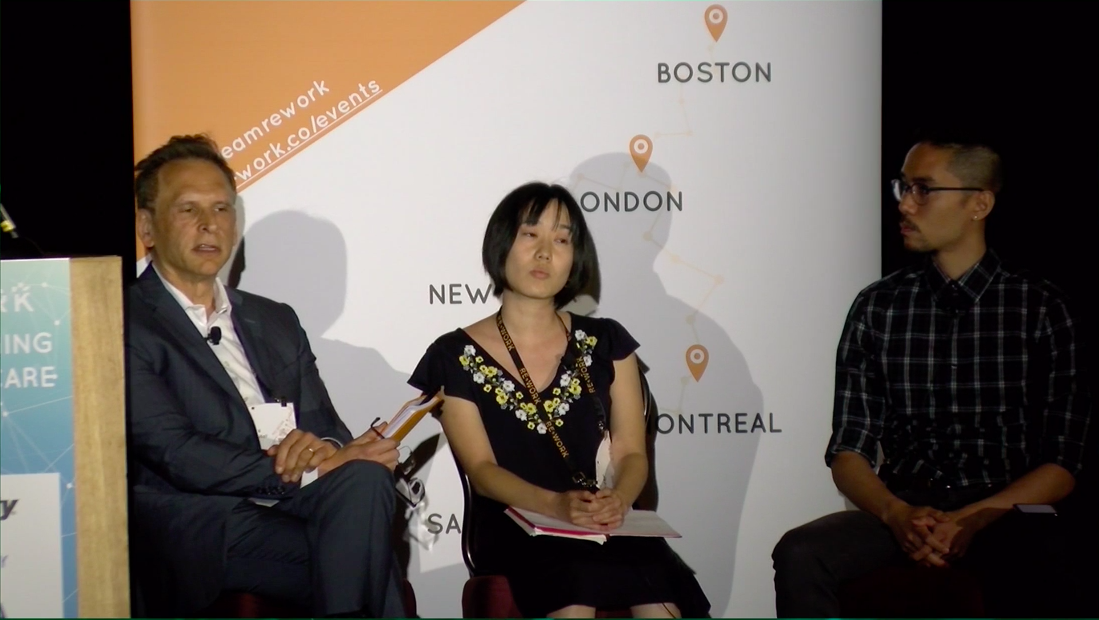 For more information on gaining access to mental health services, please follow this link.