Women in AI is a weekly podcast from RE•WORK, where we meet with leading female minds in AI, Deep Learning and Machine Learning. We began the podcast back in 2017 and have welcomed guests from Google, DeepMind, Uber AI Labs, MIT, Facebook and many more. Just last month, we launched the second season of the show where we are looking at the social impacts of AI, and learning how some of the global leaders in the space are ensuring that AI is used for the overall benefit of society, and to tackle some of the world's biggest challenges.
In this season, we'll be speaking with CEOs, CTOs, Data Scientists, Engineers, Researchers and Industry Professionals to learn about their cutting edge work. So far in this season, we've heard about emotional AI, gene expression and accountability and responsibility in artificial intelligence.
Take a listen to some of the amazing chats we've had already, and subscribe to stay up to date with upcoming episodes.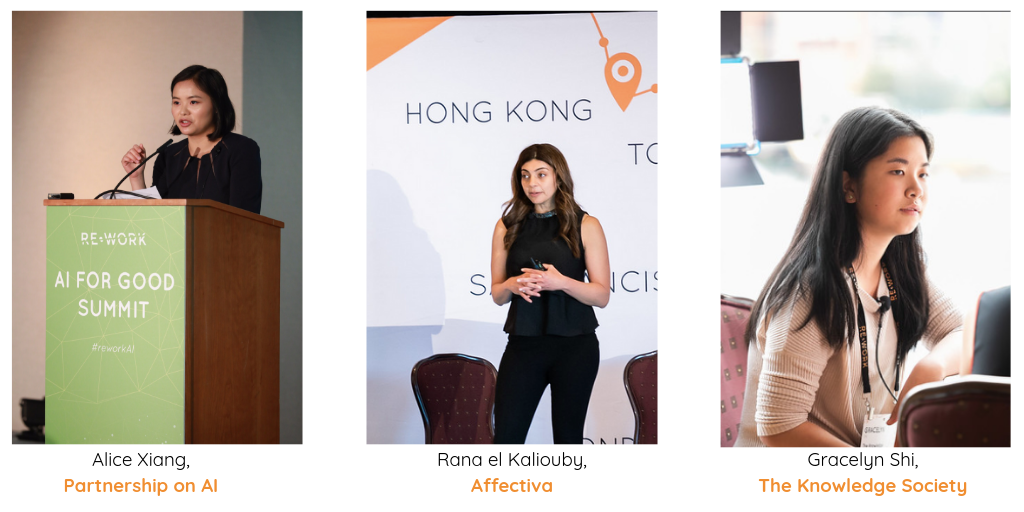 Guest: Alice Xiang, Research Scientist at the Partnership on AI
Alice is working within PAI Labs, and is focused on fairness, transparency, and accountability in AI.
Prior to joining PAI, Alice worked as an attorney at Gunderson Dettmer, representing startups and venture capital firms in a wide variety of industries, ranging from financial technology to 3D printing. While in law school, her clinical work included advising jurisdictions on data sharing arrangements between their criminal justice and mental health systems and researching technological unemployment. Alice also has a background in economic policy research and data science. She has previously worked at the Federal Reserve and at LinkedIn, where she first became interested in algorithmic fairness. An interdisciplinary researcher, she has published a peer-reviewed empirical paper on affirmative action in Statistical Science and a paper on art investment vehicles in the Yale Law Journal.
Guest: Rana el Kaliouby, CEO and Co-Founder, Affectiva
Rana discusses her work in emotionally intelligent AI where we discuss how it can be used in a variety of areas such as treating people with autism, as well as there being commercial opportunities in social robotics and other areas.
"I am on a mission to humanize how people interact with technology and with one another by bringing emotional intelligence to our devices and digital experiences. Artificial emotional intelligence, or Emotion AI for short, is the next frontier of AI, where we see the merger of cognitive and emotional intelligence in technology as inevitable. Our facial and vocal emotion AI platforms applies deep learning and other machine learning approaches combined with massive data to identify emotions in real-time, cross-platform, in the wild and at scale."
Rana was interviewed by Gracelyn Shi from the knowledge society, who asked some fantastic questions about some of Rana's goals, challenges, ethical concerns, and how she's inspiring women in AI.
Guest: Gracelyn Shi, Innovator, The Knowledge Society
Encouraging the next generation of AI experts to start their work in the field is essential for young people, and at each of our summits we host a rising stars session to showcase the most promising emerging talent. Gracelyn spoke at the Deep Learning in Healthcare Summit in Boston earlier this year, and appeared on the podcast to share her work.
She explained that AI has the power to unlock the secrets of gene expression. Using deep learning, the wealth of genomic information that is being created can be understood and used to improve healthcare, drug discovery, and develop new cures. Gracelyn will talk about how deep learning can be used to analyze genetic data and demo her project related to predicting transcription factor-DNA binding. Gracelyn also spoke about the implications of using deep learning to extract meaningful conclusions from genetic data and what it will mean for the future of the genomics industry.
Subscribe to Women in AI, and keep up to date with our weekly episodes. Upcoming guests include Dawn Song from UC Berkeley, Brigitte Gosselink from Google.org, Ashley Edwards from Uber AI Labs and more.