Let's be honest, 2020 has been a bit of a mess, seemingly, on the surface at least, bringing the world to a halt. That said, behind the scenes, AI has been progressing as much as ever. Following on from our 2019 edition, we have highlighted 30 influential women in AI that have been working hard behind the scenes to keep the cogs turning.
If you'd like to recommend a Women in AI for future features or events, please do so here or via [email protected].
We would also like to thank those who nominated a large number of those included. Without further ado...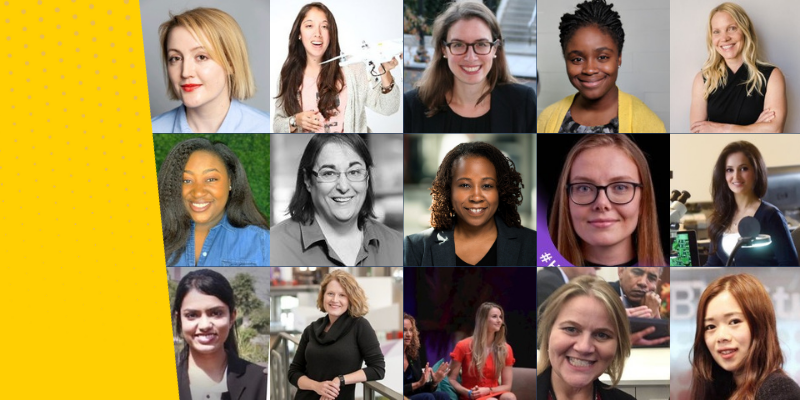 Ayanna Howard, Chair, School of Interactive Computing, Georgia Tech
Ayanna Howard is a Robotics expert, holding a Masters Degree and PhD in Electrical Engineering/Robotics/Computer Science. Recognised as one of America's top female tech leaders, Ayanna has just been announced as the next dean of the College of Engineering at Ohio State University. Ayanna has also been recognised as one of the 'Most Powerful Women Engineers' by Business Insider, is listed in America's Top 50 Women in Tech by Forbes, & also appeared in the Thinkers50 Radars Class of 2019.
Diyi Yang, Assistant Professor, Georgia Institute of Technology
Whilst completing her Ph.D. in Computer Science at Carnegie Mellon University last year, Diyi explored the industry through gaining experience at Microsoft & Facebook before joining Google as a Postdoctoral Researcher. She now works as an Assistant Professor at Georgia Tech and directs the Social and Language Technologies Lab. She works on integrating her research in social sciences and linguistics with machine learning in order to program computers that facilitate online social dilemmas. Diyi has gone from one success to another, being featured in Forbes 30 under 30 in Science this year.
Tempest van Schaik, Senior Machine Learning Engineer, Microsoft
With 16 years of experience in health & bioscience technology, Tempest has spent the last 2+ years working as a Senior Machine Learning Engineer at Microsoft. She's an integral part of the Data Science division of the Commercial Software Engineering (CSE) team at Microsoft Azure, and works with R&D teams of data scientists and engineers to code high-scale AI solutions using languages Python, R, Tensorflow, Keras & more on the cloud. Tempest facilitates the progression of organisations who want to deploy AI and data to improve their services, and has worked alongside the NHS, Philips Healthcare & Great Ormond Street Hospital on some important initiatives including Project Fizzyo, a device aimed at improving physiotherapy for Cystic Fibrosis patients (see more here). Tempest brings the creative spark to tech & improves lives in the process - a women to watch out for!
Tahmida Mahmud, Deep Learning Engineer, NAUTO
With BSc and MSc qualifications in Electrical Engineering as well as a PhD in Computer Engineering, Tahmida has utilised her expertise in various positions across the Tech industry. Tahmida began her career as a Software Engineer for Samsung, where she developed a system for smartphone testing, a word recognition engine and 2 games for Samsung Gear. After interning at Hewlett Packard where she implemented an ML based framework for predicting the training time of arbitrary deep network in TensorFlow, she became an Applied Scientist at Amazon Web Services where she designed a deep learning framework for real-time recognition in videos. Tahmida is now a Deep Learning Engineer at NAUTO, where she helps aids the deployment of a management software that anticipates driver behaviour and prevents incidents on the road.
Cassie Kozyrkov, Chief Decision Scientist, Google
Cassie's mission is to democratise Decision Intelligence and safe, reliable AI. Having worked with Google for her 6th year running, Cassie has progressed from her role as a Statistician to Chief Decision Scientist, where she serves as a thought leader in Decision Intelligence, combining Data Science (statistics, ML, AI, analytics) with Behavioural Sciences (psychology, neuroscience, economics). Cassie has played an integral role in helping to lead the production of safe, reliable and effective use of our abundance of data and AI.
Flora Tasse, Head of AI Research, Streem
Flora has unparalleled experience in the Tech industry, with foundations laying in qualifications from Rhodes University, the University of Cape Town and the University of Cambridge, where she studied BSc Computer Science, MSc Computer Science, and PhD Computer Science, respectively. Flora has gained experience working with Afrozaar, Inria, Google and Microsoft, before co-founding her own company, Selerio, an AI startup focusing on live 3D reconstruction by extracting geometric and semantic information from images and videos. Flora now works as the Head of CV/AI Research at Streem Inc, an app that leverages computer vision, ML, object recognition, pose tracking & spatial mapping to 'make the phone's camera intelligent' and allow for better communication through interactive video. Specifically, she focuses on developing new methods for mapping user environments & understanding their physical world.
Anusha studied computer science at both the Bachelors and Masters qualification levels at Columbia & Stanford Universities, before interning at Apple back in 2013. She became the Head Teaching Assistant for the Computer Science Department back at Columbia before applying her expertise in the position of ML and Natural Language Engineer for Siri at Apple. Since then, Anusha has developed skills working as a Software Engineer for Pinterest, a Machine Learning Engineer for Facebook and a Senior Researcher for Microsoft, where she currently works in Conversational AI.
Danah Boyd, Partner Researcher, Microsoft Research
Danah has worked with Microsoft for the last 11 years, focusing her research on data quality & fairness, transparency in ML, differential privacy and platform accountability. Through understanding the relationship between technology and society, Danah is able to address both social and cultural inequalities of today. Recognising the importance of this, Danah founded her own company during her time at Microsoft, the Data & Society Research Institute, which aims to recognise how data-driven technology is permeating societal issues  & combat this where possible.
Shubhi Tyagi, NLP Applied Scientist, Amazon Alexa
Shubhi has dedicated her proficiency in ML, statistics, Python, Deep Learning and Reinforcement Learning to the Infosys, McKinsey & Company and Amazon teams over the last 6+ years working as an R&D Senior Systems Engineer, Research Analyst and Applied Scientist, respectively. Shubhi currently works with Amazon Alexa, where she models NLP solutions within the text-to-speech domain to improve speech quality. Shubhi has worked hard behind the scenes of Amazon Alexa, and some of her work can be explained in her recent publishing: Dynamic Prosody Generation for Speech Synthesis Using Linguistics-Driven Acoustic Embedding Selection.
Charlie Edmunds, Senior Data Scientist, Microsoft
Charlie has worked as a Data Scientist at Microsoft for almost 5 years and was promoted to a Senior position last year. She demonstrates ambition to thrive and improve her skills to better her performance where possible, and has undergone training in Python, Spark SQL & DataFrames, and Apache PySpark by Example this year alone. Charlie's drive is both admirable and impressionable amongst the younger generation, who see her as a tech role model as she has spoken at the Fire Tech Camp London for the last 5 years to help guide career routes into tech.
Lois. K Smith, Senior Data Scientist, Facebook
Lois has steered her career towards data science since her first role at iSpot.tv and has gained experience at Microsoft & Thinkful before starting at Facebook back in 2018. Lois works specifically on Messenger Core Experience, ensuring product success through advanced modelling, goaling, metrics, experimentation & building dashboards. For the entirety of her career at Facebook thus far, Lois has managed to juggle her presumably busy schedule with publishing her own book: Straw to Gold: Making a Lot of a Little When it Comes to Finances. In February this year, Lois took it upon herself to give back to the University of Michigan, where she completed both her Masters and PhD, as a mentor for University students who are looking for guidance when navigating their career in tech. She continues to do this alongside her Senior Data Scientist role at Facebook.
Francesca Donadoni, Machine Learning Engineer, Arthronica
Francesca has a masters in Engineering from Imperial and completed PhD in Biomedical Engineering last year at UCL. She has spent time this year improving her skills in Data Science, Python and Computer Vision through courses with IBM and Udacity, and secured a new position as a Machine Learning Engineer with Arthronica in September this year. Arthronica supports patients with rheumatoid arthritis in their treatment and recovery, and Francesca develops the machine learning infrastructure behind this.
Lucy Vasserman, Staff Software Engineer, Google
Since studying Computer Science at Pomona College, Lucy has published 6 papers on various topics of interest, her most recent being 'Nuanced Metrics for Measuring Unintended Bias with Real Data for Text Classification' which was published in May last year. Lucy has worked with Google for over 10 years and is currently a Staff Software Engineer. Lucy has worked on various important projects over her years at Google including language modelling for speech recognition, however, her most recent and notable work is leading  Jigsaw's Conservation AI Project, which is an important initiative deploying ML to target and prevent animal abuse and harassment online. Lucy's continued efforts on this aren't going unnoticed!
Ola Drozd, Machine Learning Engineer, Facebook
Since Ola completed both her Masters in Physics and PhD in Theoretical Physics at the University of Warsaw, she has taken on various edX online courses to embark on her journey into a career in tech. Ola has demonstrated her skillset through impressive career progression, moving from a Quantitative Analyst through to a Senior Data Scientist across companies Smarkets and GM&T before securing a position as a Machine Learning Engineer for Facebook earlier this year.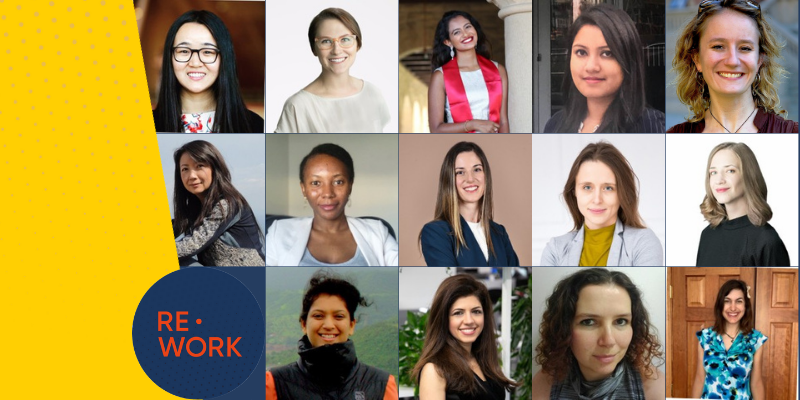 Mansi Gupta, Machine Learning Engineer, Twitter
After graduating from Carnegie Mellon University with a Masters in Computational Data Science, Mansi went on to work for LinkedIn where she explored software engineering and machine learning algorithms. She developed skills that took projected her forward into a Machine Learning Engineer for Petuum, before becoming a Senior Machine Learning Engineer at Twitter earlier this year. Mansi writes algorithms for Twitter that help to surface trends and recent events, rank them & group them with other useful information. You can view her personal GitHub page here.
Wanmeng He, Senior Data Scientist, Capgemini
Prior to working as a Senior Data Scientist at Capgemini, Wanmeng was a Data Scientist at IBM where she applied Machine Learning methods to help improve both quality & production across manufacturing companies. With her predictive models, she was able to facilitate both managers and engineers in optimising their output quality. Wanmeng has transferred these skills to her role at Capgemini, and continues to apply data-driven solutions within the manufacturing industry as well as leading data science projects. Despite the difficult time, Wanmeng continues to improve on her skills where she can and has completed 3 Microsoft certifications earlier this year.
This year, Paige became globally responsible for the end-to-end lifecycle of all use-cases across the bank at TD's Layer 6 AI. Paige has contributed her expertise to benefit society throughout her career, including combating financial crime in her previous role as Senior Manager at Vector Institute, where she worked with Canada's largest financial institutions, consulting companies, regulators and government agencies. We were lucky enough to speak with Paige for our podcast earlier this year, which you can listen to here.
Regina Barzilay, Faculty Lead & Professor, MIT
As faculty lead for AI & professor at MIT, Regina Barzilay has been in inspiring figure in the AI space for many. Her interest in AI can be seen across her education and qualifications throughout her career. Her doctoral dissertation involved leading the groundbreaking development of Columbia's Newsblaster, which is able to recognise and group news from various sources that share subject similarities & create summaries of all the information collectively. Regina has been awarded for her contribution to the industry several times throughout her career, her most recent being this year, when she became the first recipient to receive the $1 million AAAI Squirrel AI Award for Artificial Intelligence for the Benefit of Humanity.
Read more about Regina and her work here.
Rebekah Brown, Security Engineering & Architecture, Apple
After studying Cybersecurity Policy at the American Military University, Rebekah served as a subject matter expert and senior advisor on computer network operations for the United State Marine Corp. She then went on as an expert Threat Intelligence Analyst at Nike, before becoming the Threat Intelligence Lead at Rapid7 where she helped to provide security data and analytical solutions to implement an approach to Cybersecurity across various organisations. Rebekah co-authored SANS FOR578: Cyber Threat Intelligence at SANS Institute & is currently working in Security Engineering and Architecture at Apple.
Deborah rightfully received the 2020 Barlow award at the Electronic Frontier Foundation (EFF) Pioneer Award Ceremony last month (Oct 2020). Her research on AI and racial bias paved the way for national justice - the eradication of flawed face surveillance in law enforcements across a number of American cities. Deborah has spent the last 3 months at Mozilla, a computer software company, where she continues to contribute in building a safer, more inclusive internet experience that is civil, collaborative and inclusive, free of demographic bias.
Erin Szulman, Director, Performance Improvement and Internal Operations, EVgo
Erin has utilised her technological and innovative background to address a diverse range of important societal topics throughout her career. Most notably, Erin designed and led the impact, engagement, and advocacy campaign for the 'Inventing Tomorrow' documentary, which highlights the importance of STEM in helping younger generations to make a change to their communities and the environment we live in. Erin has also contributed indispensable efforts to the Science and Technology Policy for the Obama Administration, working in various roles throughout her 5 years in the White House Office of Science and Technology Policy/ the Department of Energy. Erin's expertise are currently benefiting the growth of EVgo, America's largest public electric vehicle fast charging network.
Sydney is doing fantastic work to support those who are underrepresented in the field of Tech. With a Bachelors in Fundamental Engineering and Business from Western Michigan University as well as project management qualifications from the George Washington University, Sydney demonstrates an inspiring passion that can be instilled across entrepreneurs of today. Her company, Tequity, uses SaaS and cooperates with various businesses training programmes to provide affordable resources & software in web development to encompass all technical abilities. Sydney's work has instilled a sense of community for those looking to grow in the field.
Sahar M., Senior Research Scientist in Cryptography, AI Research, JP Morgan Chase & Co
Sahar completed her PhD in Computer Science at George Mason University this year, where her work focused on the development of Machine Learning algorithms to compute on large scale datasets whilst preserving privacy. Sahar's hard work paid off & soon after, she secured a position as a Senior Research Scientist at JPMorgan Chase & Co and has been working there since September this year.
Paula Long began her career in Tech after graduating from Westfield State University with a Bachelor of Science in Computer Science. She then co-founded and co-invented aspects of EqualLogic, the SAN system acquire by Dell back in 2008, before becoming the VP of Engineering at Heartland Robotics. Paula was also the CEO and Co-Founder of DataGravity, a software-based data management service, where she helped expand data protection to include data security and compliance. Paula currently works within adaptable roles alongside startups to motivate and facilitate success from the ground-up.

Amy Wang, Co-Founder and VP Systems, Cogniac Corporation
For the past 5 years, Amy has been working hard on collectively building a human-centric computer vision platform with her team at Cogniac Corporation. The platform operates as a cloud-scale service for businesses that are looking to enhance the quality of their physical world. Specifically, Amy is responsible for building the system infrastructure so that it can be utilised commercially to enterprise video and image analysis applications in its form of convolutional neural networks.
Monica's ambition to thrive in the tech industry and use indispensable skills for the good of society is recognisable by the number of incredible initiatives she has driven. Throughout her career, Monica has co-founded 3 companies, The Mars Society, BloomerTech & qAIRa, where she now works. qAIRa addresses air contamination by combining robotics and data analytics to create drones that monitor air and create real-time contamination maps in critical areas. This information is processed in digestible forms to educate and inform governments and society where they can make a change to drive a cleaner planet.
Alessya is the CEO & Co-Founder of WhyLabs, an AI observability platform founded by former Amazon ML engineers built to enable every enterprise to run AI with certainty. The startup focuses on machine learning in models after they have been trained. Alessya was previously involved in Amazon's demand forecasting model, and being the most experienced engineer on the team, has driven the company to success raising $4 million seed funding.
Mehrnaz Shokrollahi is currently a Senior Data Scientist at PureFacts Financial Solutions where she transforms financial data into reliable Artificial Intelligence. She has developed multiple algorithms and use-cases for the financial institutes like boutique firms. Alongside her work on PureFacts she is a member of the advisory board on Queens University's InQUbate Program, first student-run AI startup incubator. She also holds a position in IEEE Canada with the title of Chair of the IEEE Signal Processing Section Toronto Chapter. Since completing her PhD from Ryerson University in 2015, Mehrnaz has had various positions in different industries including healthcare, manufacturing and mobile app and focused solely on developing AI solutions. She has also authored numerous papers and been awarded the prestigious scholarships including Mitacs Postdoctoral Award.
Jorel Nye, Senior VP, Technical Product Management, Aledade
Aledade has just been crowned the winner of the Best Tech for Good award in the Washington region for its outstanding contributions to its community over the last few difficult months. Aledade provides a tech solution to improve the American health care system by authorising independent professionals to deliver care to patients, simultaneously allowing these practices to succeed whilst controlling population health management. With over 15 years of experience in health tech, Jorel plays an integral part of this process as the lead of Aledade's Tech Product Management and UX teams.
Ruthe Farmer, Founder, Last Mile Education Fund
Since 2001, Ruthe has made incredible efforts towards advocating for diversity, equality and inclusion within the tech and engineering industries. She is the founder of the Last Mile Education Fund, which aims to disrupt the traditional scholarship model and provide support for the capable students in tech who are overlooked. Ruthe previously served as the Senior Policy Advisor for Tech Inclusion at the White House of Science & Technology Policy where she focused on Obama's campaign to reduce bias in computer science. Ruthe has responded to COVID-19 by aiding college students who have fallen out of employment so they can remain in their endeavour to a career in tech. Her work in helping our next generation of tech experts move forward through difficult times is unmatched.
If you'd like to recommend a Women in AI for future features or events, please do so here or via [email protected].
---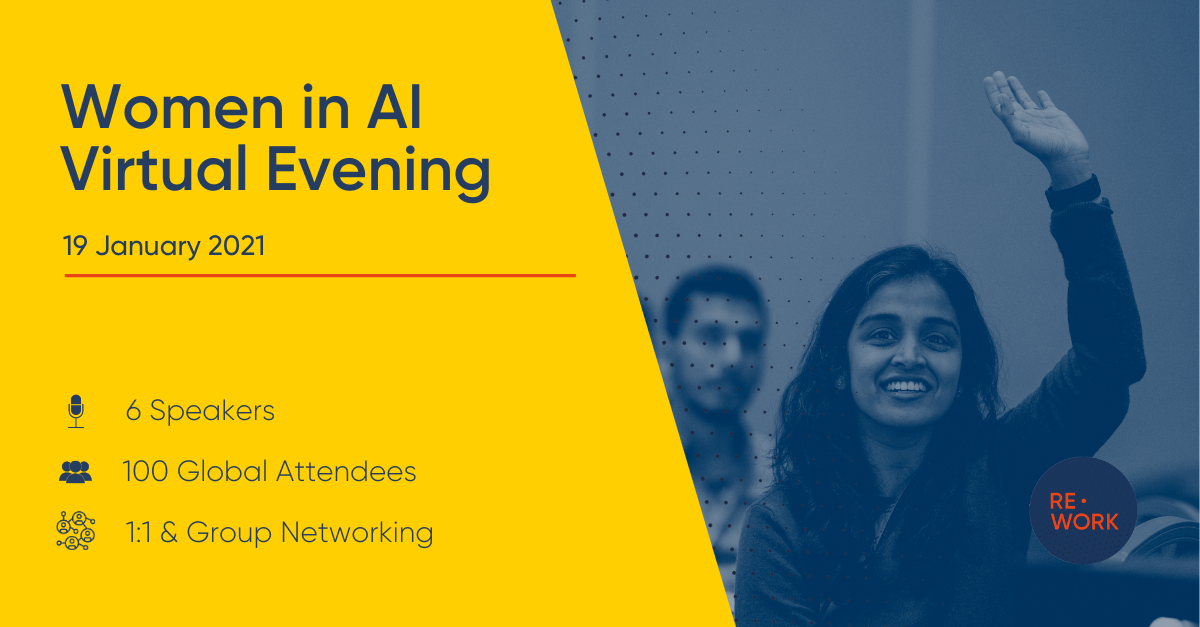 ---
Further reading - Experts Blogs & More
AI Experts Discuss The Possibility of Another AI Winter
Experts AI Advice for Starters
Female Pioneers in Computer Science You May Not Know - Part 2
AI Experts Talk Roadblocks in AI
Experts Predict The Next AI Hub
The AI Overview - 5 Influential Presentations Q3 2020
13 'Must-Read' Papers from AI Experts
'Must-Read' AI Papers Suggested by Experts - Pt 2
10 Must-Read AI Books in 2020
10 Must-Read AI Books in 2020 - Part 2
Change Detection and ATR using Similarity Search in Satellites
Top AI Resources - Directory for Remote Learning
Top AI & Data Science Podcasts
30 Influential Women Advancing AI in 2019
30 Influential AI Presentations from 2019
AI Across the World: Top 10 Cities in AI 2020
Female Pioneers in Computer Science You May Not Know
Top Women in AI 2020 - Texas Edition
2020 University/College Rankings - Computer Science, Engineering & Technology
How Netflix uses AI to Predict Your Next Series Binge - 2020
Top 5 Technical AI Presentation Videos from January 2020
20 Free AI Courses & eBooks
5 Applications of GANs - Video Presentations You Need To See
250+ Directory of Influential Women Advancing AI in 2020
The Isolation Insight - Top 50 AI Articles, Papers & Videos from Q1
Reinforcement Learning 101 - Experts Explain
The 5 Most in Demand Programming Languages in 2020
Generative Models - Top Videos & New Papers
Applying AI in Clinical Development of Drugs
What is AI Assurance?
Experts Pick Their Dream AI Panel
Female Pioneers You Might Not Know